Liaoning Man Spends a Third of His Life Incarcerated for His Faith, Still Hunted by Police
July 11, 2021 | By a Minghui correspondent in Liaoning Province, China
(Minghui.org) Mr. Zhang De was detained in a forced labor camp for two years and twice imprisoned for a total of 14.5 years for refusing to renounce his faith in Falun Gong, a mind-body discipline that has been persecuted by the Chinese communist regime since 1999. He was placed in a senior center after his second prison term expired on June 27, 2020. He managed to escape from the center but is still being hunted by government officials.
Born in 1972, Mr. Zhang is an artist from Haicheng Town in Anshan City, Liaoning Province. He had major surgery in 1998 after leaving the military. Following the surgery, he began to practice Falun Gong and quickly recovered his health.
Becoming Homeless
Because he was repeatedly detained, Mr. Zhang had no place to go when he was released on June 27, 2020, after finishing his latest 4.5-year prison term. After several negotiations, the government of Haicheng City placed him in a dilapidated senior center as his temporary housing and installed a surveillance camera to monitor him.
At the senior center, Mr. Zhang was not allowed to leave the building nor was he given any basic necessities. He wanted to leave, but the security gate was locked. They didn't let him go to visit his family, either.
Shi Chunfeng, a staff member of the Nantai Justice Bureau, threatened Mr. Zhang, saying, "Don't you think here (the center) is better than the prison?"
Realizing that the authorities were trying to force him to renounce his faith, Mr. Zhang escaped.
How to survive is now the problem. Mr. Zhang played the electric guitar. He tried to find a job, but the local government won't give him an ID card, making that impossible.
Mr. Zhang is now homeless. The local government is still searching for him. They called his family and asked where he was. On June 4, 2021, they called his family again.
Two Years' Forced Labor and Ten Years in Prison
For upholding his faith, Mr. Zhang has been detained for a total of 16.5 years.
His first arrest was in 2000 when he was 30. He was taken to Yuemingshan Forced Labor Camp for two years. Shortly after he was released, he was arrested again and put in an empty room in the police station. They chained him to the wall with his arms and legs stretched apart.
He fainted when the police covered his head with a plastic bag. They hit his head many times like a sandbag. To ensure that no one witnessed the abuse, Liu Ling, the female person in charge, chased others away.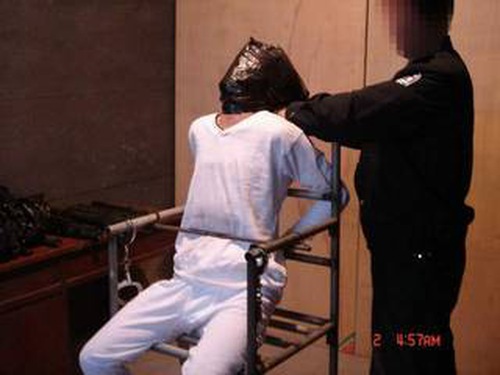 Torture re-enactment: Plastic bag over the head
Mr. Zhang was later taken to Haicheng Detention Center. While he was there, a guard and his assistant used two electric batons to shock his mouth, neck, head, and other sensitive areas, causing blisters. They later chained his neck, wrists, and ankles. The guards also attached a large metal ball to the chains that already weighed 60 pounds, causing the skin on his feet, hands, and neck to be rubbed raw.
After months of detention, Mr. Zhang was sentenced to ten years in prison by the Haicheng City Court in 2003.
He first served time in Wafangdian Prison, before being transferred to Shenyang No. 2 Prison, where he was deprived of food and denied restroom use. He was also shocked with electric batons, forced to stand and squat for long periods of time, handcuffed, tied up, force-fed, and had both boiling or icy water poured over him.
Another Four Years in Prison
On the morning of June 28, 2016, plainclothes officers barged into Mr. Zhang's home, claiming that he was involved in a hit and run and demanded to see his ID card. When he took it out, several of them started to choke him and pushed him down before arresting him and his friend. Mr. Zhang couldn't breathe when he was taken to the Nantai Police Station and only came to after coughing up blood.
That day, the Liaoning Province 610 Office had coordinated with police departments, Domestic Security Offices, police stations, and street agents in all cities to carry out arrests of Falun Gong practitioners. They used cell phone surveillance, tracking, and positioning to raid practitioners at the same time from 5 a.m. to 7 a.m. according to a pre-orchestrated list.
Mr. Zhang's arrest was approved on July 17, 2016, and he was sentenced to 4.5 years in prison on September 21. He appealed with the intermediate court but the original verdict was upheld under the coercion of 610 Office, an extralegal agency created specifically to persecute Falun Gong. Mr. Zhang served this term in Kangjiashan Prison in Shenyang City.
Related article:
Liaoning Man Sentenced Again for His Faith After Decade of Imprisonment, Torture
All articles, graphics, and content published on Minghui.org are copyrighted. Non-commercial reproduction is allowed but requires attribution with the article title and a link to the original article.
Category: Accounts of Persecution