La Réunion, France: Raising Awareness on International Day in Support of Victims of Torture, Mayor and Newspapers Condemn CCP's Ongoing Persecution
July 10, 2021 | By a Minghui correspondent
(Minghui.org) The Awakening China organization (Éveil de Chine) held a rally along with other human rights organizations on June 26, 2021, in downtown Saint-Denis, the capital of La Réunion, France. June 26 is the United Nations International Day in Support of Victims of Torture, including Falun Dafa (also known as Falun Gong) practitioners.
La Réunion is an island in the Indian Ocean that is an overseas department and region of France. It is located approximately 550 km (340 mi) east of the island of Madagascar and 175 km (109 mi) southwest of the island of Mauritius.
Practitioners displayed posters and handed out leaflets to inform passersby about the Chinese Communist Party's (CCP) 22-year-long persecution of Falun Dafa.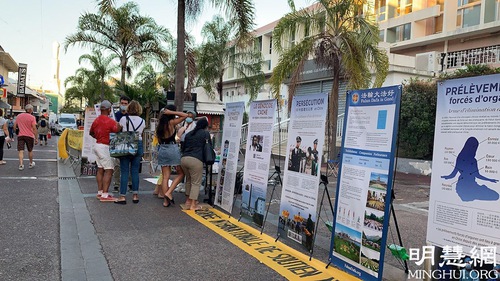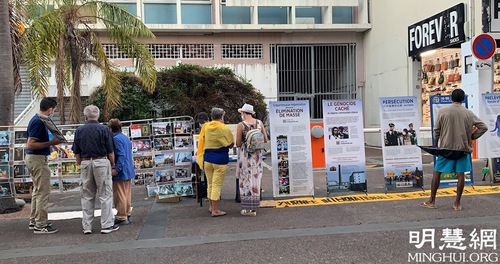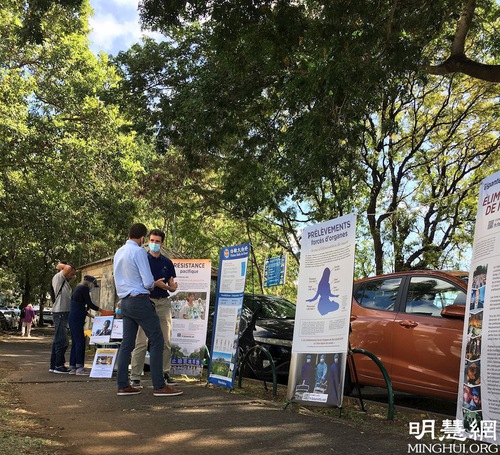 Practitioners talk to passersby and tell them about the CCP's on-going persecution.
Media Coverage
Local newspaper Clicanoo reported, "The Uyghur group and the Awakening China association held a rally on International Day in Support of Victims of Torture in front of the Reunion Regional Hotel. Displays at the event showed the public the horrific persecution of Falun Dafa practitioners in China."
During his interview with the newspaper, Frédéric Gialacone, a member of Awakening China, said, "In 2006, Canadian human rights lawyer David Matas and former Canadian Secretary of State for Asia Pacific Affairs David Kilgour investigated the allegations of forced live organ harvesting of Falun Gong practitioners in China. In 2007, the United Nations reported that Falun Gong practitioners accounted for 66 percent of the alleged victims of torture. Since then, there have been more and more reports of this."
He added, "We heard a lot of propaganda from China, but the reality is that the communist regime has been committing crimes against humanity and human rights. Falun Gong practitioners and other faith groups, including Uyghurs and Christians, are being severely persecuted."
Local Newspaper: "Is it beneficial to partner with criminal regimes?"
Frederick Jalakone, the coordinator of Awakening China, said, "We know about the forced organ harvest on living prisoners without their consent." He continued, "We also know that the city of Tianjin in China is a key organ transplant tourism city. Ten hospitals there perform thousands of organs transplants each year. People only need to wait at most fifteen days for an organ."
Jalakone asked why such a large source of organs is available. A large number of Falun Gong practitioners are victimized and are the source of these organs. Jalakone specifically mentioned the Chinese city of Tianjin because Reunion Island signed a sister-city agreement with Tianjin in 2014. China's communist regime expected Reunion Island to act as a bridge between China and Africa.
The newspaper Krikanu also asked the thought-provoking question: "Is it really beneficial to have a close partnership with a criminal regime?"
Mayor Supports Justice
Many people said they did not know that such brutal torture, including forced organ harvesting, was taking place today. Local residents, especially young people, are not aware of the persecution of faith groups such as Falun Dafa practitioners in China.
Many people stopped by the booth, read the displays, and asked questions. They signed petitions to help end the persecution after they learned the truth.
On the day of the rally, Didier Robert, the district president, happened to have another campaign nearby and accepted the rally organizer's invitation. "As a citizen, I support you," Mr. Robert said. He was also willing to help find a solution to end the persecution.
After the rally, Madame Vanessa Miranville, mayor of La Possession, sent a letter of support. She said, "Respect for the dignity of human life is a fundamental value. We join you in demanding respect for human beings and an end to any act of torture. We offer our support to those who are persecuted, including Uyghurs, Falun Gong practitioners, Christians, and Tibetans."
In her letter Mayor Miranville stated that it was, "inconceivable that such tortures still exist, and have continued until today." She added, "My heart and soul ache for those victims. The International Day in Support of Victims of Torture raised the awareness of victims and survivors worldwide. I support associations and groups that are fighting for their freedom."
Background: What Is Falun Dafa?
Falun Dafa (also known as Falun Gong) was first introduced to the public by Mr. Li Hongzhi in Changchun, China, in 1992. The spiritual discipline is now practiced in over 100 countries and regions worldwide. Millions of people have embraced the teachings—which are based on the principles of Truthfulness, Compassion, Forbearance and included five gentle exercises—and experienced improved health and well-being.
Jiang Zemin, former head of the Chinese Communist Party (CCP), perceived the spiritual discipline's growing popularity as a threat to the CCP's atheistic ideology, and on July 20, 1999, issued an order to ban the practice.
Minghui.org has confirmed the deaths of thousands of practitioners as a result of the persecution over the past 22 years. The actual number is believed to be much higher. More have been imprisoned and tortured for their faith.
There is concrete evidence that the CCP sanctions the harvesting of organs from detained practitioners, who are murdered to supply the organ transplant industry.
Under Jiang's personal direction, the CCP established the 610 Office, an extralegal security organization with the power to override the police and judicial systems and whose sole function is to carry out the persecution of Falun Dafa.
All articles, graphics, and content published on Minghui.org are copyrighted. Non-commercial reproduction is allowed but requires attribution with the article title and a link to the original article.
Category: Rallies & Protests