(Minghui.org) A 70-year-old Shanghai resident is facing trial for her faith in Falun Gong, a mind-body discipline that has been persecuted by the Chinese communist regime since 1999.
Ms. Sun Zhuoying was arrested at home on December 9, 2020, by officers from the Pudong New District Domestic Security Office and the Hangtou Police Station. Her arrest was approved on January 16, 2021. She is being held at the Pudong New District Detention Center and is facing trial by the Fengxian District Court.
Past Persecution
Since the onset of the persecution, Ms. Sun has served a labor camp term and two prison terms, for a total of 11.5 years. She suffered severe torture in each term and was on the verge of death.
Sentenced to Four-year Prison Term in 2001
Ms. Sun was sentenced to four years in the Shanghai Women's Prison in 2001. She was forced to stand or sit for long hours, sometimes into midnight. The physical torment left her dizzy most of the time. Yet the prison guards constantly beat and verbally abused her.
The guards ordered Ms. Sun to clean the restroom shared by dozens of inmates, without allowing her to use it herself. She was forced to use a bedpan to relieve herself in the cell. The guards often forbade her from emptying the bedpan, so as to make the inmates in the cell resent her. After her term expired, the authorities held Ms. Sun at a brainwashing center for three additional months before allowing her to go home.
Given 1.5-year Labor Camp Term in 2005
Ms. Sun was arrested again in April 2005 and given one and a half years at Shanghai Women's Forced Labor Camp. As a result of the torture there, she suffered three major gastrointestinal bleeding events and was hospitalized.
Five-year Prison Term Given in 2011
Ms. Sun's next arrest was on May 13, 2011, for hanging up a banner to celebrate Falun Gong's public introduction 19 years prior. She was sentenced to five years in the Shanghai City Women's Prison by the Pudong New District Court.
During her imprisonment, the guards stuffed her mouth with a dirty rag and taped her mouth, ears, and head, as well as her hands, legs and feet, simply because she shouted "Falun Dafa is good." Then, the guards hit her head with a heavy object while verbally abusing her for two hours. Not until Ms. Sun collapsed and became incontinent, did the guards stop the torture.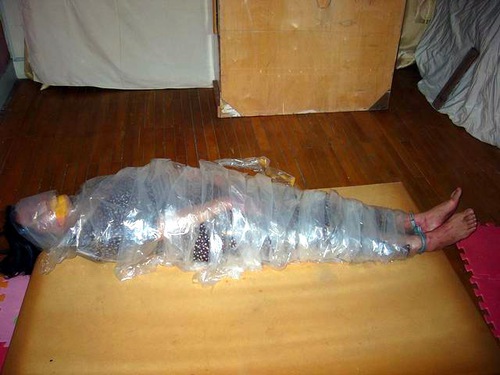 Torture reenactment: Taped up from head to toe
After that, the guards repeatedly ordered Ms. Sun to write statements to renounce Falun Gong. When she refused to comply, they held her in solitary confinement and provided her with very little food. She was forced to stand facing the wall from 5:30 a.m. until lunch break at noon, which was only ten minutes. Afterwards, she was forced to stand again until dinner. After the ten-minute dinner break, she continued to stand until 12:00 a.m. Throughout the day, the inmates could beat and verbally abuse her at will. 
When Ms. Sun still refused to renounce Falun Gong, the inmates forced her to squat all day long within a square drawn on the ground without moving. Sometimes they also dragged her around to torture her.
The guards specifically made a small stool that pinched her buttocks when she sat on it. In the summer, they tied her hands and legs to her body and covered her with a thick comforter. She sweated profusely and almost collapsed.
In the winter, the guards poured cold water over her, lifted off her comforter every 15 minutes during sleep, or forced her to run around in the room.
By the time Ms. Sun was released in May 2016, she has lost hearing in one ear. She had pain all over her body. She was unable to stand, sit or walk, and has trouble eating and sleeping.
Perpetrators' contact information:
Zhu Qin (朱秦), judge of Fengxian District Court: +86-21-37190666, etx. 26051Sheng Chen (盛晨), court clerk: +86-21-37190666, etx. 26013, +86-18001682371Chen Gang (陈钢), prosecutor of Pudong New District Procuratorate: +86-21-50138661Huang Hao (黄浩), officer of Pudong New District Domestic Security Division: +86-13386280650
(More perpetrators' contact information is available in the original Chinese article.)
Related reports:
Falun Dafa Practitioner Sun Zhouying Was Illegally Detained With Other Practitioners at Shanghai's Songjiang Women's Jail for Four Years
Details of Torture Methods Used On Falun Gong Practitioners in Shanghai Women's Forced Labor Camp
I Suffered Inhuman Torture at Shanghai Women's Prison