Taiwan: Sending Messages of Goodness and a Way to Stay Safe in the Pandemic
June 29, 2021 | By Minghui correspondent Zheng Yuyan from Taipei and New Taipei
(Minghui.org) After the second week of May 2021, there was a resurgence of the coronavirus pandemic in Taiwan. The epidemic control center announced that Taiwan would go to Level 3 Alert and it would be rolling out different strategies to curb the spread of the virus.
The strategies include contact tracing and requiring everyone to wear a mask when they leave the house. When people visit shops to buy daily necessities or groceries, they will need to have their temperature taken, sanitize their hands with alcohol, and use their phones to scan a QR code and fill in their location and particulars. This would help facilitate tracing the epidemic spread in Taiwan.
At supermarkets or bigger markets, this procedure is done by shop assistants. However, traditional markets have little manpower. The chairman of a traditional market in New Taipei City related his problem to Ms. Lin, "Now the epidemic is so serious and everyone is frightened. No one wants this job even if we pay them. We need you to come and help out with the contact tracing. Can you help us?"
Falun Dafa Practitioners Volunteer to Help
Ms. Lin has managed her stall in this market for over 30 years. After she started practicing Falun Dafa in 1999, Ms. Lin often tells her customers about the persecution of Falun Dafa in China, and everyone in the market knows that she practices Dafa. When Ms. Lin heard what the chairman said, she immediately agreed, "I can do it! This will benefit both society and people. How do you want me to help? My fellow practitioners and I will do our best to help without pay."
Another practitioner said, "With the virus spreading, everyone feels scared and uneasy. To comply with the government's request, everyone stays at home and tries not to leave the house. But they have to get groceries, so there's more foot traffic at traditional markets than in other places. Telling people about Falun Dafa and its values of Truthfulness-Compassion-Forbearance can help calm people down and stabilize their emotions in these uncertain times."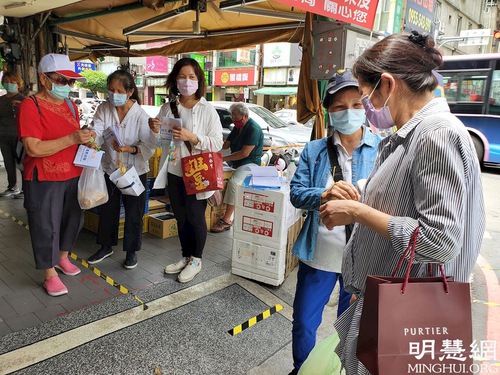 Customers at a traditional market happily accept information about Falun Dafa and lotus flower keepsakes that contain the message, "Truthfulness, Compassion and Forbearance" and "Falun Dafa is good."
People stop to read the materials.
An Effective Way to Stay Safe
Ms. Lin contacted Ms. Biyun, who lives in Xindian, and a few other practitioners to help with the task. On June 4, 2021, they started to carry out contact tracing at the market. The practitioners made small lotus flower souvenirs with the words, "Falun Dafa is good" and "Truthfulness-Compassion-Forbearance is good." Local residents happily accepted these lotus flowers and began calling them "anti-epidemic lotus flowers." The practitioners also handed out informational materials to let people know the goodness of Dafa and well wishes of practitioners.
Ms. Biyun said, "For some people, every day in the pandemic feels like a life-and-death situation. Everyone is looking for hope and something positive." While taking their temperatures and carrying out the contact tracing procedures, practitioners also tell people the importance of Truthfulness, Compassion and Forbearance and how the moral integrity of society is degenerating quickly and that, based on traditional Chinese culture, such widespread immorality leads to disasters. They asked people to remember, "Falun Dafa is good" and "Truthfulness-Compassion-Forbearance is good!" to help them attain peace and safety.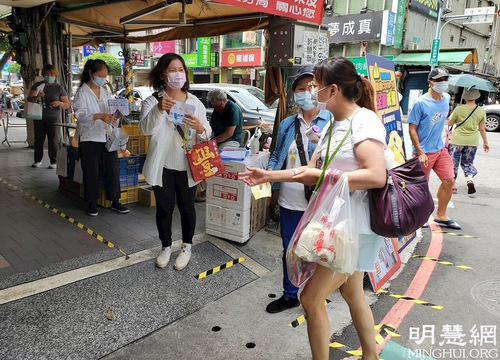 People hurry to get "anti-epidemic lotus flowers" and informational materials about Falun Dafa and the persecution in China.
In addition to picking up lotus flowers, local residents happily took copies of the Truthfulness-Compassion-Forbearance Special Edition that practitioners were handing out. Many people asked for more sets to give to their family and friends. Some people also asked where they could learn the Falun Dafa exercises. On the morning of June 5, the practitioners handed out a hundred lotus flower souvenirs in an hour.
The practitioners' selfless act touched the hearts of many. During the Dragon Boat Festival, a young lady came to the booth and offered to make a donation to Falun Dafa. (Editor's note: Practitioners are not allowed to collect donations on behalf of Falun Dafa.) She said she understood what Falun Dafa practitioners are doing and wanted to contribute and keep in touch.
Eager to Quit the CCP
Zhang Jing, Yuying, Su Zhen and eight other Falun Dafa practitioners from Taipei City's Songshan district participated in the three-day Dragon Boat Festival. They divided themselves into three groups and handed out lotus flowers and the Special Edition to traditional markets in Binjiang, Taiping and Shuanglian to raise awarenes and give out messages of well wishes, peace and safety.
Many residents accepted the lotus flowers and recited the nine auspicious words, "Falun Dafa is good" and "Truthfulness-Compassion-Forbearance is good." Some of them nodded and bowed in thanks, their faces brimming with surprise and happiness. Some of them put their palms together to thank practitioners and commended them for doing a kind deed. Some insisted on bringing fruit to the practitioners to express their thanks, while others said they wanted to learn Falun Dafa. Policemen directing traffic at the market's entry and exit points smiled as they saw people accepting the materials, and they thanked the practitioners.
Su Zhen, a practitioner who went to the Taiping market, helped a lady from China quit the CCP and its youth organizations to disassociate herself from the human rights atrocities committed by the communist regime. Su Zhen said, "Being able to help her quit the CCP makes all our efforts worthwhile!"
Inspired to Learn More about Falun Dafa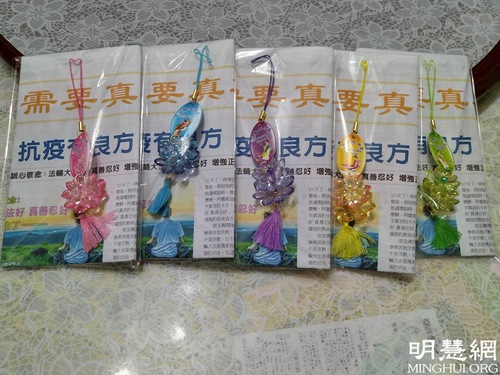 Practitioners carefully packaged the lotus flowers and informational materials so that they are easy to carry around.
In the early morning hours of June 20, Mei Feng and seven other practitioners paired up and went to the market's four entry and exit points to give out Falun Dafa information and souvenirs. From 7.30 to 8 a.m., they distributed 400 sets of lotus flowers and copies of the Special Edition.
An older woman asked about the words on the lotus flower. Mei Feng told her that many people feel they've been blessed by saying the words, "Falun Dafa is good" and "Truthfulness-Compassion-Forbearance is good." The woman carefully cupped her hands around the lotus flower and kept bowing in thanks. When it looked like she was about to kneel down, Mei Feng quickly asked her not to. The people behind her waiting in line to do the contact tracing all listened as Mei Feng told the woman about Falun Dafa. The other people in line all held out their hands to ask for a lotus flower and informational materials.
That afternoon, Mei Feng brought 120 sets of lotus flowers and information to the Xizhi evening market. She gave them all out in less than 30 minutes, so she quickly went home to get the remaining 40 sets and returned to the market. Within a short while, she gave all of them out too.
A mother brought her adult son to the information booth. After choosing a lotus flower, she looked embarrassed and said to Mei Feng, "Can I ask for the blue lotus flower for my son? He had brain surgery and I hope that he can carry it with him wherever he goes to seek protection from the divine and to keep him safe and healthy." Mei Feng agreed and asked the woman to remember the auspicious phrases, "Falun Dafa is good" and "Truthfulness-Compassion-Forbearance is good." The woman's son, who was quietly listening, suddenly thanked Mei Feng and said that he would read the Truthfulness-Compassion-Forbearance Special Edition in detail. He said he wanted to learn more about Falun Dafa and planned to go to a group exercise site.
All articles, graphics, and content published on Minghui.org are copyrighted. Non-commercial reproduction is allowed but requires attribution with the article title and a link to the original article.
Category: Parades & Other Community Events