Belated News: Beijing Man Loses Three Family Members in One Month in the Persecution of Falun Gong
June 25, 2021 | By a Minghui correspondent in Beijing, China
(Minghui.org) A Beijing man and his wife both regained their health after taking up Falun Gong. Mr. Jiang Hai no longer suffered from epilepsy and his wife Ms. Yu Huiqin recovered from a terminal kidney disease. After the persecution of Falun Gong started in July 1999, they remained steadfast in their faith and as a result, both were arrested in 2002. At the time, their son was 17 and their daughter was 13.
Mr. Jiang was sentenced to 9 years in prison and tortured to near death. His wife died in 2005 at the age of 44 after being injected with unknown drugs in a forced labor camp. Due to the constant fear and stress, his mother died 10 days after his wife's passing and his mother-in-law died nearly 3 weeks after.
Falun Gong Saved Wife's Life
Mr. Jiang grew up with frequent episodes of epilepsy. His health was poor and no doctors could cure his headaches. He relied on medications to control his conditions. After he married Ms. Yu, they had two children and a happy family.
When Ms. Yu's face and legs started to swell, she went to a hospital and was diagnosed with severe kidney inflammation and toxins in the blood. She went to a bigger hospital and the diagnosis was the same. Her medicine cost them over 1,000 yuan a week, which they couldn't afford. Mr. Jiang had to borrow money from relatives and friends. Two and half years later she was no better. They were considering selling the house.
Ms. Yu spotted Falun Gong practitioners doing the exercises outside in July 1998. She stood and watched for a while and felt quite comfortable. She went home and told her husband, "I felt really comfortable after listening to Falun Gong's exercise music. I started to learn the exercises."
Three months later, her swelling subsided significantly. A year later, the swelling was completely gone. Another year passed, she went back to the hospital, and her kidney tests were normal again.
Couple Tortured for Refusing to Renounce Faith that Saved Their Lives
Shortly after the Chinese Communist Party (CCP) launched the persecution of Falun Gong in 1999, police officers ransacked the couple's home without showing any identification or search warrant. They confiscated items that could be used to prove Ms. Yu was a Falun Gong practitioner.
When Ms. Yu decided to go to the governmental complex in Beijing to speak up and appeal for Falun Gong, Mr. Jiang was terrified. Not only did he try to stop her, he even had her older brothers come to talk her out of it.
She cried and said, "Don't you remember how I recovered from kidney disease? Do you think I shouldn't speak up when the government defames Master Li [Falun Gong's founder]?" He was awakened and thought that the government should support instead of suppressing such a beneficial practice.
He told his wife, "Go ahead. I'll begin to practice Falun Gong tomorrow."
After that, he worked on the farm during the day and studied the Falun Gong teachings at night. His health improved day by day.
Couple Arrested, Husband Tortured in Detention Center and Brainwashing Center
The police broke into the couple's home one evening in January 2002 and arrested them. Both of them were put in Yanqing County Detention Center.
The guards instigated detainees to beat Mr. Jiang, pour cold water on him, and force him to stay still in very painful positions. He went on a hunger strike and two detainees tied him in a chair. They forced a feeding tube down to his stomach, which made his stomach bleed. They shocked him with an electric baton while force-feeding him.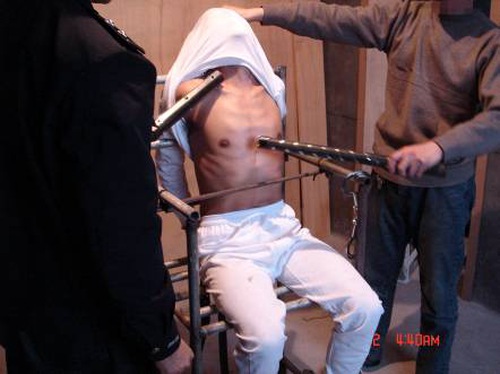 Torture reenactment: Shocking with electric batons
Mr. Jiang was released after a month's torture, only to be arrested again a few days later. The police and agents from the 610 Office took him to a brainwashing center. To force him to renounce his faith, the guards beat him and poured boiling water on his head. After 6 days of torture, he passed out and was rushed to the county hospital. He was allowed to go home after that.
Husband Sentenced to 9 Years in Prison and Tortured to Near-death
Two men barged into Mr. Jiang's home in April 2002 without identifying themselves. They dragged him into a car and took him to Fengtai Detention Center. Three months later, he was transferred to Tangshan Prison, held there for seven days, then taken to Yanqing County Detention Center.
He was put on trial 10 days later, although his family was never notified. During the hearing, he told the judge, "Please let Jiang Zemin [the former Chinese leader who started the persecution] know that he made a mistake by persecuting Falun Gong." A few days later he was sentenced to 9 years and transferred to Qianjin Prison in Tianjin.
The first night in prison, the guards instigated other inmates to torture Mr. Jiang and they forced him to stand and squat for a long time. He also wasn't allowed to use the restroom or sleep.
The inmates and guards took turns torturing him over the years. He was on the verge of death at one point in 2010. He was released on March 27, 2012.
Wife Dies after Being Released from Forced Labor Camp
After she was arrested with her husband in January 2002, Ms. Yu was given two years in Xin'an Forced Labor Camp. There, she suffered unspeakable abuses and was injected with unknown drugs.
Ms. Yu was released 15 months later, in November 2004, because of her deteriorating health. She was incoherent and weak. Her whole body swelled up and she vomited frequently.
She died on April 16, 2005, five months after her release. She was 44.
Her son asked the authorities to release his father, who was incarcerated in Qianjin Prison at the time, so that he could see his mother for the last time. Six days later two guards escorted Mr. Jiang to the county hospital and allowed him to see his wife's body for just 5 minutes.
Elders Pass Away and Children Live in Fear and Financial Instability
When Mr. Jiang and Ms. Yu were arrested in 2002, their children were teenagers. Their son had to drop out of school to take care of his sister. The children sold everything valuable to get by. The police frequently went to their home to harass them and prevented the young girl from going to school.
Mr. Jiang's mother died in April 2005, 10 days after Ms. Yu's death. Ms. Yu's mother died 10 days after that.
All articles, graphics, and content published on Minghui.org are copyrighted. Non-commercial reproduction is allowed but requires attribution with the article title and a link to the original article.
Category: Reports of Death Cases