Turkey: Signature Drive to End the CCP Held in Istanbul
June 22, 2021 | By practitioners in Turkey
(Minghui.org) Falun Dafa practitioners held an "End the Chinese Communist Party" (CCP) event for the first time in Istanbul after a year of pandemic restrictions. The public showed great interest in the event, which was held in Beşiktaş, one of the most vibrant districts in Istanbul on June 12.
Several practitioners did the exercises, while others explained Falun Dafa to passersby who were interested in the "Journey of Falun Dafa" photography exhibition, and another group collected signatures on a petition to "End the CCP." Despite the long hiatus, there was an extraordinary sense of harmony among the practitioners.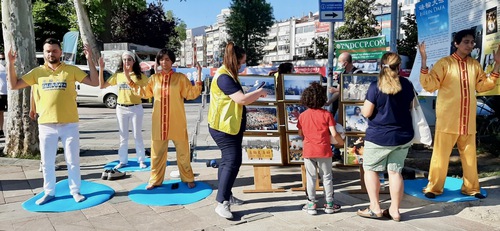 Practitioners in Turkey doing the exercises, clarifying the truth, and collecting signatures
A political party was scheduled to hold a press conference in the same area in the afternoon. While preparations were being made for that event, a practitioner took brochures and petition forms over to the press release area. When the women heard about the "End the CCP" campaign, they were very receptive and thanked the practitioners for doing this work. In addition, several of the women went to the Falun Dafa event and prayed loudly for practitioners. They said that more people should be sensitive to this situation and that there should be more people like practitioners.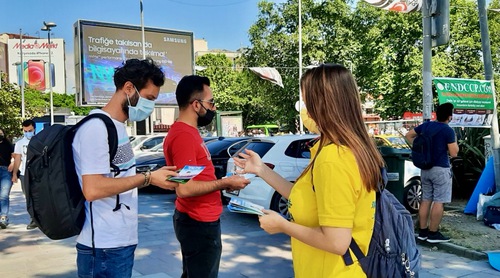 Handing out brochures and answering questions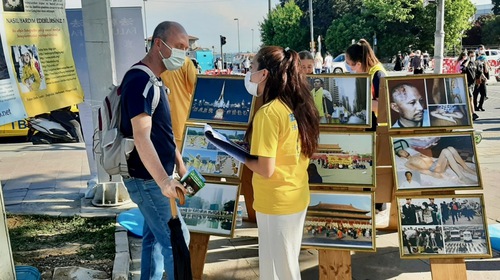 Many passersby approached the practitioners and said, "Isn't this Falun Dafa? We know about the persecution in China." They then asked for more information.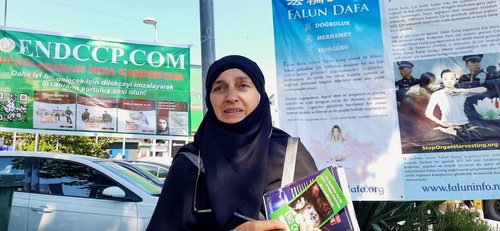 Serap Agac (Felicity Party's Beşiktaş District Education Head)
Serap is a teacher and also the head of education in the Beşiktaş District for the Felicity Party, an ultra-conservative political party in Turkey.
There was a group of Uyghur Turks in the same area. Serap first supported the Uyghur Turks' signature campaign and later became very upset when she heard about the persecution of Falun Dafa practitioners and the extent of the CCP's forced organ harvesting from Falun Dafa practitioners. She took a petition from the practitioners and went to the crowd that had gathered to have it signed one by one.
The women's branch of the party also called the head of the district and allowed practitioners to explain the campaign. They were very interested and said that if people worked together, they would have more voices.
Serap, who examined all the informational materials, said, "Good luck to you. What a wonderful thing you are doing and how happy you are! I respect all faiths, and this persecution must end."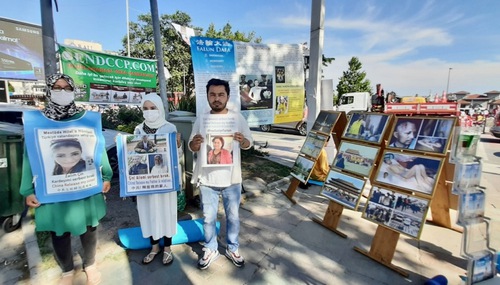 A group of Uyghur Turks
Several Uyghur Turks came over and told the practitioners about their own persecution and crimes committed by the Chinese Communist Party. They were innocent and sincere young people who took every opportunity to make their voices heard, and they called on China to allow them to reunite with their families. They shared their understandings with practitioners so that they could do more together. One of them was the director of Uyghur News. Another was from the Free Asian media and interviewed a practitioner.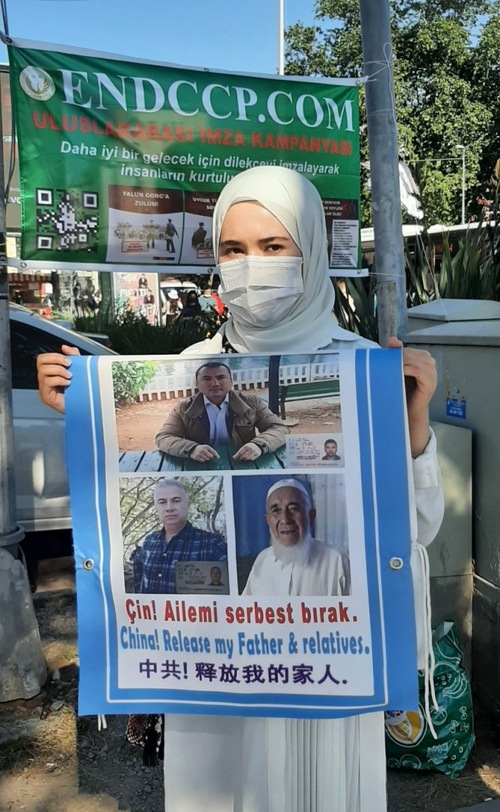 Semsiye Ali (Uyghur Turk)
Semsiye Ali said, "When I was in East Turkestan, the Chinese government was saying that Falun Dafa was harmful and violent. I don't think so, so I came to support you. I am with you. I have been living in Turkey since 2015. I am a Uyghur Turk and I am a student at the School of Nursing in Turkey. Since I live in Turkey, I have no contact with my family. My father sent me to Turkey to study at the university. My father has been held in a detention camp by the CCP since 2017. That same year, my grandfather was arrested and imprisoned for being a clergyman. In 2018, my uncle was taken to a detention camp," he said. "Currently, three of our relatives in our family of three generations are being persecuted by the CCP."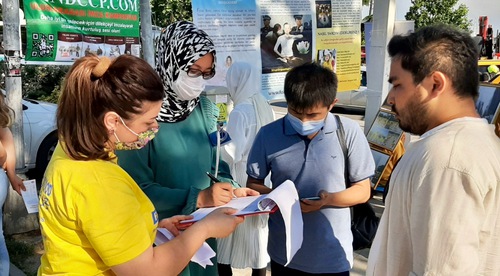 Medina Nazmi (Uyghur Turk)
Medina Nazmi has lived in Turkey since 2009 and is a Turkish citizen. She was the interpreter. She said, "We were happy to see the Falun Dafa activity. Everyone has the right to walk the path they believe in. We live in the 21st Century, and everyone is free to do what they believe. When we lived in Xinjiang, we were young and used to watch the Chinese government programs that disparaged Falun Gong. But now I have grown up and I know the truth and I know that Falun Dafa is not bad. Everyone is free to follow their belief. I support the actions of Falun Dafa practitioners."
She also talked about the dark side of China. "My 34-year-old sister, Mevlüde Hilal, graduated from the Faculty of Business Administration of Istanbul University. She was an honorable Turkish citizen and also a mother. When our mother, who lived in East Turkestan, fell ill, my sister Mevlüde went to take care of her and never came back. In late 2010, she was taken to a detention camp. Although she was released on May 12, 2019, she was arrested again on June 12, 2019, for studying and living in Turkey. I have not heard her voice since that day, and I don't hear from her, nor do I know how she is doing. I want my sister to be free and to return to Turkey with her daughter. As Turkish citizens, I want our government to protect me and my sister in this country," she said.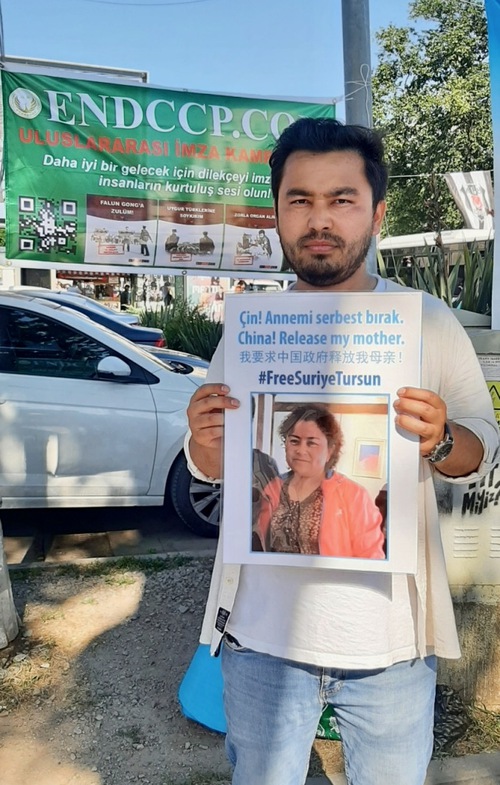 Cevlan Şirmehmet (Uyghur Turk) has lived in Turkey since 2012. He is a graduate of Istanbul Commerce University Faculty of Law.
Cevlan Sirmehmet said, "The Chinese government began persecuting and oppressing Falun Gong followers in the 1990s. I saw you here and I am here to support the activities of Falun Gong followers in Turkey. My mother is in a detention camp. My mother's name is Suriye Tursun. Because I studied and live in Turkey, she is being held by the Chinese government in a Nazi-style detention camp in China. I am trying to make my voice heard with my friends who are victims of the Chinese regime by doing as much as I can so that my mother can be freed and escape from that death camp."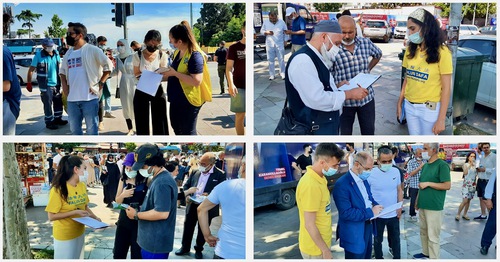 Signature campaign
Practitioners gathered nearly a hundred signatures throughout the day on the most crowded street in Istanbul, Turkey's largest city.
All articles, graphics, and content published on Minghui.org are copyrighted. Non-commercial reproduction is allowed but requires attribution with the article title and a link to the original article.
Category: Parades & Other Community Events