Argentina: Practitioners Celebrate the 29th Anniversary of Falun Dafa's Introduction to the Public
June 2, 2021 | By a Falun Dafa practitioner in Argentina
(Minghui.org) Practitioners in Argentina gathered in Buenos Aires from May 14 to May 17, 2021, to celebrate World Falun Dafa Day. May 13, 2021, was the 29th anniversary of Falun Dafa's introduction to the public and the 22th anniversary of World Falun Dafa Day. It was also the founder of Falun Dafa, Master Li Hongzhi's 70th birthday. Practitioners held activities in front of the Chinese Embassy and at many parks and streets in the city center.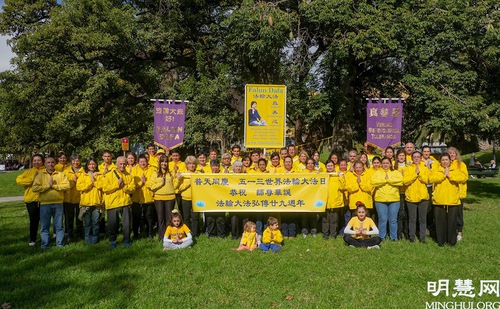 Practitioners in Argentina celebrate World Falun Dafa Day and wish revered Master Li a happy birthday.
Practitioners performed the Falun Dafa exercises during the activities and distributed information about Dafa. Many people took leaflets and listened to practitioners explain what Falun Dafa is and why the Chinese Communist Party (CCP) persecutes practitioners in China.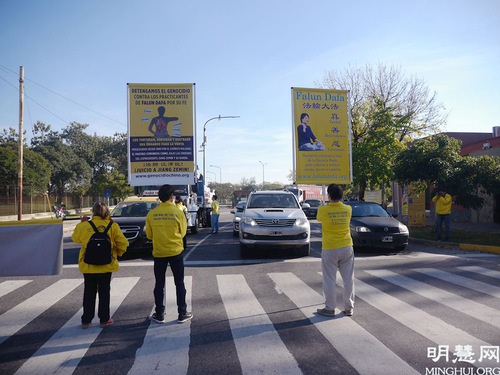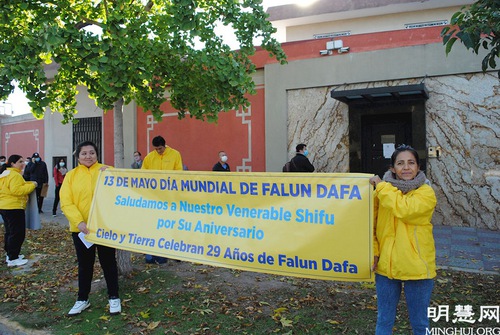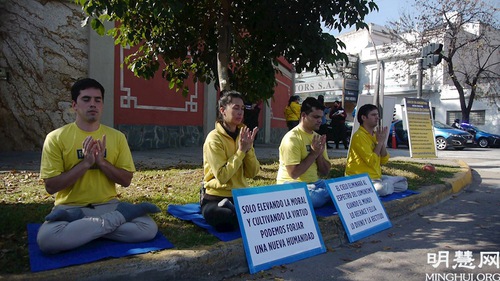 Falun Dafa practitioners raise awareness of the persecution in front of the Chinese Embassy on May 14, 2021.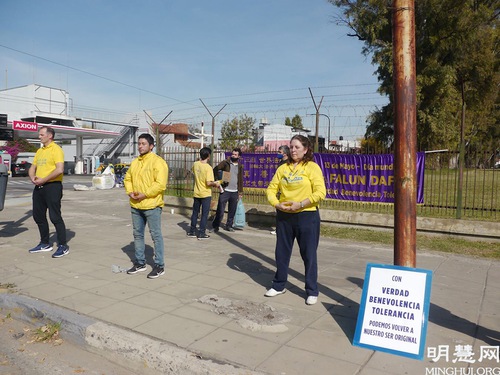 Practitioners perform the exercises on the street opposite the Chinese Embassy.
Practitioners held activities in front of the Chinese Embassy in Buenos Aires on May 14, 2021. They held up boards and banners with messages introducing Falun Dafa and exposing CCP's atrocities in persecuting practitioners.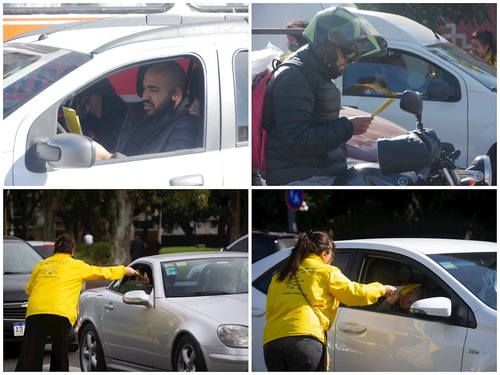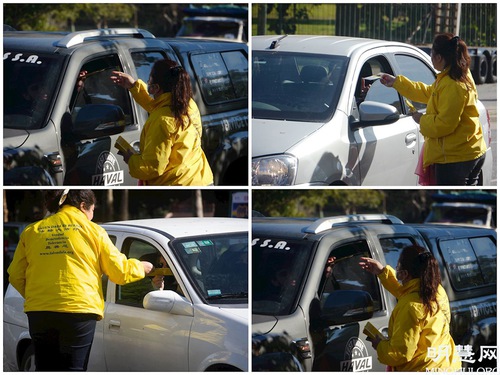 Practitioners pass brochures to people in cars stopped at the traffic lights.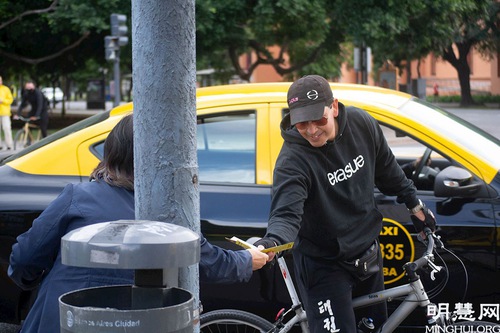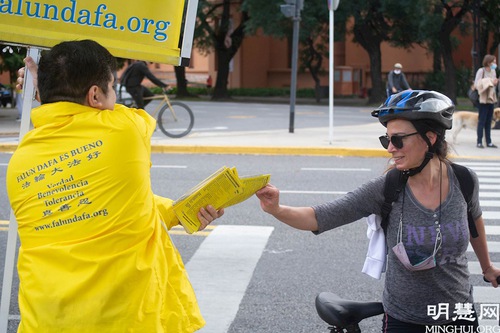 People gladly take information about Falun Dafa.
The Chinese Embassy in Argentina is located on the corner of two main roads. Though there are few pedestrians, there are many passing vehicles. When vehicles had to stop for a red light, many drivers and passengers in the vehicles were seen reading the banners and display boards that the practitioners were holding. Practitioners stepped forward to pass information to them. The people in the cars readily took the brochures and listened to practitioners explain Falun Dafa to them.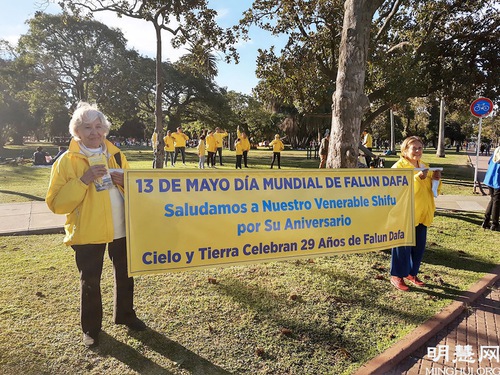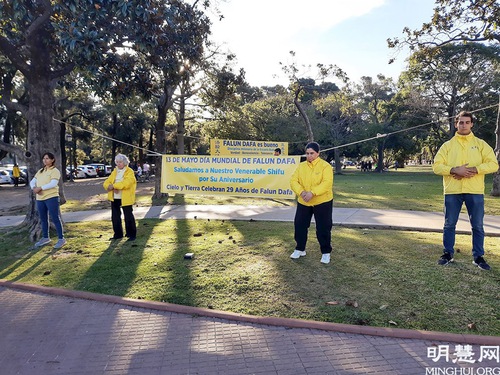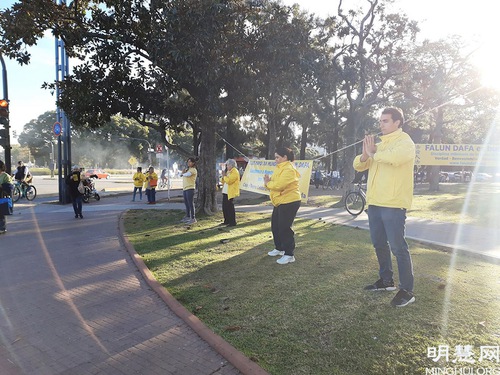 Practitioners went to many parks and downtown streets from May 15 to May 17 to continue to introduce Falun Dafa to people and raise awareness of the persecution in China.
Practitioners performed the exercises as a group on May 15, 2021, in the Forests of Palermo, a large park in Buenos Aires. A large group of people watched the exercises and many people took flyers.
Liliana was part of the large group that watched the exercises. She walked up to a practitioner and asked what the flyers were all about. A practitioner explained to her that May 13 is World Falun Dafa Day and explained what Falun Dafa is, the persecution in China and the CCP's atrocities of killing practitioners for their organs. When Liliana heard about organ harvesting she asked many questions. Liliana then introduced the practitioner to other people in her group. It turned out that they were a group of parents and kids from about 30 families who gather at this big park every Saturday. Liliana told the practitioner that the pandemic has allowed these parents to see the CCP's evil nature. The practitioner explained more about Falun Dafa to the group, and Gloria, one of mothers, asked the practitioner if practitioners could teach the practice to the parents and kids and explain the principles of Falun Dafa.
Veteran practitioners, who have practiced for more than 20 years, and new practitioners who just started to practice a year ago were among the many people who came to participate in this year's World Falun Dafa Day activities. 
Ivan Srebernic, 23, is a new practitioner. He works in the field of Internet technology and lives in southern Argentina. He got a copy of Zhuan Falun, the core book of Falun Dafa, last May and decided to start practicing after reading the book. He said that reading Zhuan Falun helped him to see many of his shortcomings and realize that he must improve his moral standards.
Ivan flew from his small town to Buenos Aires to participate in the activities. He said that this was the first time he has left his town and also the first time he has flown by plane. He came directly to the Chinese Embassy from the airport.
"This is the first time that I have seen so many practitioners," he said, "I am very excited to see them passing brochures to people in the cars and explaining the facts about Falun Dafa. Over the past four days, I have been reading the Fa, practicing the exercises, clarifying the truth and sharing experiences with other practitioners. I feel like I am bathed in Dafa and I'm immersed in this beautiful feeling all day long. I really want to be immersed in this way forever and don't want to come out of it. With these deep impressions filling my mind, I will read the Fa diligently after I go home and cultivate myself according to Master's teachings."
Lucas Mauricio Veliz, 23, is also a young practitioner. He knew about Falun Dafa when he was a child since his father practices it. Though he didn't become a practitioner when he was younger for various reasons, neither did he completely forget about Dafa. After he lost his job last year because of the pandemic, he suddenly thought of Dafa. He took out a copy of Zhuan Falun that he had kept with him and began to read it. He found other practitioners and also began to study the Fa online with a large group. 
"Thank you, Master, for helping me find Dafa again," he said. "Although I am still a new practitioner, I also hope I can help Master to save people."
Ignacio works for the National University of Luján. He, his wife Eugenia, and their 11 and 8-year-old daughters started to practice Falun Dafa in 2018. The family of four participated in the World Falun Dafa Day activities.
"From the moment we started practicing, our lives have completely changed," Eugenia said. "Master has improved our health. He taught us to live by Truthfulness-Compassion-Forbearance at any time, and we have thereby improved our relationships with others. 
"I stopped smoking cigarettes and changed my grumpy temper. My husband has become very understanding. My daughters no longer have a tough attitude. They now speak calmly. These are some of our changes. We hope we can become better every single day. Our whole family is grateful to Master!"
All articles, graphics, and content published on Minghui.org are copyrighted. Non-commercial reproduction is allowed but requires attribution with the article title and a link to the original article.
Category: Dafa Day Celebrations