Slovakia: Falun Gong Petition Event Held on Hviezdoslav Square in Bratislava
June 18, 2021 | By practitioners in Slovakia
(Minghui.org) An event highlighting human rights violations in China took place on Hviezdoslav Square in Bratislava on Sunday, June 13, 2021. Passersby had the opportunity to see the Falun Gong exercises and learn about the persecution of the practice in its country of origin. In China, people have been persecuted, tortured, and even killed for their organs for almost 22 years because they do the Falun Gong exercises and follow its teachings.
Many passersby came to find out more and signed the petition to help stop the persecution.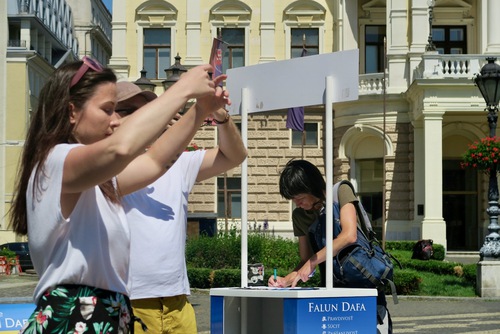 Practitioners performing the second Falun Gong exercise and people sign petition to help end the persecution.

Alfred Szilagyi, a Ph.D. student from Hungary, stopped by the event with his friends. The atmosphere surrounding the event drew him in, and in addition to signing the petition, they also wanted to learn the exercises. Why? Alfred put it simply: "I want to contribute to this, not just say 'It's good.' I want to participate and be part of this story."
Another student in their group had already signed the petition elsewhere in Hungary. He also knew about the persecution of Falun Gong from a film festival about two years ago in Budapest, when he saw the film Letter from Masanjia.
Afterward, the students described their feelings from doing the exercises: "We had a feeling of peace. It feels like when you step out of your daily routine, you stop for a moment, and it's something else—you feel it's something different."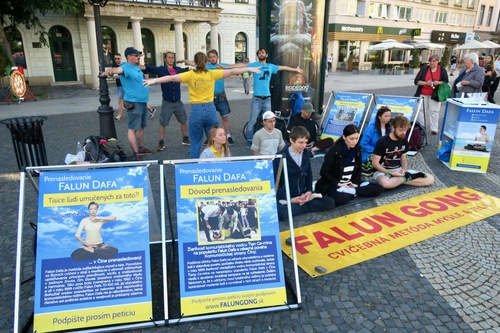 Practitioners meditating and students from Hungary learning the first exercise

The Voluntary Fire Brigade of the municipality of Bratislava-Staré Mesto held its "Old Town Security Day" event in the immediate vicinity, which many people attended. It ended with a rainbow that enlivened the entire area.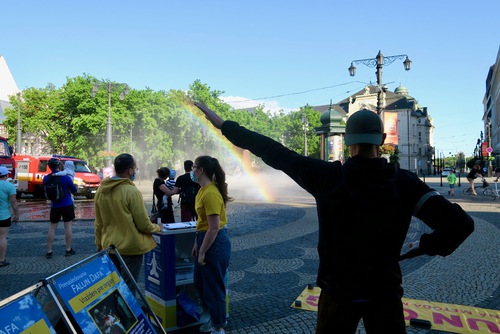 Performing the Falun Gong exercise and rainbow at the end of the Voluntary Fire Brigade's "Day of Safety" event.

All articles, graphics, and content published on Minghui.org are copyrighted. Non-commercial reproduction is allowed but requires attribution with the article title and a link to the original article.
Category: Parades & Other Community Events