Three Siblings Imprisoned for Their Shared Faith
June 15, 2021 | By a Minghui correspondent in Sichuan Province, China
(Minghui.org) Three siblings were sentenced to prison for their shared faith in Falun Gong, a spiritual discipline that has been persecuted by the Chinese communist regime since 1999. The older sister, Ms. Luo Qiaoli, was sentenced to 5 years and fined 30,000 yuan. Her younger sister, Ms. Luo Qiaoping, was sentenced to 4 years and fined 20,000 yuan. Their younger brother, Mr. Luo Xiaoxing, was sentenced to 8 years and fined 50,000 yuan.
Mr. Luo was taken to Jiazhou Prison on March 16, 2021, and Ms. Luo Qiaoping to Chengdu Women's Prison on May 19, 2021. Ms. Luo Qiaoli is still being held in the Mianshawan Detention Center.
In addition, Ms. Tan Haiyan, who was sentenced to 3.5 years; Ms. Yan Baoping, who was sentenced to 4 years; and Ms. Liu Xiuzhen, who was also sentenced to 4 years, were admitted to Chengdu Women's Prison with Ms. Luo Qiaoping on May 19.
Two other practitioners, Ms. Chen Xiangyun and Ms. Nie Rongqin, who were both sentenced to four years with Ms. Liu Xiuzhen, are also in the detention center with Ms. Luo Qiaoli.
Arrests and Sentencing
Ms. Luo Qiaoli and her sister Ms. Luo Qiaoping, both from Hunan Province, went to visit their parents in Panzhihua City, Sichuan Province, in February 2020. On February 24, they were reported for distributing information about the persecution of Falun Gong and how the Chinese communist regime was using similar tactics to cover up the pandemic.
The police arrested the sisters at around 7 a.m. on February 28. Their mother and their younger brother, Mr. Luo Xiaoxing, who lives with their parents, were also arrested. Nine officers ransacked the family home and confiscated many valuables. The family patriarch, in his 80s, was left at home by himself. His wife was released near 11 p.m.
A few days later, the elderly couple went to the local police station and demanded the release of their three children and the return of the confiscated items. The police only returned some cash.
Due to the pandemic, the couple wasn't able to deliver clothes and daily necessities to their children in the Mianshawan Detention Center (formerly known as the Wanyaoshu Detention Center) until late June.
The three siblings appeared in the Xi District Court twice, on September 2 and October 30. They testified in their own defense and denied any wrongdoing in spreading information about their faith. They also refuted the charges of "undermining law enforcement with a cult organization," the standard pretext used by the communist regime to frame Falun Gong practitioners.
The judge sentenced them in early December 2020. They appealed with the Panzhihua City Intermediate Court, which ruled to uphold their original sentences.
Brother Previously Incarcerated for 10 Years
Prior to this latest sentence, over the past two decades, Mr. Luo Xiaoxing, 48, spent one year in a forced labor camp and nine years in prison for practicing Falun Gong.
When the persecution began, he went to Beijing to appeal for the right to practice Falun Gong, only to be arrested twice in early 2000 and held at the Panzhihua City Detention Center. On March 19, 2000, he was given one year of forced labor.
After he was released, he and his oldest sister Ms. Luo Lingzhen (who was not included in the latest arrest) were forced to live away from home to avoid being arrested. They were riding bikes near a bus terminal in Changde City, Hunan Province, early on November 3, 2002, when officers from Panzhihua, who had travelled 900 miles to arrest them, stopped them.
They were taken to the Ganlusi Police Station in Changde. Qiu Tianming and another officer from the Panzhihua City Domestic Security Office verbally abused and beat them. They pushed Mr. Luo down and stepped on his face. They also tied his arms behind his back for two and a half hours. The pain caused him to sweat profusely. Fearing that he might become disabled from the torture, the local police stepped in and loosened the restraints.
After the siblings were transferred to the Wanyaoshu Detention Center in Panzhihua on November 9, 2002, Ms. Luo was quickly given 1.5 years and admitted to the Nanmusi Women's Forced Labor Camp on November 30.
Mr. Luo remained in the detention center and was subjected to constant interrogation. During one session in late May 2003, the police first hung him up by his wrists on the window frame and then used three pairs of handcuffs to hang him up with his hands pulled up behind back his back, also on the window frame.
They kept him hung up from 1 a.m. to 5 a.m. During this time, they also slapped him in the face and poured water on his head. When he closed his eyes, they pinched his swollen wrists, hit his throat, and used a chopstick to poke his belly.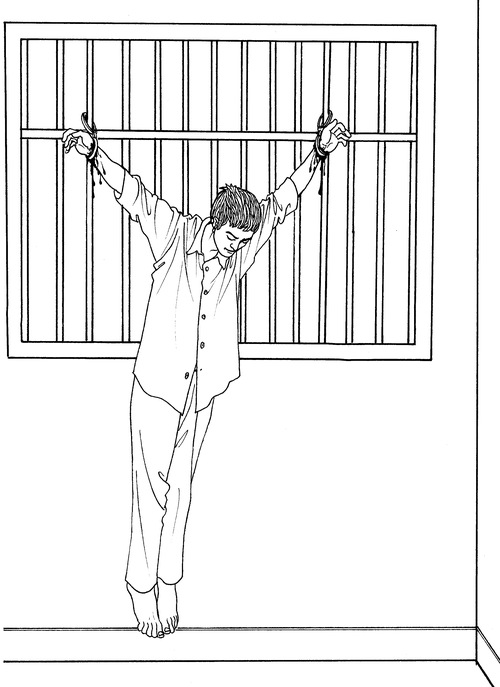 Torture illustration: Hanging up
Mr. Luo was sentenced to nine years by the Renhe District Court in Panzhihua on September 15, 2003.
Perpetrators' contact information:
Panzhihua City Intermediate Court: +86-812-3332622The Correction Department of Jiazhou Prison: +86-833-2349081Chengdu Women's Prison: +86-28-84988283, +86-28-84898358, +86-28-84898191, +86-28-84898523, +86-28-84898358Luo Lili (骆利丽), president of Chengdu Women's Prison: +86-28-27722195 (Office), +86-28-27722651, +86-13982916096 (Cell), +86-28-27722963 (Home)Xu Lingshu (许灵述), political officer of Chengdu Women's Prison: +86-28-27722999 (Office)
All articles, graphics, and content published on Minghui.org are copyrighted. Non-commercial reproduction is allowed but requires attribution with the article title and a link to the original article.
Category: Accounts of Persecution