Engineer Dies from Physical and Mental Exhaustion After 12 Years of Imprisonment
May 31, 2021 | By a Minghui correspondent in Heilongjiang Province, China
(Minghui.org) An engineer in Qiqihar City, Heilongjiang Province died on May 20, 2021, a year after he was released from serving a second prison term for practicing Falun Gong, a mind and body improvement system persecuted in China in the past 22 years. 
Because of the relentless tortures in the prisons, Mr. Li Shunjiang suffered severe pleural effusion with excessive fluid buildup in his lungs and chest cavity. He could barely breathe. Instead of recovering, his health continued to decline, as he had to take care of his mentally ill wife and paralyzed mother-in-law, both of whom are also victims of the persecution. In addition to the constant police harassment, he eventually succumbed to the mental and physical distress. He was in his early 50s. 
As his death was very sudden, his parents and sisters did not get to see him before he died. 
In addition to his second prison term of three years, Mr. Li had previously served nine years in prison for his faith. Because he refused to renounce Falun Gong, he suffered a variety of tortures, including being hung up from handcuffs for a long time, long term sitting in a metal chair, beatings, beaten with metal clubs, solitary confinement, and force-feeding. 
Latest Arrest and Death
The police arrested Mr. Li and a dozen other practitioners in March 2017. He was in a bad shape after being beaten by the police. As the local detention center refused to admit him, the police fabricated a hospital examination and forced the detention center to accept him. 
When Mr. Li's lawyer visited him in the detention center on April 7, 2017, he was in handcuffs and shackles and could barely walk to the visiting room.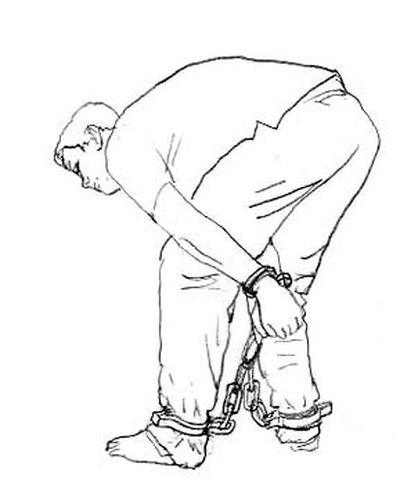 Torture illustration: handcuffed and shackled
Mr. Li was later sentenced to 3 years. After he was taken to the Fengtun Prison in November 2018, he was forced to do labor intensive work without compensation. When he protested the abuse, he was handcuffed in a twisted position that caused excruciating pain. He wasn't allowed to use the restroom either. As a result of the torture, he contracted pleural effusion and was hospitalized. 
When Mr. Li's family visited him in September 2019, he was underweight and too weak to walk. A guard carried him out and said that he just had fluid removed from his lungs and chest cavity at the prison hospital.
The tortures and inhumane treatments took a heavy toll on his health. His weight dropped from 170 lbs to less than 90 lbs (he was 5'10'' or 178 cm tall). He couldn't walk on his own, had no appetite, and suffered shortness of breath. The skin on his feet was scratched off from wearing shackles around the clock. During the day his hands were cuffed to a door and he wasn't allowed to use the restroom. At night, he lay on the ground, with his hands cuffed to the bed frame and deprived of sleep. 
By the time he was released in March 2020, he was emaciated beyond recognition and constantly coughed. But despite his own physical condition, he had to take care of his wife, Ms. Chen Li and her mother, both of whom were in dire situation after being persecuted for their shared faith.
After serving three years in Harbin Women's Prison, Ms. Chen became mentally ill and often tried to start a fire. Her mother was sentenced to over four years and became paralyzed and bedridden after being released from prison. 
Ms. Chen's condition prevented Mr. Li from sleeping well at night, which took an even harder toll on his own health. To make it worse, the local police many times found him and demanded him to move. They once knocked on his door for over an hour in April 2021. Being physically, mentally, and financially exhausted, Mr. Li died in May 2021. 
Tortured to Near Death During Previous Nine-year Prison Term 
Mr. Li was first arrested for practicing Falun Gong in February 2001. In the Tienan Police Station, he was tightly handcuffed and beaten. His face, hands, and legs were swollen and deformed as a result. He was sentenced to 9 years and taken to Tailai Prison in December 2002, after spending a year and 10 months in Qiqihar Detention Center. 
In the prison, he was beaten until his flesh was smashed in and he was covered in blood. At one point he was handcuffed, beaten, and force fed in a solitary confinement for 7 days. In winter time, he was given little food and water. The guards also took off his winter jacket and exposed him to the freezing temperature. One time he was stripped and the guards hosed cold water on him. The guards also force fed him with salt water until he became incontinent. 
By the time he was released in 2010, he had been fired from his job as an engineer. He worked odd jobs to support himself and his family. 
Related articles:
Engineer Arrested Again After Nine Years of Imprisonment and Torture
Imprisoned Man Still Recovering from Abuse-induced Pleural Effusion, Lawyer Denied Meeting with Him
All articles, graphics, and content published on Minghui.org are copyrighted. Non-commercial reproduction is allowed but requires attribution with the article title and a link to the original article.
Category: Reports of Death Cases