Arrested in a Police Sweep, Hebei Woman Sentenced to Three Years
May 30, 2021 | By a Minghui correspondent in Hebei Province, China
(Minghui.org) A woman in Tangshan City, Hebei Province, was recently sentenced to three years for practicing Falun Gong, a spiritual discipline that has been persecuted by the Chinese communist regime since 1999.
Ms. Xiao Huijun was arrested on June 18, 2020, during a police sweep of Falun Gong practitioners in the Fengrun District. The police had a list of over 50 practitioners and 38 of them were confirmed to have been arrested. One of them, Ms. Han Yuqin, died within hours of her arrest.
Ms. Xiao's husband, who doesn't practice Falun Gong, was also arrested but was released that same day. Ms. Xiao was put in criminal detention and held at the Tangshan No.1 Detention Center.
The Zunhua City Court sentenced Ms. Xiao to three years on April 9, 2021. Seven other practitioners targeted in the police sweep are also facing prison time after they were indicted and had their cases forwarded to the court.
Past Persecution
On July 20, 1999, the day the Chinese Communist Party began the persecution of Falun Gong, Ms. Xiao boarded a train to Beijing to appeal for the right to practice. She was arrested by the Beijing police when she got off the train at around 1 a.m. They attempted to push her onto another train heading back to Tangshan. When she was trying to escape, she took a hard fall and injured herself. Three days later, she was taken back home and put under house arrest.
Tortured in a Detention Center in Beijing
Ms. Xiao went to Beijing again on November 27, 2000. She and 12 other practitioners from around the country went to Tiananmen Square on November 29. In no time, the police showed up, beat them, and dragged them to police vans. In the van, the police continued to hit her, slap her in the face, and hit her against the back of the seat.
At the Qianmen Police Station, an officer kicked Ms. Xiao in the abdomen and interrogated her. When she refused to reveal any information, they continued to beat her, pulling out clumps of her hair and slapping her in the face for more than half an hour. They also shocked her face with an electric baton. She felt her face was burning.
Ms. Xiao started a hunger strike to protest the arbitrary detention. The police cuffed one of her hands to the bed, pinched her nose, and force-fed her bottles of water. She kept coughing and almost suffocated.
After being held briefly at the police station, Ms. Xiao was transferred to a detention center. The police interrogated her on December 7. They dragged her up the stairs. When she tried to resist, they beat and verbally abused her.
In the interrogation room, Ms. Xiao was cuffed in a metal chair. The police tried to feed her candy and fruit, but she spit it out. Ordered by the police chief, one officer slapped her in the face with all his strength. She felt her head was exploding and then it became numb.
The police took out a three-inch-wide leather belt and whipped Ms. Xiao on her face, head, and hands for half an hour. She had several swellings on her head. She was very dizzy and her mouth bled.
Conditions in the detention center were very poor. She shared a hardboard bed with over 20 practitioners and they were only given two filthy comforters. There was no heat and the guards also kept the window open to let the freezing wind blow on them.
On the seventh day of her hunger strike, the police took her to the hospital and force-fed her four times.
After one month of detention, Ms. Xiao was released on December 20.
Tortured in the Fengrun Detention Center in Tangshan
Two officers broke into Ms. Xiao's home on April 2, 2001, and asked her if she still practiced Falun Gong. When she said she did, they arrested her and held her in a metal cage in the police station overnight. She wasn't given any food or water, nor was she able to sleep. On April 5, she was taken to the Fengrun Detention Center.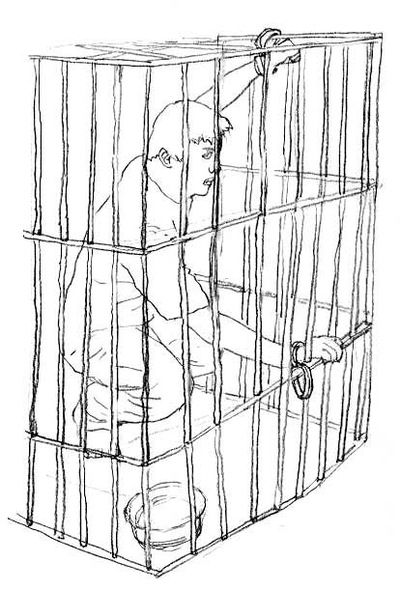 Torture illustration: Locked in a cage
Because she would not answer roll call or wear the inmate's uniform, a guard took Ms. Xiao to her office, slapped her in the face, and verbally abused her. When Ms. Xiao tried to persuade her to stop doing evil, the guard beat her with a rubber club and made her buttocks black and blue. The guard also handcuffed Ms. Xiao with cuffs that grew tighter when she struggled. The handcuffs made it very difficult for her to walk, sit or lie down.
On another occasion, she was handcuffed behind her back for seven days. She had to be helped to use the restroom. At night, she had to sleep sitting in a chair.
When Ms. Xiao tried to stop the guards from force-feeding another practitioner, the detention center doctor turned around and slapped her face with a slipper. Her face and eyes were injured.
When Ms. Xiao held a hunger strike to protest the persecution, the guards held her head, arms, and legs and force-fed her. In another force-feeding session, one inmate grabbed her hair and pulled her head backward while another inmate tied her hands behind the back of the chair. As one guard pried open her mouth, the detention center doctor stepped on her feet, pinched her nose, and force-fed her. When she tried to struggle, the doctor stomped on her feet.
For not cooperating with a search, the guards grabbed Ms. Xiao by the hair and hit her head against the wall. Another guard once kicked her during a ten-minute break time.
The guards also tried to force-feed her unknown drugs. When she resisted, they hit her mouth with a broom and made it bleed.
Shortly after Ms. Xiao was released in late 2001, she was taken to a brainwashing center and held for two weeks.
Another Arrest and Three Years of Forced Labor
Ms. Xiao was arrested again on November 11, 2002, after being reported for passing out Falun Gong flyers on a bus. She was first held at the Fengrun Detention Center and then transferred to the Tangshan No.1 Detention Center.
Yao Shujun, the head of the Tangshan No.1 Detention Center, restrained Ms. Xiao tightly in a metal chair, then she began to slap her in the face. Ms. Xiao's mouth bled and she was very dizzy. She was kept in the chair for five days and only allowed to use the restroom once a day. The weather was so cold that she couldn't fall asleep at night. When the guards loosened her from the chair, her legs and feet were so swollen she couldn't fit into her shoes.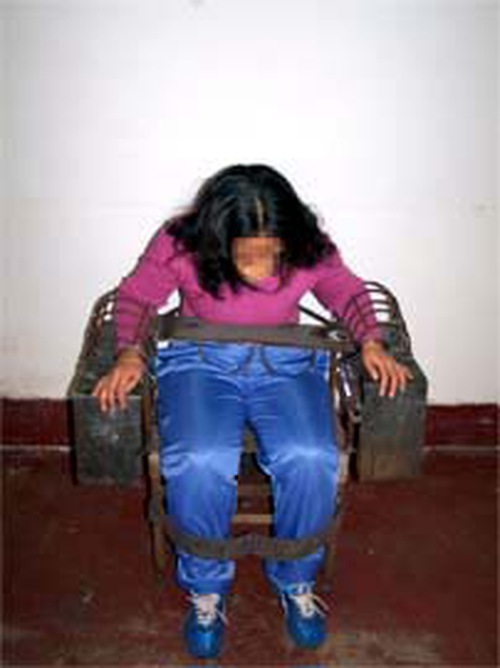 Torture reenactment: Restrained in a metal chair
On one occasion, the guards beat another practitioner in front of Ms. Xiao. When she tried to stop them, they turned around and beat her.
After 100 days of detention, Ms. Xiao was given three years and transferred to the Kaiping Forced Labor Camp.
All articles, graphics, and content published on Minghui.org are copyrighted. Non-commercial reproduction is allowed but requires attribution with the article title and a link to the original article.
Category: Accounts of Persecution