70-year-old Woman Has Been Detained Incommunicado for Nearly Two Weeks
May 27, 2021 | By a Minghui correspondent in Gansu Province, China
(Minghui.org) A 70-year-old resident of Lanzhou City, Gansu Province has been detained incommunicado since her arrest on May 13, 2021 for practicing Falun Gong, a spiritual discipline that has been persecuted by the Chinese communist regime since 1999.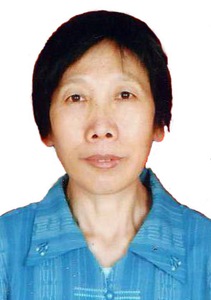 Ms. Qi Lijun (photo taken in August 2009)
Nearly 20 plainclothes officers descended on Ms. Qi Lijun's apartment building on the afternoon of May 13, 2021. They waited outside and arrested six practitioners who came to visit her at around 2:00 p.m. The police took them to the local police station and interrogated them about who organized the visit to Ms. Qi. The practitioners were also ordered to report information of their family members and sign statements that slandered Falun Gong. The six practitioners were not released until 4:00 a.m.
The practitioners are Ms. Fan Yumei, Ms. Zhu Xiaochun, Ms. Li Xiulan, Ms. Hou Aiqin, Ms. Chen Xiufen, and Ms. Ma.
Ms. Qi refused to open the door for the police. After hours of standoff, the police broke in at 9:00 p.m. and arrested her. They spent three hours ransacking her home and took her away at around midnight. Some neighbors heard Ms. Qi shouting "The police are beating innocent people!"
It's not clear where Ms. Qi is being held or if there were any other Falun Gong practitioners arrested with her.
Past Persecution
Ms. Qi, a retired employee of the Gansu Province Medicine and Health Products Import and Export Corporation, took up Falun Gong in 1995. The postpartum complications that she had been struggling with for years soon disappeared.
Because she did not renounce Falun Gong in the face of the persecution, Ms. Qi was sentenced to ten years in 2003 and given one year of forced labor in 2011. She was subjected to intensive physical torture, which caused her hair to turn gray and her teeth to loosen.
Ms. Qi was first arrested on May 2, 2002. While being held at the Lanzhou No. 2 Detention Center, she was forced to do unpaid labor, sorting sunflower seeds. The guards once pulled one of her arms over her shoulder to meet the other arm twisted up behind her back, and cuffed her hands together. They then chained the handcuffs to her shackles, causing her unable to stand up or squat. The torture lasted for a month, which caused tremendous difficulty for her to sleep or use the restroom. When the guards finally unlocked the handcuffs, her hands swelled so badly that the handcuffs couldn't be removed. It wasn't until one week later that Ms. Qi was able to walk again.
Ms. Qi was secretly sentenced to ten years by the Chengguan Court on July 20, 2003. She was taken to the Gansu Province Women's Prison on March 19, 2004. The guards forced her to do intensive labor without pay, including making paper bags, and packaging chopsticks, napkins, and toothpicks. Other labor work included peeling garlic. The garlic cloves were usually soaked in water so that they could be peeled more easily, but excessive exposure to water caused many inmates' hands to fester. And the strong odor was also irritating.
Ms. Qi was released in August 2009, about two years and nine months ahead of time.
Ms. Qi was arrested again on September 24, 2011 for talking to people about Falun Gong. She was given one year at the Gansu Province Women's Forced Labor Camp after 15 days of detention.
For filing criminal complaint against Jiang Zemin, the former head of the communist regime who ordered the persecution, Ms. Qi was arrested one more time, on December 1, 2015. She was first held at a lockup and then a brainwashing center for a total of two months.
The authorities suspended her pension in 2012. She went to her workplace and social security office to seek justice several times, but to no avail.
Related reports:
Ms. Qi Lijun Detained and Home Ransacked for Suing Jiang Zemin
Ms. Qi Lijun from Gansu Province Sent to Labor Camp Two Years after Her Release from Prison
All articles, graphics, and content published on Minghui.org are copyrighted. Non-commercial reproduction is allowed but requires attribution with the article title and a link to the original article.
Category: Accounts of Persecution