Spain: Practitioners Introduce Falun Dafa During Health Expo in Malaga
May 26, 2021 | By a Falun Dafa practitioner in Spain
(Minghui.org) Falun Dafa practitioners participated in the annual health expo held in Andalusia in Malaga, southern Spain, on May 14, 2021. They demonstrated the exercises and told people about the spiritual practice.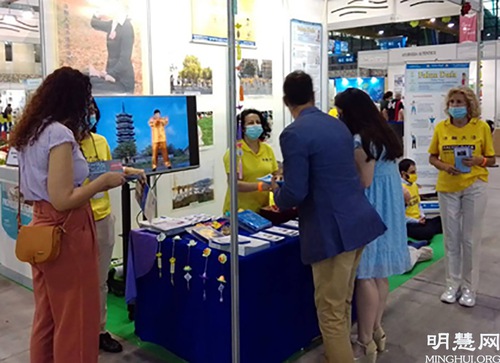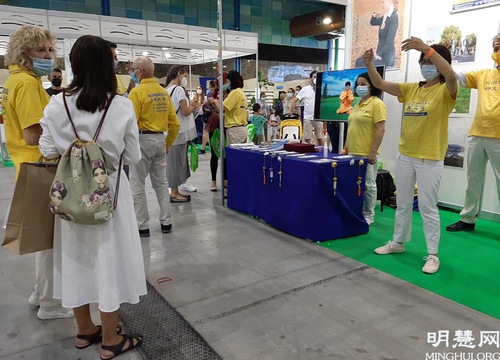 Practitioners demonstrated the exercises and talked to people about Falun Dafa.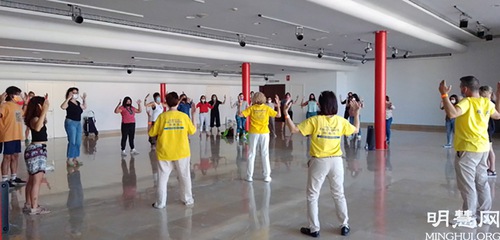 Visitors learn the Falun Dafa exercises.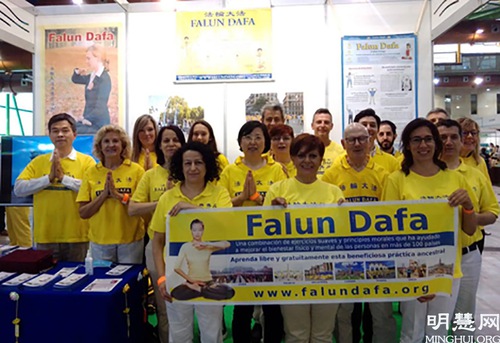 Practitioners wished Master Li a Happy Birthday!
At the information booth, the practitioners displayed the pictures of Falun Gong's worldwide spread and demonstrated the exercises accompanied by the tranquil exercise music. The soothing melodies attracted visitors to watch and ask questions. They read the displays and seemed fascinated by the exercises. Some people stayed to watch the demonstration, while others wanted to learn the exercises right away. Many said that they could feel the powerful energy.
On the first day of the expo, a little girl stopped and watched the exercise demonstration for a long time and did not want to leave. The girl's mother, who adopted her from China, said she tried her best to help with her daughter's interests in traditional Chinese culture. They were interested in cultivation practice and were happy to see traditional Chinese culture at the expo.
A mom who adopted a Chinese girl said she was happy to find Falun Dafa which is a part of traditional Chinese culture at the health expo.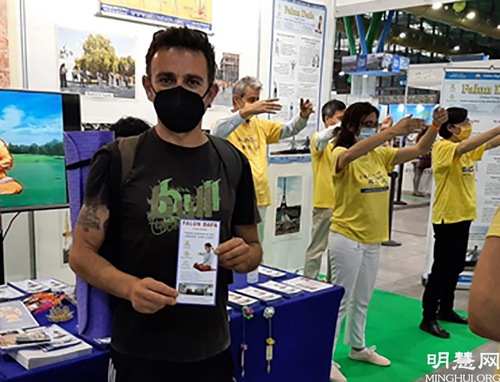 Jackie: Awakening consciences with the principles of Truthfulness-Compassion-Forbearance.
Jackie, a Malaga resident, was attracted by the soothing exercise music. He asked for information about how to learn the exercises. He said, "It is important to have this ancient cultivation method of Falun Dafa here. Dafa's principles of Truthfulness-Compassion-Forbearance are what people need. We need it to awaken people's consciences.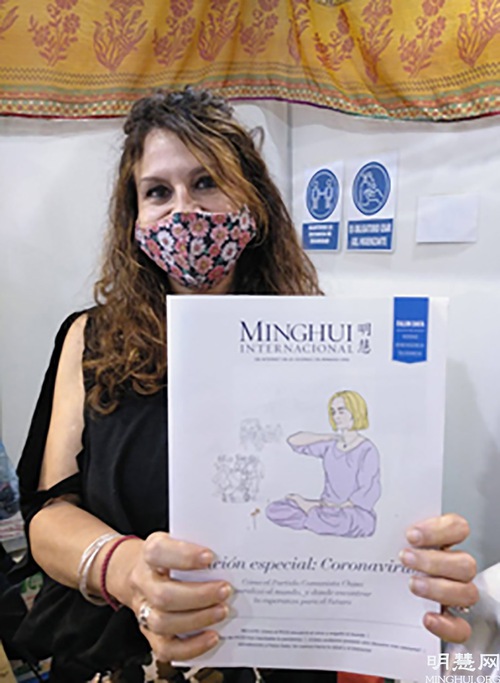 Lola: Falun Dafa is the most beautiful and precious thing I have encountered at this expo.
Lola, who had a jewelry booth at the expo, said she was deeply attracted to the Falun Dafa booth. She came over to talk to practitioners whenever she could and repeatedly watched the exercise demonstrations. She said, "When they are meditating, their faces show peace and calmness. I felt the powerful energy around them. Falun Dafa is the most beautiful and precious thing I have encountered at this expo. I will learn the exercises. Thank you, Falun Dafa practitioners, for what you've done for the community and the world."
Practitioners Thank Master for Positively Impacting Their Lives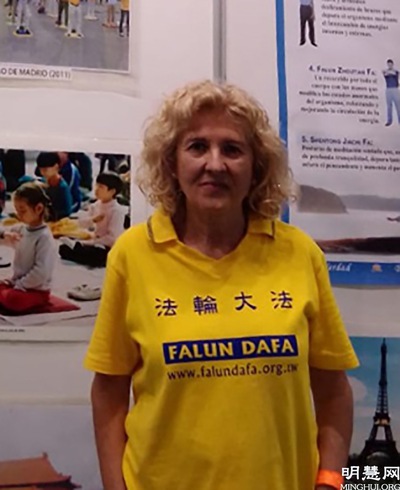 Reyes is grateful to Falun Dafa's founder.
Ms. Reyes said, "I heard about Falun Dafa in May 2004 and started practicing in January 2005. I suffered from rheumatoid arthritis for many years and was unable to lift my arms, my fingers were swollen, and I was in great pain. Amazingly, in less than two months, my disease disappeared after I practiced Falun Dafa."
Ms. Reyes explained, "My sister and I had been at odds and had conflicts for many years. We had not spoken for years. After practicing Dafa, I followed Master's teachings and tried to think of her first. I put myself in her shoes and eliminated my resentment toward her. Now we have a good relationship. We feel this is a miracle that would not have been possible if I did not practice Falun Dafa. My gratitude to Dafa and Master is beyond words."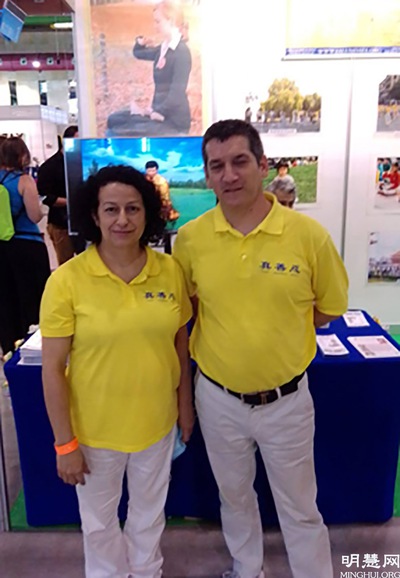 Louis and Amundana are very grateful to Falun Dafa.
Practitioners Louis and Amundana traveled from out of town to attend the expo. Louis said, "I am very grateful to practice Falun Dafa and walk on the path of cultivation. I quit smoking and drinking, and my severe headaches disappeared. I used to have a short temper, but after practicing Dafa, I became kind and tolerant."
Louis's wife, Amundana, is also grateful to Dafa and its founder Mr. Li. She said, "I used to have pain in my back and abdomen, but after practicing, my body became lighter, and the pain disappeared. I became confident, and my depression and phobias disappeared. I also became more selfless and now I consider others first. All this is possible because I follow Falun Dafa's principles and teachings. I am so grateful to Master."
All articles, graphics, and content published on Minghui.org are copyrighted. Non-commercial reproduction is allowed but requires attribution with the article title and a link to the original article.
Category: Parades & Other Community Events