Sweden: Bringing the Goodness of Dafa to Falun City
May 24, 2021 | By a Falun Dafa practitioner in Sweden
(Minghui.org) Falun Dafa practitioners held events in Falun City located in Dalarnas län from May12-14, 2021 to celebrate World Falun Dafa Day, and the 70th birthday of Falun Dafa's founder, Master Li Hongzhi.
Falun is located in the central Swedish provincial capital, Dalarnas län. Copper was discovered in the area in the 17th century, and for centuries it was a primary contributor to Sweden's economy. The area is now listed with the The United Nations Educational, Scientific and Cultural Organization (UNESCO) as a world heritage site.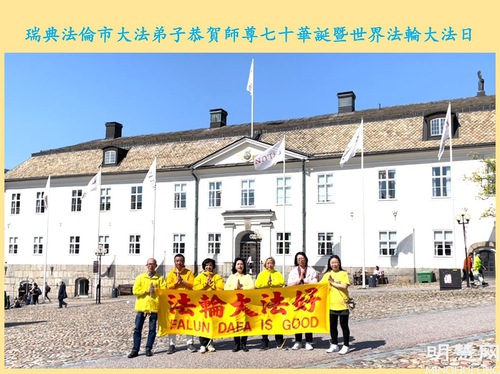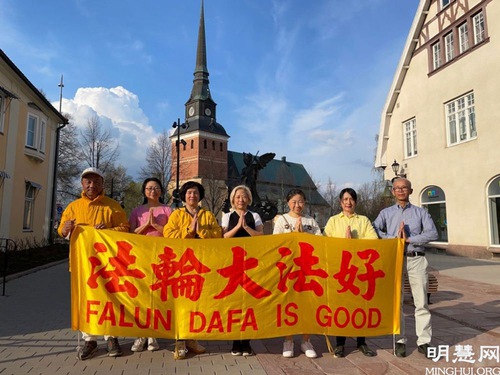 Practitioners celebrate World Falun Dafa Day in the Swedish provincial capital, Dalarnas län.
"I Like Falun Dafa!"
Helena is a university student. During the school holidays, Helena works part time at a big hotel in Falun. When a practitioner gave her a brochure she immediately started to read it. She said, "Falun Dafa---I have heard about it before. I knew something about it, but not much. Falun is also our city's name--ours is the name of a place while Falun Dafa originated in China." 
Helena learned that Falun Dafa is a cultivation practice and its principles are Truthfulness, Compassion, and Forbearance. She said, "This principles are good. I like Falun Dafa!"
She told the practitioner, "After the Chinese Communist Party (CCP) began persecuting Falun Dafa, Falun City also suffered. All the emails, as long as they contain the word 'Falun', are all being blocked. This is so ridiculous! I know that there are no human rights in China." 
As early as 2001, Falun Dafa practitioners have accepted invitations and gone to Dalarna University and a high school in Falun City to introduce Falun Dafa. The persecution of Falun Dafa by the CCP caused upset Falun City's residents and some people canceled their trips to China. In the blink of an eye, 20 years have passed. Seven practitioners, including those who came to Falun years ago to do an introduction about Falun Dafa, once again came back to bring the goodness of the spiritual practice to the city's residents.
Residents Thank Falun Dafa Practitioners
The practitioners spent three days visiting Dalarna's main towns and distributing brochures. Soon after the practitioners arrived, the weather quickly became warm, going from 4ºC to 25ºC . Due to the pandemic, most people were at home either sitting in their gardens or tidying their patios.
Mr. Gunnar who is retired, was pruning his flowers when he noticed practitioners greeting him from outside his patio. He happily walked over, accepted the brochure and chatted with them. The practitioners explained what Falun Dafa is and also told him about the persecution that practitioners are suffering in China.
Mr. Gunnar said, "Thank you for the news. I will definitely read this brochure in detail." After putting the brochure in his pocket, Mr. Gunnar said, "I have read some reports on the Swedish media. The CCP not only deceives the Chinese people, they are deceiving the world. In the past, I thought that through the commerce and cultural exchange with China, the Western countries' democratic ideology will help to improve their human rights. However, we are too naive. This pandemic exposed the CCP's ambition—which is to dominate the world. What you all are doing is very good! I support you!"
In Mora City a middle-aged man was chatting with his neighbor when he noticed practitioners delivering materials. He asked what they were. After listening to the practitioner's explanation the man said, "I do not like the CCP, it is evil. The CCP not only should disappear in China, it should disappear from the whole world!"
Both men thanked the practitioners for coming to bring them the brochures. When the practitioners finished distributing the brochures to the mailboxes ahead and turned back, they saw that both men were still reading the brochure.
In Borlange, an elderly couple was strolling with their dog. When practitioners offered them a brochure and explained that they traveled all the way to their town to bring them the information, the couple expressed their thanks and wished them success.
Honored That Their City's Name is Falun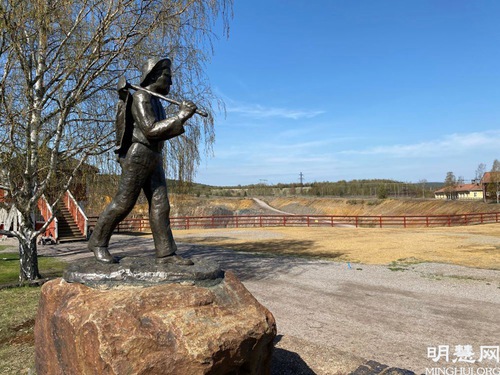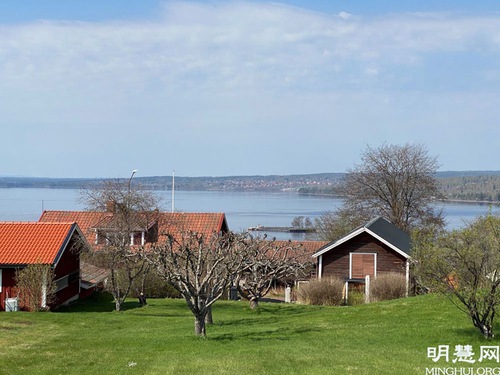 Falun City is not only famous for it's copper quarry, but also for it's beautiful scenery.
Falun City is famous for it's beautiful scenery as well as its copper quarry. Although the copper quarry closed in 1992, the city is still important in Sweden.
The Silian River runs through Falun City, dividing it into 2 regions. The copper quarry is one side which used to be Sweden's main economic source. On the other side of the river, are several beautiful, free-standing homes and the region is also called as 'The Happy Side.'
The city's main tourist attractions are the quarry hill, skiing centre, and the hometown of painter, Karl Larsson. The city is also home to a world class skiing sports complex where world skiing competitions have been held many times.
Several local residents told practitioners that they feel happy and honored that their city's name is Falun, similar to Falun Dafa.
All articles, graphics, and content published on Minghui.org are copyrighted. Non-commercial reproduction is allowed but requires attribution with the article title and a link to the original article.
Category: Dafa Day Celebrations