Once Sentenced to Seven Years of Imprisonment, Former Ministry of Agriculture Employee Arrested Again
May 24, 2021 | By a Minghui correspondent
(Minghui.org) Mr. Ke Xingguo, a 64-year-old former employee of the Ministry of Agriculture, was arrested at his home in Beijing on April 22, 2021 for practicing Falun Gong. His incapacitated wife struggles to fend for herself.
In the past 22 years of persecution of Falun Gong by the Chinese communist regime, Mr. Ke has been arrested multiple times and detained in brainwashing class, police department and detention center. He was also sentenced to seven years of imprisonment. 
Prior to his latest arrest, the police and local community staff members kept harassing Mr. Ke since March 2020. 
Persecution in Brainwashing Classes
Mr. Ke was first arrested at home on January 30, 2001. He was brought to an office at his workplace and forced to watch the staged "Tiananmen Square Self-immolation incident." As Mr. Ke refused to denounce Falun Gong and pointed out loopholes in the video, he was taken to a brainwashing class operated by the Ministry of Agriculture in Miyun County on the next day. 
Days later, he was transferred to another brainwashing class in Huairou District. Mr. Ke was able to escape on February 6. He had to stay away from his home in order to avoid further persecution. 
Torture Experienced in Shenzhou City Police Department and Detention Center
Mr. Ke was arrested in Shenzhou City, Hebei Province (about 150 miles from Beijing) in the evening on March 11, 2001. The police tied him up. Then they lifted him up, and threw him onto the ground. 
After he was taken to the Shenzhou City Police Department, the police handcuffed him behind his back. They beat him up using sticks and shocked him with electric batons. He was also starved for two days and deprived of sleep. He was tortured to the brink of death.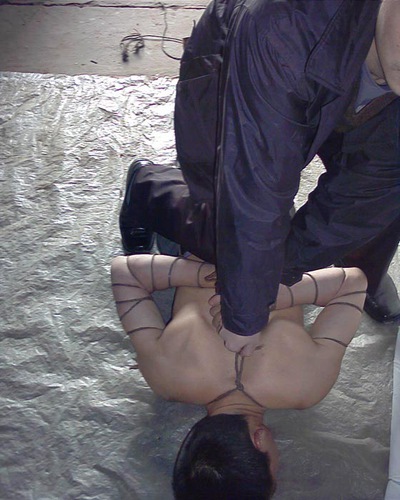 Torture re-enactment: tying tightly with a thin rope
The guards also force-fed him and they left the feeding tube in his nose afterwards. Sometimes the guards hung him upside down next to a septic tank and they called the torture "watching a movie."
Torture Experienced in Baoding Prison
Mr. Ke was later sentenced to seven years in Baoding Prison, Hebei Province. Because he did the Falun Gong exercises in the prison, the guards tied one of his legs to the bed for one month.
Between July and September 2002, a political instructor named Wang Yuhai instigated murderer Yan Jun to kick Mr. Ke and tie him up to a bed board and then force-feed him. Mr. Ke was deprived of sleep. After two months of torture, Mr. Ke became extremely weak.
Torture Experienced in the Fourth Prison in Hebei Province
As Mr. Ke refused to renounce Falun Gong despite the torture, the authorities transferred him to the Shijiazhuang Fourth Prison in Hebei Province in 2003 for further persecution.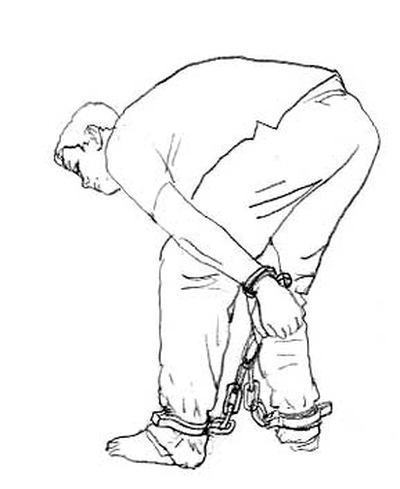 Torture illustration: hands and feet shackled together
Mr. Ke was detained in a "Rigorous Control Unit." He was forced to wear shackles for eight days and not allowed to sleep. The guards also designed a special metal board to torture him. They handcuffed and shackled him to the ring on the board, leaving him unable to sit up or lie down. At the same time, the guards beat and kicked him at will. His legs became increasingly numb as a result.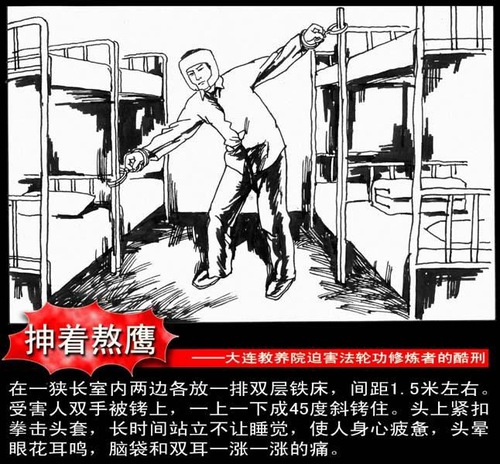 Torture illustration: sleep deprivation
Mr. Ke went on a hunger strike to protest the torture death of Ms. Yang Xiaojie in March 2006. He was locked and tortured in solitary confinement. He was not given any blankets on his bed. The guards forced him to wear shackles even though he was having trouble standing.
More Arrests and Harassment
Mr. Ke was arrested two more times, on July 19, 2008 and July 20, 2015, respectively. He was released on September 20, 2008 and August 18, 2015, respectively.
Three officers from the Wanshou Road Police Station ransacked Mr. Ke's house on May 23, 2019. They took away three of his Falun Gong books, one computer, two hard drives and an mp4. Even though Mr. Ke's wife was incapacitated and needed Mr. Ke's care, the police still arrested Mr. Ke and took him to the police station. Although the police released him an hour later, they threatened to look for him again in the future.
All articles, graphics, and content published on Minghui.org are copyrighted. Non-commercial reproduction is allowed but requires attribution with the article title and a link to the original article.
Category: Accounts of Persecution