California: Practitioners Hold Events in San Diego to Celebrate World Falun Dafa Day
May 18, 2021 | By a Falun Dafa practitioner in San Diego, California, U.S.A.
(Minghui.org) Falun Dafa practitioners in San Diego, California, held activities at the popular tourist attraction La Jolla Cove Park on May 8, 2021. They demonstrated the exercises, celebrated Falun Dafa's introduction to the world 29 years ago, and wished its founder, Master Li Hongzhi, a happy 70th birthday. They also expressed their gratitude to Master. Several people stopped to watch and some said that the peacefulness and goodness of Dafa has a positive influence on society.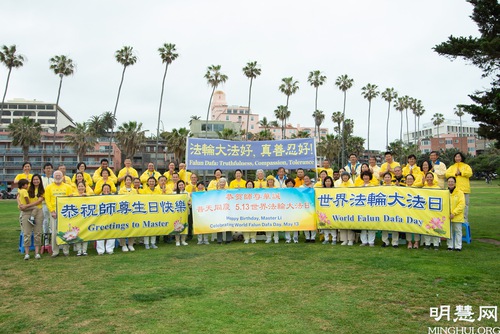 Practitioners in San Diego took a group photo in celebration of World Falun Dafa Day and wished Master Li Hongzhi a happy 70th birthday.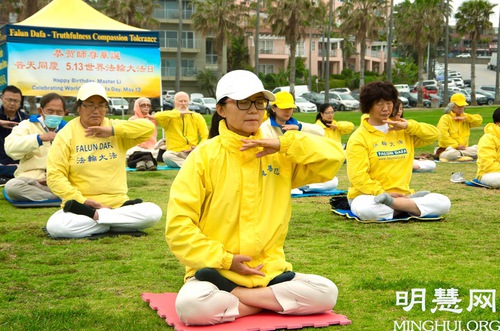 As part of the day's events, practitioners demonstrated the exercises in La Jolla Cove Park, on May 8, 2021, to celebrate Falun Dafa's public introduction 29 years ago and to wish Master Li Hongzhi a happy 70th birthday.
Attracted by Falun Dafa's Peacefulness
Physiotherapist Chris Pearson said, "I like Falun Dafa. It's very beautiful and it combines one's body, heart, and soul together, raising people's spirits and positively influencing the world." He said that he knew about Falun Dafa because he had seen practitioners doing the exercises there before.
Elsa, a librarian from Chino, was visiting San Diego. She said that she could see people doing movement together and heard the music from her hotel balcony that overlooks the beach.
She said, "I was sitting on the balcony just now when I heard the music. Meditating with them makes me feel very relaxed and I like it very much. The calm music combined with the sound of the waves is really perfect."
Noely Valenzuela, who is a secretary in a hospital, brought her children to the beach to play when they passed practitioners doing the exercises. This was the first time Noely had heard about Falun Dafa. She said she was "attracted by the peacefulness." Her two children were also very interested. The three of them sat down and learned the Falun Dafa meditation. Noely's daughter was very happy and said that she liked to meditate.
Two young men, Chase and Anthony, said they were drawn by the energy they could feel coming from the practitioners. "I felt the energy and I was drawn to it," said Chase. Anthony agreed and said, "I feel that this can help to raise people's spirits."
Both of them believe that people can absorb energy from the universe. "This is apparently what they (Falun Dafa practitioners) are doing," Chase said. "I want to know more about this practice. It is very beautiful and it is beneficial to one's health."
Practitioners Thank Master for His Kindness
Cindy, a practitioner said, "I especially looked forward to our event today. Everyone is gathering together to celebrate Master's birthday and express our gratitude to Master, demonstrating the goodness of Dafa to people in the process. I feel very happy. No words can describe the gratitude that practitioners have for Master. We can only cultivate diligently to repay his kindness."
Mr. Huang moved from China to San Diego at the end of April and was able to join in the celebration. He said that seeing practitioners do the exercises together made him recall the group exercises throughout China before the China Communist Party began the persecution. All sorts of feelings welled up in him and he couldn't hold back his tears. He said he really cherished having the opportunity and environment to display the goodness of Dafa outside China.
A young practitioner who is studying for a postdoctoral degree at the University of California, San Diego, said, "I've gained so much from cultivating Falun Dafa. I am very grateful to Master for his benevolent protection."
He said that he practiced with his parents when he was a child. After they were persecuted, he was looked after by family members who did not cultivate. Due to the pressure in China, his family members could not talk about Falun Dafa, so he stopped practicing.
After he moved to the U.S. a few years ago, he decided to resume practicing. "I felt that Dafa is so hard to come by and this opportunity is really rare, so I decided to start cultivating all over again after I came to the United States."
Even though there is no environment in China to cultivate, he said, "The cultivation foundation that I'd established as a child actually influenced me greatly. "
This was reflected in his schoolwork. "Influenced by Dafa's principles, my thoughts are broader and I did well academically." Although his parents were persecuted and he was under a lot of pressure, he still managed to get into a good school due to his grades.
Filled with Gratitude for Master
Mr. Chung, a Vietnamese practitioner, said, "I am full of gratitude for Master for guiding me onto the path of cultivation."
Chung said that he was always interested in qigong and cultivation. He tried out many methods of cultivation but always felt he was looking for something more profound. One day he picked up a Falun Dafa brochure at a supermarket entrance. "One look and I felt that this was what I had been searching for. This is really what I wanted because I could feel that it penetrates right into my inner soul."
Chung said that, due to various reasons, he did not continue even though he practiced for some time. He recently decided to resume cultivating. Chung said, "Ï am very grateful to Master for not giving up on me and giving me one more chance. This time, I'm determined to cultivate."
All articles, graphics, and content published on Minghui.org are copyrighted. Non-commercial reproduction is allowed but requires attribution with the article title and a link to the original article.
Category: Dafa Day Celebrations