New York: Residents Praise Falun Dafa Day Celebrations at Union Square "The World Needs Falun Dafa"
May 15, 2021 | By Falun Dafa practitioners in New York
(Minghui.org) The skies were blue and clear and the sun shone brightly as practitioners in New York celebrated the 22nd World Falun Dafa Day with group exercises, music, and dance performances. 
A giant banner with the words "World Falun Dafa Day" was set up on Union Square, an iconic landmark in lower Manhattan on May 11, 2021. Other banners with the words "Falun Dafa is good, Truthfulness, Compassion, Forbearance is good" in both English and Chinese were displayed.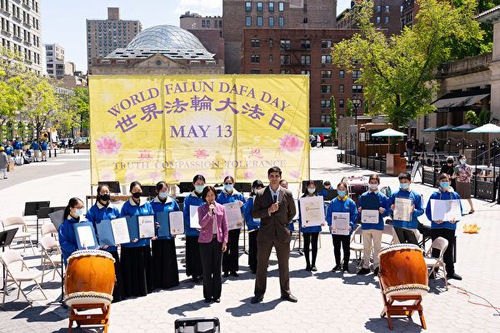 Practitioners in New York held events on Union Square on May 11, 2021, to celebrate World Falun Dafa Day.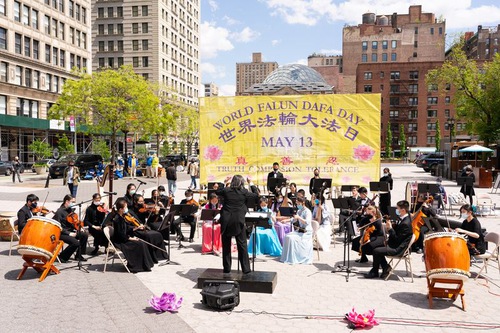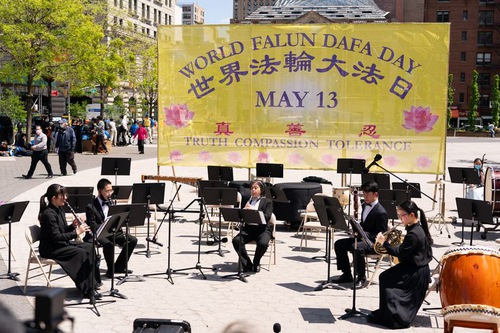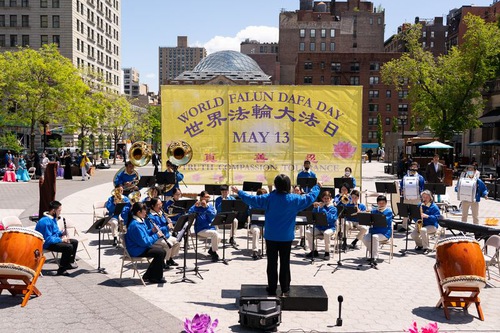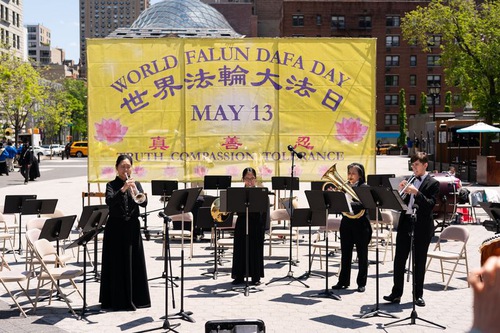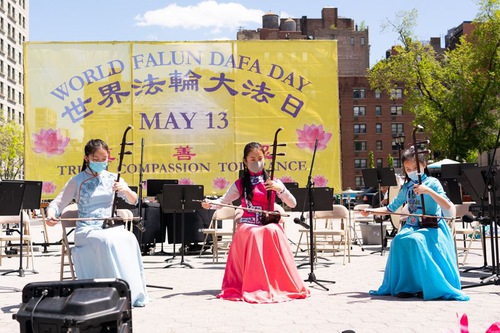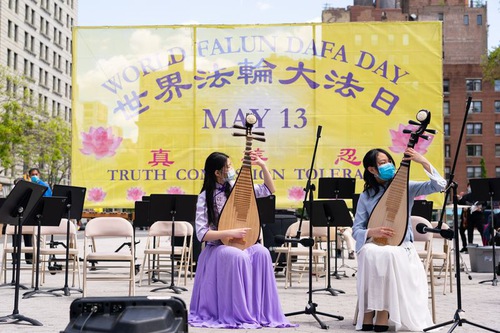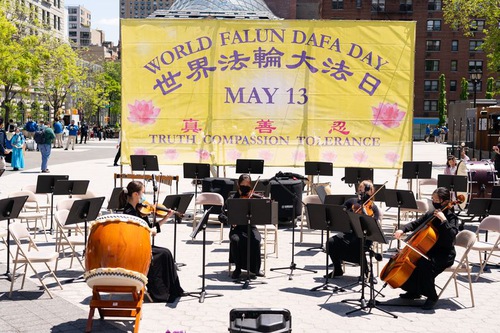 On May 11, 2021, practitioners in New York celebrated World Falun Dafa Day at Union Square with music and dance performances.
Practitioners kicked off the days' events by doing the exercises at 10 a.m. The slow, gentle exercise movements were the epitome of peace and beauty. This was followed by practitioners performing several western orchestral pieces, solo recitals and ensembles of Chinese traditional instruments including the erhu and pipa. Practitioners expressed their gratitude to the founder of the practice though their performances.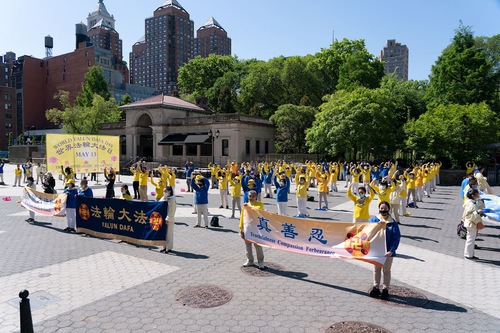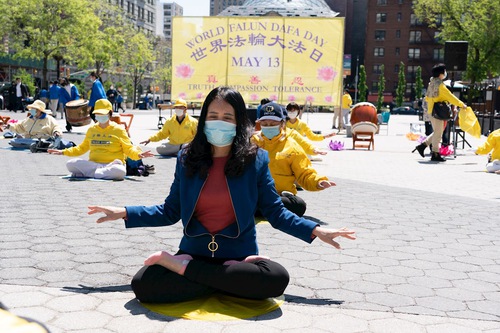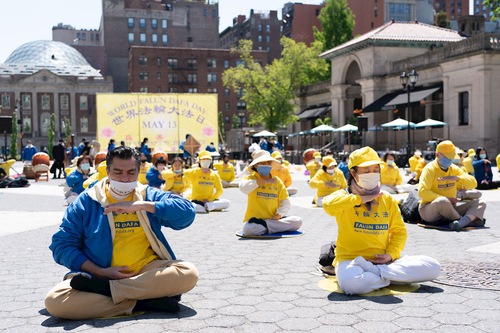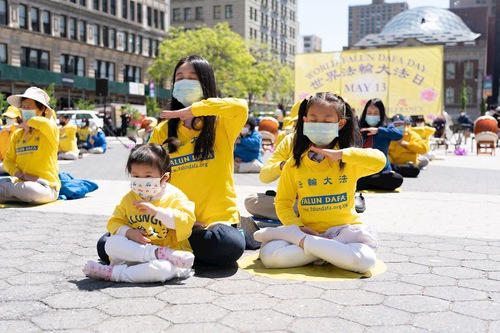 Practitioners began the day by demonstrating the Falun Dafa exercises
Awards and congratulatory letters were received from four levels of government in New York – federal, state, city, and town. These accolades sent well wishes on the 29th anniversary of the public introduction of Falun Dafa and commended the benefits the practice has brought to the community. It is also an acknowledgment of practitioners' decades-long peaceful resistance against the brutal persecution in China. These awards were displayed at the celebratory activities.
Body and Health Improved
Emmanuel Daniel is an art merchant from Canada and lives in New York. Mr. Daniel met practitioners several years ago at Union Square. When the CCP virus (coronavirus) broke out last year he went to nearby Madison park to learn the exercises. Injuries sustained during childhood led to aches and pains throughout his body. He sought treatment from three specialist doctors but the symptoms did not go away. He soon recovered after taking up the practice. His moral values improved tremendously as well.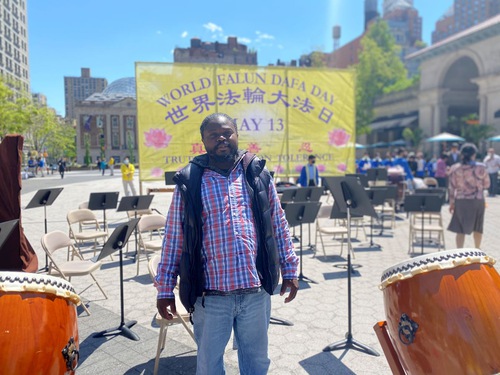 Emmanuel Daniel whose injuries were resolved through practicing Falun Dafa came to Union Square to celebrate World Falun Dafa Day.
Daniel was elated to come to Union Square today to celebrate World Falun Dafa Day and Master's birthday. He said that it felt as if his life had made a full circle and he returned to the original place where he learned about Dafa.
He wants to tell Master Li: "Happy Birthday! Thank you for your Dafa! I hope to meet you one day!"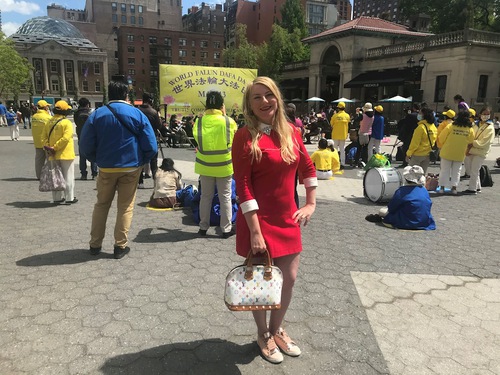 Tatiana Pishchulina, an accountant in New York said of Falun Dafa: "Spring has finally arrived!"
Tatiana Pishchulina is an accountant in New York. It is the first time she attended a celebration at Union Square. She said she could feel practitioners' joyous spirits and that the "dark ages have gone!" Watching practitioners, she said, "Spring has arrived finally. New Yorkers have resumed their celebration of life and there is music and concerts again."
She said, "I hope Falun Dafa will bring more beauty and positive events to people. Besides Chinese people, it can bring Americans strength, beauty, and vibrancy too"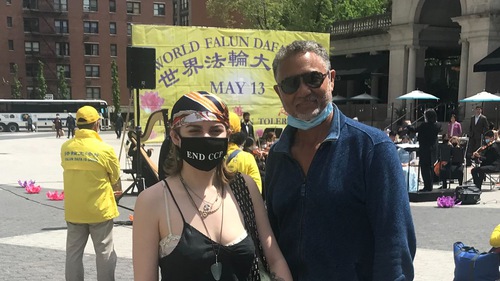 New York artist Juliette Finley and her father both recently began to practice Falun Dafa.
Juliette Finley, a New York artist is a new practitioner who began to practice at Central Park last year. She said her transformation was tremendous and she brought her father who is a lawyer to attend the activities. She exclaimed as she watched the performances, "How amazing this is. It is very peaceful as well."
Miashe Barnes who began practicing a month ago joined everyone in doing the five sets of exercises. She sat quietly and watched the programs from start to end. She said it was the high moral standards taught by the practice that attracted her. She said, "This event makes me feel inspired."
After going through over a year of isolation and fear brought by the CCP virus, New Yorkers were surprised to see practitioners dressed in bright costumes doing the graceful exercises and presenting artistic performances. Several people stopped to take photos and some even clapped and shouted: "I love you!"
The World Needs Truthfulness, Compassion, Tolerance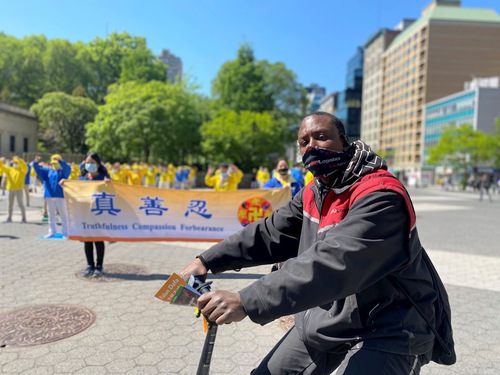 Keith Street from the Bronx said he hopes to learn to practice Falun Dafa.
Keith Street from the Bronx just got off work and stopped his bicycle to watch practitioners doing the exercises. He said, "I was immediately drawn to it. I am truly interested."
He immediately took out his phone and searched for information about Falun Dafa. When he learned this peaceful group of people has been suppressed for more than two decades because they did a meditation practice, he said, "Americans don't like Communism. They all oppose Communist ideology. Why is the CCP persecuting Falun Dafa? I guess it's because the CCP hates those with independent thinking."
He looked at the three words "Truthfulness, Compassion, Forbearance" on the banner and said he'd like to learn the exercises. "I think Falun Dafa is good, it can help Americans too. It is good for everyone," he said.
Originally from Venezuela, Jary is a retired government official who lives near Union Square. He welcomed practitioners back to Union Square and said everyone knows communism is evil. He said, "Truthfulness, Compassion, Forbearance, these are values the whole world needs. If everyone follows these three words, the world will be a beautiful place."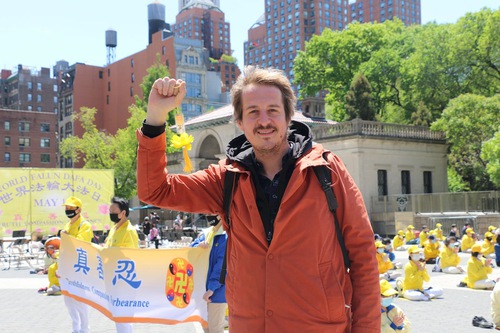 Alessandro Comai held a lotus flower given to him by a practitioner and said, "The world needs Truthfulness, Compassion, Forbearance."
Alessandro Comai, a hairstylist from Italy read out loud the words, "Falun Dafa day", "Truthfulness, Compassion, Forbearance." He said, "These are things the whole world needs especially during the current pandemic. It is so important to see these words," he said.
When he was told of the ongoing persecution in China, he signed the petition without hesitation. He said, "I sign to show that I oppose the CCP. It's because I don't like people telling me what I should do. Only Communists would do this. I don't like that."
He also said, "Practitioners come together to fight for justice, this is remarkable. They have set an example for others. They also gave us a chance to know the sufferings of Chinese people and have empathy for what they have been through."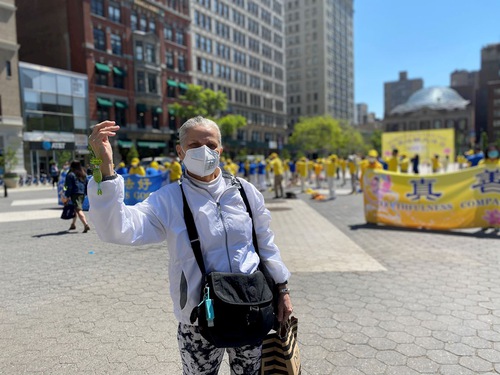 Sally encouraged practitioners to expose the persecution. 
Sally who is from the Philippines said she's seen practitioners holding celebrations at Union Square before. She agrees that they should resist the CCP's persecution. "Falun Dafa practitioners' activities are good for the city, especially in times like these. Their belief is peaceful. I know the CCP treats them just like they treat the Ugyhurs – genocide. Therefore I support them in anything they do to oppose the CCP," she said.
All articles, graphics, and content published on Minghui.org are copyrighted. Non-commercial reproduction is allowed but requires attribution with the article title and a link to the original article.
Category: Dafa Day Celebrations