Berlin: Vietnamese Practitioners Thank Master for Imparting Falun Dafa
May 14, 2021 | By Minghui correspondent Shirley
(Minghui.org) On World Falun Dafa Day some Vietnamese Falun Dafa practitioners living in Berlin, Germany, shared their cultivation stories to express their gratitude to Master Li Hongzhi, Falun Dafa's founder.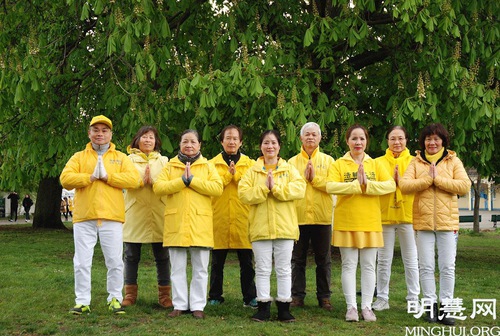 Vietnamese practitioners in Berlin are grateful to Master for bringing them a healthy body and a happy life.
Her Lumps Disappeared After Practicing Dafa
Ms. Hoang Thi Binh, 53 years old, operates a food store in Berlin. Her husband's younger and elder sisters in Vietnam practice Falun Dafa (aka Falun Gong). In 2014, the elder sister mailed her introduction materials about Falun Gong from Vietnam, hoping that she would learn it. Ms. Binh did not have time because of her work schedule. After she returned to Vietnam she went to the Dafa practice site with her younger sister. She felt that her body was filled with energy after returning home. A week later, she learned all the exercises.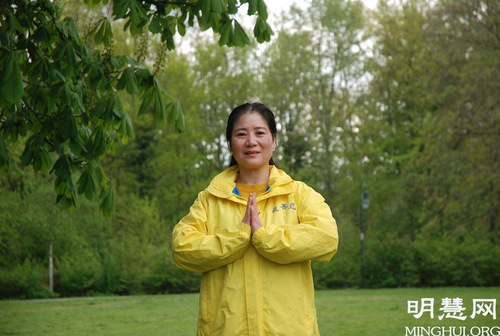 Hoang Thi Binh thanks Master for giving her a second life.
Ms. Binh often had a sore throat and spinal degeneration before practicing Dafa. She also had a lump under her armpit and needed surgery. But the lump grew back to the same size as before. So, she had to undergo many operations, but "the hospital couldn't solve the problem." After practicing Dafa, the lump showed up again, was very painful, ulcerated, and bled. Ms. Binh endured it and did not go to the hospital. The lumps never appeared again. Ms. Binh thanks Master Li Hongzhi for giving her a second life.
Ms. Phan Says, "I'm 66 years old, but I feel I'm only 50."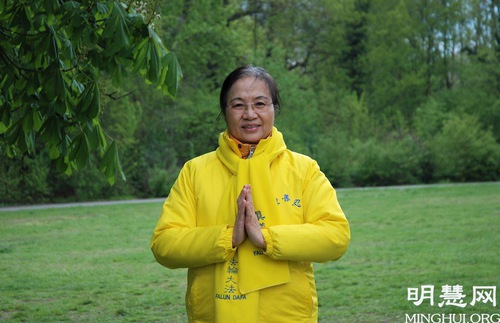 Nguyen Thi Phan is grateful for the changes that Dafa has brought to her life, and for the family environment and cultivation opportunities that Master has arranged for her.
Ms. Nguyen Thi Phan experienced unexplained pain in her wrist, swelling of her right hand, fever, and blood in her urine before she practiced Dafa. She also needed to take care of her disabled daughter. Her younger sister called her from Vietnam in October 2013 and told her that she recovered from her illness after practicing Dafa. Ms. Phan believed her, and felt that she could learn it too. Her sister sent her a link, and she started to learn the exercises by herself.
It was not easy for Ms. Phan when she started to practice. She said that taking care of her daughter was already not easy. The difficulty was that her husband opposed her practicing Dafa. However, her sister always encouraged her and reminded her to treat her husband with kindness and more patience. When her husband saw her changes, he had a positive view of Dafa.
Ms. Phan said, "I'm very happy now, although I am 66 years old, I feel I'm only 50."
He Quits Smoking and Has Ailment Healed After Practicing Dafa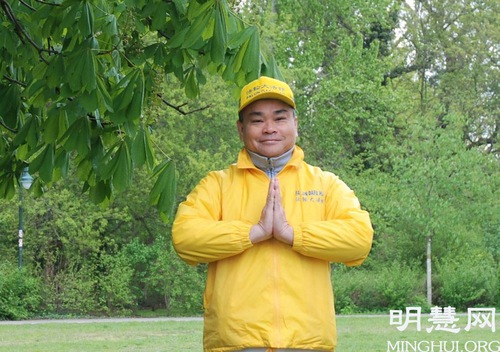 Dang Duy Tuan is grateful to Master Li Hongzhi for granting him a healthy life and a positive attitude towards life.
Mr. Dang Duy Tuan is a German certified translator, and his wife is a dentist. They have three children. Mr. Dang moved to Germany 39 years ago. He came down with hay fever 30 years ago. From May to July every year, his nose itched, he had a runny nose and he had trouble sleeping and breathing. 
Not only that, his pain in the spine afflicted him for 24 years. He couldn't sit for more than 20 minutes at a time, as well as normally stand and walk. His wife had to support him. He felt this pain every year in autumn. He went for an X-ray, and the doctor diagnosed him with "spine structural disorder and obvious rickets."
Mr. Dang was riding a bicycle in a park in Hanoi, Vietnam in March 2017. He saw more than 100 people doing the Dafa exercises. Their movements looked graceful and the music was very good. He came closer to take a look. A few minutes later, a man in his early 60s asked him, "Do you want to try it?" Mr. Dang immediately said he was interested, and the man taught him. 
Two months later after practicing Dafa, he no longer came down with hay fever. Moreover, he no longer wanted to smoke cigarettes, and he felt sick when he smelled the smoke. He used to smoke a pack of cigarettes a day. 
Mr. Dang felt that after entering Dafa's practice, he was "like a newborn baby." He just wanted to say, "Thank you Master, thanks to Dafa!"
Mr. Duc Said, "I feel full of energy."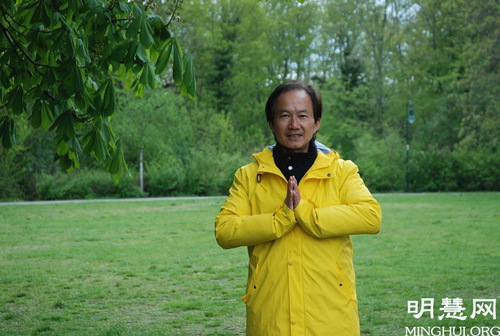 Duc Bao Phi sincerely thanked Master for spreading Dafa to all ethnic groups.
Mr. Duc Bao Phi, who was in his 60s, shopped in an Asian Supermarket in Magdeburg in 1997. A Vietnamese met him and gave him a copy of Zhuan Falun, the main Falun Gong book. He read it and found the book very interesting and thought it was precious. Out of respect, he put the book away very safely in the house. But when he moved to Berlin, he couldn't find it.
By chance he met Falun Gong practitioners in Berlin in January 1998. They explained a lot about cultivation to him and taught him the Dafa exercises. He and his wife did the exercises with other practitioners in the People's Park in Berlin from then on. After they watched Master Li Hongzhi's lecture video, his understanding of Dafa became deeper.
He said, "I was actually an alcohol addict before practicing. I had to drink two bottles of beer and two glasses of liquor before going to bed every day, otherwise I could not fall asleep. Since I learned Falun Gong, I stopped drinking alcohol. I can't drink it. Beer and liquor are tasteless. It's even bitter in my mouth. Now I'm fine and I feel full of energy in my body."
He sincerely thanked Master for spreading Dafa to all ethnic groups.
All articles, graphics, and content published on Minghui.org are copyrighted. Non-commercial reproduction is allowed but requires attribution with the article title and a link to the original article.
Category: Dafa Day Celebrations