High Walls Can't Deter True Faith, Incarcerated Falun Dafa Practitioners Extend Birthday Greetings to Founder of Practice
(Minghui.org) Although the two-decades-long persecution of Falun Dafa remains unabated in China, Dafa practitioners stay firm in their faith and continue to peacefully counteract the persecution. On the special occasion of 22nd World Falun Dafa Day and the 70th birthday of Master Li Hongzhi, the founder of Falun Dafa, thousands of practitioners are sending their heartfelt greetings to Master Li and wish him a very Happy Birthday.
Among these well-wishers are practitioners incarcerated in Chinese prisons, detention centers, and brainwashing centers for their faith. Despite the information censorship, they still managed to get their messages out. They said that the persecution won't strike them down, that they will turn the adversity into an environment to temper and improve themselves.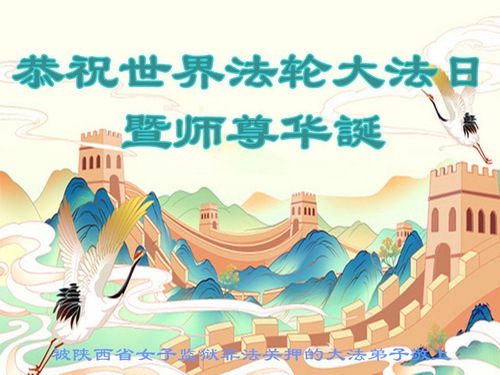 The greetings come from practitioners who are imprisoned at:
Shaanxi Province Women's PrisonFanjiatai Prison in Hubei ProvinceBaoanzhao Prison in Inner MongoliaXinxiang Women's Prison in Henan ProvinceJilin PrisonJilin Women's PrisonWeinan Prison in Shaanxi ProvinceShandong Prison Shandong Women's PrisonLiaoning Women's PrisonJinzhong Prison in Shanxi Province
As well as the following regions:
NingxiaXinjiangBeijingTianjingXinbin County, Anshan City and Dalian City, Liaoning ProvinceChangchun City, Jilin ProvinceJingzhou City and Wuhan City, Hubei ProvinceLianyungang City, Jiangsu ProvinceGuangdong ProvinceChengdu City and Suining City, Sichuan ProvinceJiangxi ProvinceXinxiang City, Henan ProvinceDaqing City and Qiqihar City, Heilongjiang ProvincePingdu City and Taian City, Shandong ProvinceLanzhou City, Gansu ProvinceChifeng City and Holingol City, Inner Mongolia
All articles, graphics, and content published on Minghui.org are copyrighted. Non-commercial reproduction is allowed but requires attribution with the article title and a link to the original article.
Category: Greetings