Ottawa, Canada: Practitioners Thank Master for Introducing Falun Dafa to the World
May 12, 2021 | By Minghui correspondent Ying Zi in Ottawa
(Minghui.org) On May 7, 2021 Falun Dafa practitioners in Canada's capital shared how they began practicing and their cultivation stories to mark the upcoming World Falun Dafa Day. Their personal experiences are a testament to the beauty of the spiritual discipline, and they used the occasion to express their respect and gratitude to the founder Master Li and to wish him Happy 70th Birthday!
Flags Raised, Colorful Lights Lit in Twelve Canadian Towns to Celebrate World Falun Dafa Day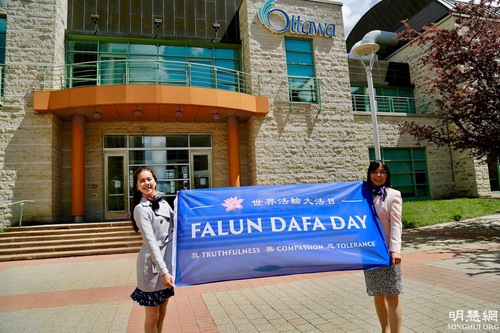 Dai Gongyu (right) and her daughter hold a World Falun Dafa Day flag. Twelve towns across Canada will raise the flag or light bright lights to celebrate Falun Dafa Day on May 13th.
Ms. Dai Gongyu, President of the Canada Falun Dafa Association, recalls the first Falun Dafa Day. She said, "The first World Falun Dafa day was celebrated in 2000. We received congratulatory letters from more than 60 elected officials, including the Governor General, the Deputy Prime Minister and Minister for Culture. Every year we received many greeting letters and awards, which now total nearly 1,000. This shows that the universal values of Falun Dafa span races and cultures. It has contributed to a healthier, more peaceful, forgiving and kinder society."
Ms. Dai said that besides congratulatory letters and awards this year, governments in twelve cities and towns in Canada will celebrate the 29th anniversary of the public introduction of Falun Dafa in a special way – by raising flags or by lighting bright lights.
She said that local governments are doing this to acknowledge practitioners' contributions and their acceptance of Falun Dafa's universal values of "Truthfulness, Compassion, Forbearance." This will also help local residents realize the benefits of the practice.
Truthfulness, Compassion, Forbearance Are Guiding Lights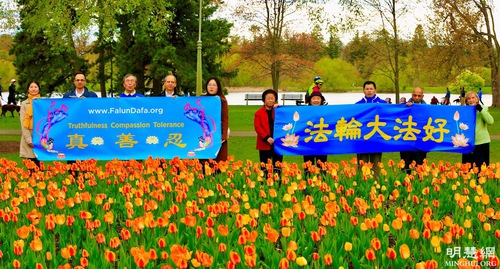 Kay Lee (in the middle dressed in red) celebrates World Falun Dafa Day with other practitioners in Ottawa.
Ms. Kay Lee is originally from Korea. Before she retired, she was a systems analyst for the Canadian government. In May 20 years ago, she met practitioners who traveled from other countries to attend an experience sharing conference in Canada, and she received a brochure. Intrigued and hoping to learn more, she searched the website on the pamphlet and found Falun Dafa's main book Zhuan Falun.
"I read the book eagerly and could not put it down. Not only did it answer all the questions I had, it gave me so much more," she said.
Ms. Lee explained that she experienced many extraordinary things after she began practicing. The baseball sized benign lump in her uterus disappeared. Her skin that looked old and dull became smooth and shiny. Her constant fatigue vanished. Most importantly, her heart became serene and her negative feelings gradually diminished.
Years later, Ms. Lee helped produce the English Epoch Times. In the beginning, she often felt under extreme pressure because the paper could not be completed in time to send to the printers. She even thought of giving up.
She said that in 2007, an incident happened that she would never forget. She attended a special training in the U.S. She met Master Li and heard him give a lecture. During a question and answer session, she asked Master a question on the difficulties she was facing. Her candor made everyone laugh. Master also laughed.
Afterward, Master answered her question in a slow, gentle tone. The first thing he said was, "You work too hard." Ms. Lee was very moved by his words. She felt Master's immense compassion. Master asked her to study the Fa more and suggested that others help share her work load. He paused for a while and said with a bright smile: "Never give up!"
Ms. Lee said, "This year is the 20th year of my practice. The principles of Truthfulness, Compassion, Forbearance are bright guiding lights in my life every day. They help me to be optimistic and calm. I feel happy and satisfied. I want to express my deepest gratitude to Master and wish him Happy Birthday."
Truthfulness, Compassion, Forbearance are the Universe's True Principles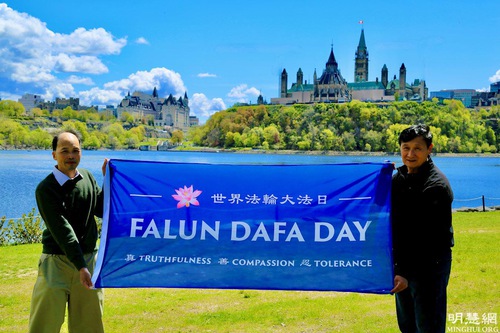 Ren Jian (right) holds a Falun Dafa Day flag outside the Canadian Museum of History in Ottawa.
Ren Jian owns a popular Japanese restaurant. He received the book Zhuan Falun from a practitioner in Ottawa when he was 50. "After reading the book, I understood many things on how to be a good person and the true principles of the universe. I decided to practice Falun Dafa," he said.
He lived by the principles of "Truthfulness, Compassion, Forbearance" and soon became fit and healthy. When his customers ask why he looks so young, he tells them he is a Falun Dafa practitioner. "I explain that I was transformed physically and mentally. People see it and easily accept Dafa."
Soon after he began practicing, he noticed an udumbara flower growing on the wall outside his house. He said, "According to legend, the flower opens once in 3000 years. One can only see it when an enlightened being is on earth. Thank you Master for letting me see such a sacred flower."
Ren Jian survived three major car accidents after he began practicing, but each time he avoided danger. He said, "I thank Master for changing my life and his compassionate salvation. I wish Master Happy Birthday."
Falun Dafa Opened My Heart
Ms. Jenny Li used to think she was the most unfortunate person in the world. Her resentment became stronger as she grew older and she always felt life treated her unfairly.
"Everyone seemed to be happier than me and I was jealous," she said.
When she was not promoted in her job as a school teacher in 1995, she felt it was extremely unfair. A coworker suggested that she read Zhuan Falun. She said, "After reading it, all my questions were suddenly resolved. I understood what the purpose of life is. As I kept reading the teachings, my resentment and jealously gradually went away. My life went through a huge transformation and moved in a positive direction."
"I am grateful to Master for guiding me on the path of cultivation. He has given us the best. Although there are tests and tribulations, and sometimes I slack off, but no matter what, I will never give up cultivation. I will listen to what Master asks us to do, cultivate myself solidly and help save sentient beings," she said.
All articles, graphics, and content published on Minghui.org are copyrighted. Non-commercial reproduction is allowed but requires attribution with the article title and a link to the original article.
Category: Dafa Day Recognition