Falun Dafa Practitioners in Over 50 Professions in China Celebrate World Falun Dafa Day
May 11, 2021 | By a Minghui correspondent
(Minghui.org) When Mr. Li Hongzhi first taught Falun Dafa to the public on May 13, 1992, many understood from learning the practice the true meaning of life. It has now been 29 years since the public introduction of this ancient spiritual discipline, and its practitioners are spread across the globe. Many recount how their health improved and their spirits were uplifted.
At the 22nd anniversary of "World Falun Dafa Day" and Mr. Li's 70th birthday, Falun Dafa practitioners are sending their heartfelt wishes to celebrate this grand occasion and wish Master Li a Happy Birthday.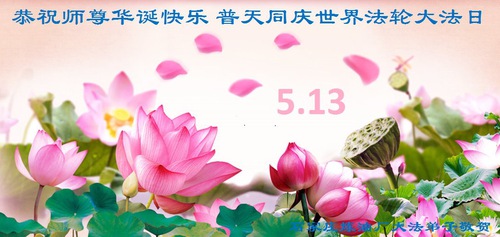 In this report, we present greetings received from practitioners in over 50 professions in China. They live by Falun Dafa's principles of Truthfulness, Compassion, and Forbearance and strive to be better people in all circumstances.
A practitioner with the China Electronics Technology Group Corporation wrote, "The most fortunate and joyful thing in my life was to encounter Falun Dafa! Master's infinite grace is guarding us all the time! No matter how long the journey before us remains, we will cultivate ourselves well and finish walking the path Master has arranged for us."
A practitioner who works in finance in Zhaoyuan City, Shandong Province, said, "It's a great honor for us to be part of the Fa-rectification and witness how Dafa has spread all over the world! We will treasure the precious opportunity to practice Dafa and fulfill our historic responsibilities!"
A practitioner in the education system in Beijing vowed to cultivate himself well, get rid of human notions, and become an altruistic person.
Other greetings come from practitioners in the following professions:
The Chinese Chemical IndustryThe Financial Accounting SystemThe Fourteenth Research Institute of China Electronics Technology Group CorporationThe Building Material IndustryThe Design IndustryThe E-commerce IndustryThe Marine SystemIndustrial and Commercial BankAgricultural Development Bank of ChinaPeople's Bank of ChinaBanking Regulatory CommissionShengli OilfieldHuabei OilfieldQilu PetrochemicalOil Refinery in Shijiazhuang City, Hebei ProvinceYankuang Mining GroupThe Musical FieldThe Biopharmaceuticals FieldChina Post GroupThe Press FieldThe Food IndustryThe Auditing SystemAn Accountant in Cangzhou City, Hebei ProvinceTextile System in Gansu ProvinceEducation System in Inner Mongolia; Huaian City and Najing City, Jiangsu ProvinceMedical Care System in Shenzhen City, Guangdong Province; Guan County and Laiyang City, Shandong ProvinceTransportation System in Harbin City, Heilongjiang ProvinceFarming System in Heilongjiang ProvinceWater System in Yushu City, Jilin Province; Hebei ProvinceRailroad System in Jiamusi City, Heilongjiang Province and Wuhan City, Hubei ProvincePetrochemical Systems in Gansu ProvinceAerospace Systems in Nanjing City, Jiangsu ProvinceUnicom in Dalian City, Liaoning ProvinceConstruction System in Qinhuangdao City, Hebei Province and Daqing City, Heilongjiang ProvinceForeign Trade System in Nanjing City, Jiangsu ProvinceShipbuilding Heavy Industry Company in Qinhuangdao City, Hebei ProvinceChina Railway Shanqiao Group Company in Qinhuangdao City, Hebei ProvinceDalian Locomotive FactoryService Industry in LiaoningCultural and Health System in Jiangsu ProvincePower System in Hebei Province and Shanxi ProvinceLight industry in Kaijiang County, Sichuan ProvinceNatural Gas Industry in Qinhuangdao City, Hebei ProvinceShao Steel Group in Guangdong ProvinceReal Estate in Qinhuangdao City, Hebei ProvinceThe Agricultural System in Jilin ProvinceThe Gold Industry in Shandong ProvinceForestry system in Liaoning Province and Heilongjiang ProvinceAn Oil and Gas Company in Sichuan ProvinceBusiness Systems in Yushu City, Jilin ProvinceEnvironmental Art Industry in Shenyang City, Liaoning ProvinceAircraft industry in Chengdu City, Sichuan ProvinceFutian Automobile Factory in BeijingIntermediary Service Industry in Wuhan City, Hubei Province
All articles, graphics, and content published on Minghui.org are copyrighted. Non-commercial reproduction is allowed but requires attribution with the article title and a link to the original article.
Category: Greetings