Hong Kong: Falun Gong Displays Vandalized by Suspected Pro-CCP Groups (Video)
April 5, 2021 | By Falun Gong practitioners in Hong Kong
(Minghui.org) Seven Falun Gong information display booths in Hong Kong located in Mong Kok, Hung Hom and Wan Chai were vandalized by thugs suspected to be from pro-CCP groups on April 2-3, 2021. Masked perpetrators tore down banners and slashed them with knives and knocked down display boards. Ms. Zhou, a Falun Gong practitioner, said the incidents have been reported to the police.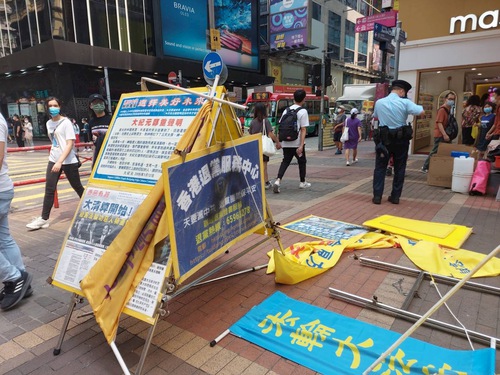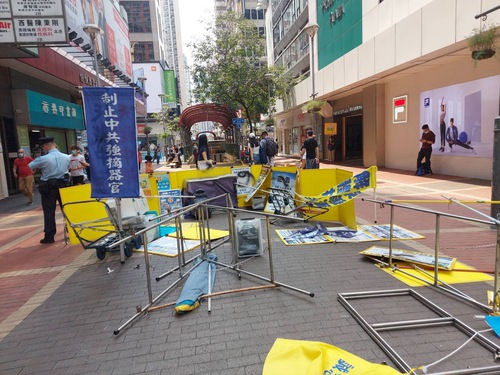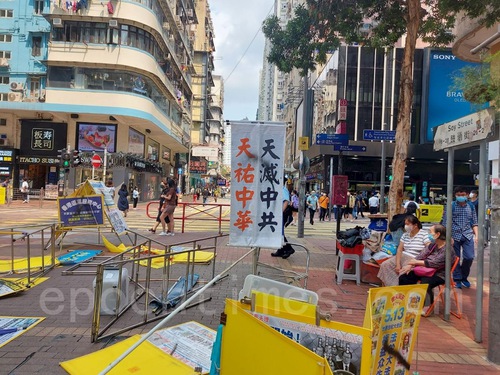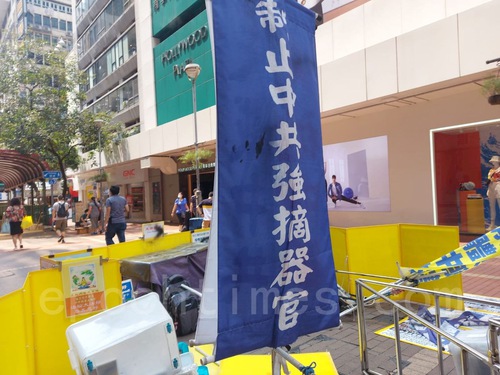 Four masked perpetrators tore up banners and display boards with sharp knives and sprayed black paint on the banners at the Falun Gong booth on Soy Street, Mong Kok on April 2, 2021.
Holding knives, four thugs suddenly rushed towards the Falun Gong truth-clarification site on Argyle Street, Mong Kok around 11 a.m. on April 2. They tore up banners and display boards and threw them to the ground. According to video footage, one man in the group cut up the display boards and banners with a knife while another man vandalized the contents of the board with spray paint. They fled afterward. In addition, two other men and a woman set up banners vilifying Falun Gong next to the damaged site. One of the men was bald and tattooed.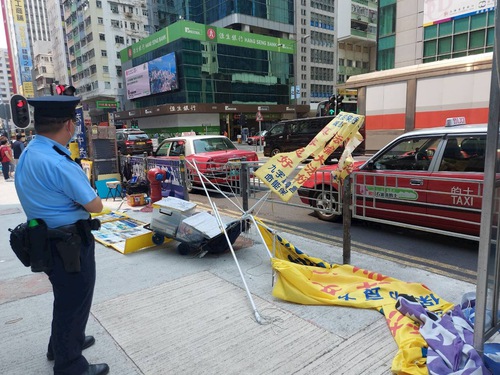 Four thugs armed with knives and spray paint attacked the Falun Gong booth on Argyle Street, Mong Kok on April 2, 2021. They vandalized the banners and display boards.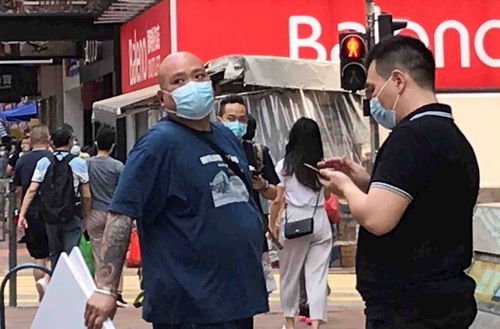 Two men and a woman put up banners vilifying Falun Gong next to the vandalized booth on Argyle Street, Mong Kok. One of them was a bald man with tattoos on his body. 
Around 11:30 a.m., the same four thugs went to the site on Soy Street in Mong Kok and vandalized it as well. They ripped up flags, slashed display boards with their knives and sprayed black paint on the banners. Ms. Hu a passerby recorded the entire incident with her mobile phone and shouted, "Villains are damaging the Falun Gong booth, take a close look at them!" The thugs quickly fled.
Thugs sabotaged the Falun Gong booth on Soy Street and fled.
At approximately 12:08 p.m, the group went to the truth-clarification site in Hung Hom train station and did the same thing. Falun Gong practitioners recorded their actions on their phones and told them to stop damaging the site. Ignoring their warnings, the thugs fled the scene after destroying the site.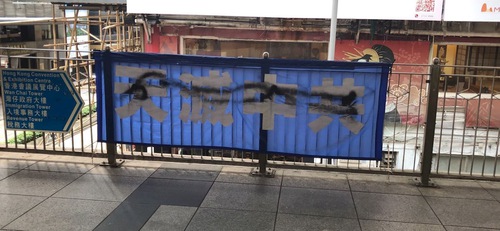 At around 12:30 p.m., the same four perpetrators attacked the Falun Gong display at the overhead bridge adjoining the Immigration Tower building in the Wan Chai district using the same means.
Ms. Zhou reported that one of the perpetrators, a man wearing sunglasses, videotaped the entire process while his companions damaged the sites.
Ms. Zhou said that at the Argyle Street site alone, four banners, two flagpoles, two flags and 14 display boards costing an estimated 21,000 HKD ($2,700) were vandalized. The damage done to other sites is still being calculated.
On April 3, three more booths in the Mong Kok district and Wong Tai Sin district were sabotaged by another group of six perpetrators between 11 a.m., and 1 p.m. Two more sites in Mong Kok were attacked on April 3. 
The Hong Kong Youth Care Association, a Chinese Communist Party (CCP) affiliated organization that interfered with and attacked practitioners for eight years, was formally disbanded at the end of 2020. However, since early March 2021, displays with information demonizing Falun Gong popped up on several busy streets around Hong Kong including Mong Kok, Tsim Sha Tsui, Causeway Bay, and Wan Chai. These displays have been unattended.
An elderly woman who set up displays that slander Falun Gong admitted on March 25, 2021 that she acted under the orders given by the CCP in Shenzhen. She also said that she had to take video recordings [of Falun Gong-related activities] and send them back to China every day.
Ms. Zhou said that the damage done to Falun Gong booths are criminal acts and hopes that the perpetrators will be punished by the law.
She believes that even if human laws cannot sanction them, good deeds are rewarded, but evil is punished—this is a heavenly principle. She also hopes people will stop participating in persecuting Falun Gong practitioners lest they be punished when the CCP is held accountable for its crimes.
All articles, graphics, and content published on Minghui.org are copyrighted. Non-commercial reproduction is allowed but requires attribution with the article title and a link to the original article.
Category: Persecution Outside China