São Paulo, Brazil: Commemorating the Peaceful Protest in China 22 Years Ago
April 30, 2021 | By a Falun Gong practitioner in Brazil
(Minghui.org) Twenty-two years ago, 10,000 Falun Gong practitioners in China gathered near the Beijing central government compound and peacefully protested the unlawful arrest of Falun Gong practitioners in Tianjin.
Decades later, Falun Gong practitioners from São Paulo, Brazil, rallied at Paulista Avenue on April 25, 2021, to commemorate this peaceful mass protest. Brazilian practitioners called on the United Nations and other world organizations to closely monitor China's human rights violations, and ask that China stop the ongoing persecution of Falun Gong practitioners.
That evening, the Brazilian practitioners held a candlelight vigil in front of the São Paulo Museum of Art in memory of the practitioners who died in the 22-year-long persecution.
Vigil in memory of the lives lost during the persecution of Falun Gong in China
Paulista Avenue (Aventine Paulista) is one of the busiest streets in São Paulo, the largest city in Brazil, and a major street for sightseeing and entertainment. São Paulo Museum of Art (Muse DE Art DE Sago Pauli) is the most important art museum in Brazil and attracts large crowds of visitors everyday. When the visitors saw the practitioners' rally that day, many of them expressed their gratitude, "Thank you for waking up our conscience and explaining the facts of the persecution. Hope to see you often."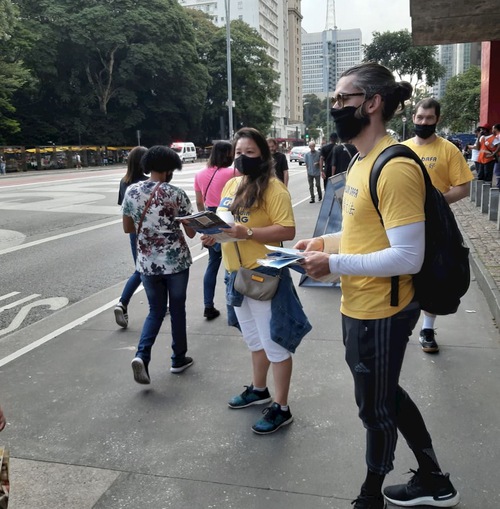 Practitioners distribute fliers on Paulista Avenue and raise awareness of the ongoing persecution in China.
A practitioner told an officer how brutal the persecution was in China and many officers arrested and tortured practitioners in order to force them to renounce their faith. The officer said, "I am sweating now and absolutely shocked. I can't imagine the officers who are supposed to protect and serve would follow the Chinese communist regime's orders and do such a thing. You are truly courageous. Can you come often?"
A mother came to the practitioners and asked for a favor. "Could you tell my six-year-old child what you are doing please? She dragged me over here and is very curious, saying that your exercise movements are pretty."
A professor told the practitioners that he's been in many protests. "Things that happen in China, such as the atrocity of systemic organ harvesting from practitioners incarcerated for their belief, are unbelievable. I can't imagine they could commit such a vicious crime."
A man walked down the street with his son and saw the posters with the information of the persecution of Falun Gong. He said, "I know about the persecution. I have read your reports on social media, and they are powerful. I cheer for you! Hopefully one day justice will be served in China."
All articles, graphics, and content published on Minghui.org are copyrighted. Non-commercial reproduction is allowed but requires attribution with the article title and a link to the original article.
Category: April 25 Events