Taiwan: Practitioners in South Taoyuan Hold Group Practice to Commemorate April 25 Peaceful Appeal
April 29, 2021 | By a Falun Dafa practitioner in Taiwan
(Minghui.org) Falun Dafa practitioners in South Taoyuan held activities on April 25, 2021 to mark the 22nd anniversary of the April 25 Appeal. The soothing exercise music and peaceful scene of practitioners' exercise demonstration drew several tourists, who stopped to watch. They also asked about Falun Dafa and why it is persecuted.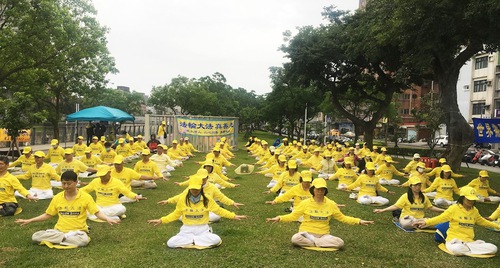 Practitioners demonstrated the exercises as part of their day long activities to commemorate the April 25 Appeal.
Practitioners from all walks of life and ages quietly practiced the exercises to soothing music. Despite a heavy passing rain, they were unmoved and continued doing the exercises.
Ms. Li, a Falun Dafa practitioner from China who is married to a Taiwanese man, said she could not help thinking of the contrasting situations of practitioners in Taiwan and China. She said in Taiwan police officers are there to protect the practitioners' event; in China, practitioners would be arrested and tortured.
She said the police officers' presence made her feel secure and she appreciates Taiwan's legal system and freedom. She really hopes that Falun Dafa can once again have a safe environment and be openly practiced in China.
An elderly woman stopped and watched the demonstration for a long time. She told the people around her that Mrs. Lai, a practitioner who was there that day, was well-known as a good daughter-in-law in her big family. Ms. Lai is the eldest daughter-in-law in a family of nearly 100 people. She has to coordinate many things for her family. She always considers other people first and never complains about anyone or anything. She has a good relationship with everyone in her family.
Mr. Xu, a new practitioner, said that after he learned the facts about Falun Dafa he was deeply moved, so he decided to practice. He hopes more people can benefit from Falun Dafa.
Practitioners also distributed truth-clarification materials during the exercise demonstration. Many people said they know Falun Dafa is good and waved to practitioners to express their support.
86-year-old man: "Falun Dafa is a miracle"
Lifen clarifies the truth to people in China on the Internet. She said that although the CCP has mobilized huge manpower and money to block people's access to the truth, it has made more Chinese people desperately seek it.
She said that someone in China texted her, "Falun Dafa is doing a great job! The truth has opened our eyes to this evil regime. We have woken up, and thank Master Li (Falun Dafa's founder) for truly bringing back morality to society."
Lifen shared the story of an 86-year-old gentleman. He said he really wanted to read Zhuan Falun, but he suffered a stroke and could not move his right arm and leg. Lifen sent him a video of the lectures. When he watched the second talk, he told Lifen that he understood that Falun Dafa teaches people to return to their true selves. He wanted to learn the exercises and so he followed the video and tried to do them. He immediately felt a change in his right foot, and he could walk normally. He said, "Falun Dafa is simply a miracle."
When he watched until the seventh talk, he once again shared with Lifen his joy and gratitude. He could lift his right arm high to do the exercises. He repeatedly said, "Thank you, Master! I will walk on the path of cultivation from now on."
All articles, graphics, and content published on Minghui.org are copyrighted. Non-commercial reproduction is allowed but requires attribution with the article title and a link to the original article.
Category: April 25 Events