Hong Kong Police Arrest Eight People Suspected of Vandalizing Falun Dafa Information Booths
April 26, 2021 | By Falun Dafa practitioners in Hong Kong
(Minghui.org) Following a string of attacks on Falun Dafa information booths in Hong Kong by vandals believed to be hired by the Chinese Communist Party (CCP), the Hong Kong police announced on April 22, 2021, that it arrested eight men. It also called on the public not to try the law and reminded people that criminal damage is a serious crime with a maximum jail term of 10 years.
From April 2 to 9 this year, within a week, at least six Falun Dafa information sites were vandalized as many as a 12 times.
In the statement issued by the police, they received reports from several people on April 2 and 3 giving information about the damage done to sites in Mong Kok, Wong Tai Sin, Hung Hom and Wan Chai districts. More than 90 pieces of signage and promotional materials costing around 30,000 HKD were destroyed in the attacks.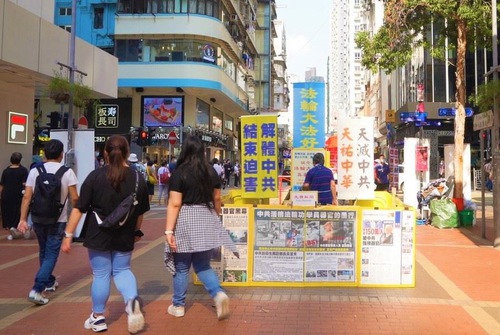 Despite repeated attempts to vandalize the sites, Falun Dafa practitioners in Hong Kong continued their awareness efforts uninterrupted. These are photos of the site on Soy street in Mong Kok taken on April 23, 2021.
Hong Kong Police: Criminal Damage Punishable by Prison Time
The attacks are being investigated by the West Kowloon regional crime unit. Police officers arrested four men aged 25 to 46 in Tuen Mun, Ngau Tau Kok, Yau Ma Tei and the Kowloon Walled City between April 14 and 17. These suspects have been released on bail and must report to the police in mid-May. Another four men aged 31 to 52 were arrested in Wong Tai Sin, Mong Kok, Kwai Chung and Cheung Sha Wan districts on April 21 and 22. They are currently detained.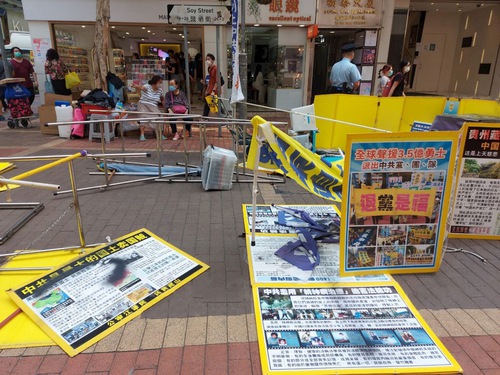 Four thugs sabotaged the Falun Gong information site in Soy Street, Mong Kok on April 2, 2021.
According to the police statement, the case is still under investigation and further arrests have not been ruled out.
The police also reminded residents that such property crimes carry severe penalties of up to 10 years in prison. They encouraged residents to express their views through legal means. They reiterated that anyone who has committed a crime would be investigated, regardless of their background.
According to the police, most of the suspects arrested have mafia backgrounds. They are currently investigating the motive behind these attacks.
Falun Dafa Practitioners Urge the Public Not to Help the CCP's Persecution
Falun Dafa practitioners in Hong Kong expressed gratification for the vandals' arrest. One practitioner, Zhou Sheng, said more plainclothes policemen were patrolling the information sites to strengthen security and stop vandals from continuing to damage the booths. She also expressed her appreciation for the police in carrying out their duties.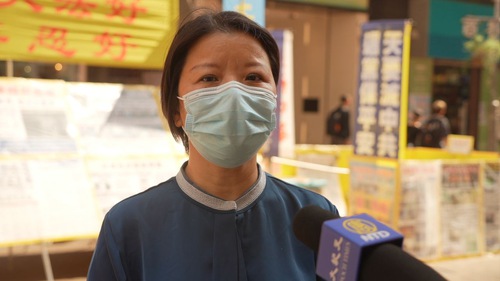 Practitioner Zhou Sheng hopes people will not help the CCP to persecute practitioners in exchange for petty gain.
She offered a piece of advice to those who assaulted practitioners: "After the CCP uses you, they won't take care of you. Many corrupt officials who participated in the persecution of Falun Dafa practitioners in China, including Bo Xilai and Zhou Yongkang, were punished for their crimes one after another."
She said the vandals were given petty bribes by the CCP but Hong Kong has rule of law and those who commit a crime will have to pay the price. She recommended that they read the book Nine Commentaries on the Communist Party and understand the true nature of the Chinese regime. "Lessons from history have shown that any promises made by the CCP cannot be trusted," she said.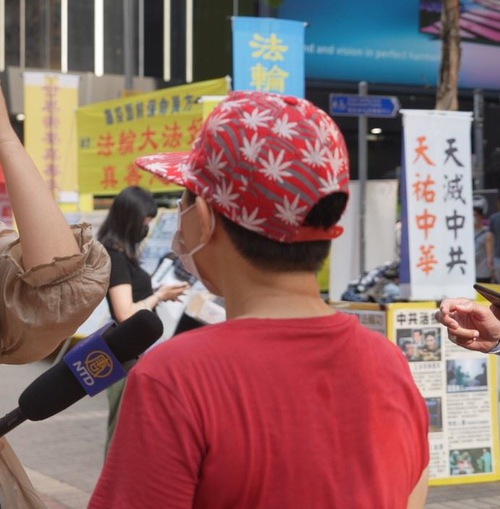 Ms. Chen (alias), who witnessed the sabotage of a Falun Dafa information booth in Mong Kok, criticized the CCP for causing terror in Hong Kong.
Ms. Chen (alias) witnessed the Falun Dafa information booth at Mong Kok district being sabotaged. She criticized the CCP for terrorizing citizens. "It is not safe in Hong Kong anymore. I am terrified to go outside because you don't know who these people are. The CCP has wrecked Hong Kong." She hopes the Hong Kong government can help the people and rather than treat them as an enemy.
In December 2020, a pro-CCP vandal attacked six information booths within a week. He was subsequently arrested, and the case is being handled by the Mong Kok criminal investigation department.
All articles, graphics, and content published on Minghui.org are copyrighted. Non-commercial reproduction is allowed but requires attribution with the article title and a link to the original article.
Category: Persecution Outside China