Canadian Senator: We Must Stand with Falun Gong Practitioners
April 25, 2021 | By Minghui correspondent Ying Zi in Ottawa, Canada
(Minghui.org) On the 22nd anniversary of the historic appeal by 10,000 Falun Gong practitioners demanding the right to practice their faith, Canadian Senator Thanh Hai Ngo issued a statement in support of Falun Gong and condemning the Chinese Communist Party (CCP)'s track record of human rights abuses.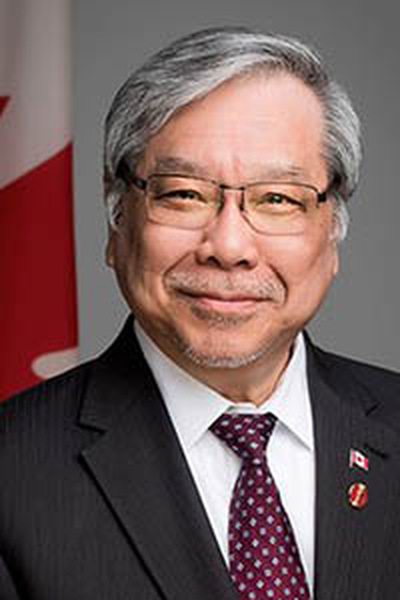 Canadian Senator Thanh Hai Ngo
Twenty-two years ago, about 10,000 Falun Gong practitioners staged a peaceful appeal outside the State Council's Appeals Office in Beijing on April 25, 1999, requesting the release of dozens of practitioners arrested in Tianjin over the previous two days and calling for an environment where Falun Gong could be freely practiced and its books published. After the then-premier received a group of practitioners and promised to protect their rights, the practitioners left that night.
Despite the peaceful demands raised by the practitioners in this unprecedented appeal, the Chinese Communist Party launched the nationwide persecution of Falun Gong three months later.
Victims of the persecution directives to "ruin their reputations, bankrupt them financially, and destroy them physically," countless practitioners have been arrested, detained, imprisoned, and tortured over the past 22 years. Many were killed for their organs while they were still alive. Hundreds of thousands of families were separated and fell apart.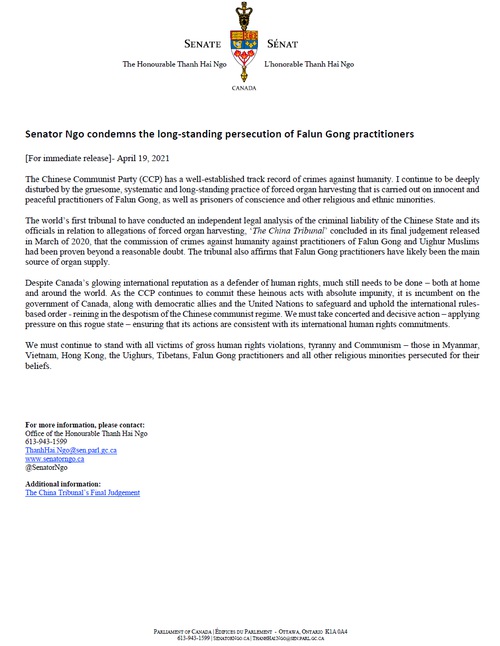 Senator Thanh Hai Ngo's statement in support of Falun Gong
In his statement, Senator Ngo said that the CCP has a "track record of crimes against humanity." He is especially disturbed "by the gruesome, systematic, and long-standing practice of forced organ harvesting" from innocent and peaceful Falun Gong practitioners and other prisoners of conscience, which was confirmed by The China Tribunal in the March 2020 final judgment.
Senator Ngo said that, despite Canada's outstanding reputation for defending human rights, much more still needs to be done.
"As the CCP continues to commit these heinous acts with absolute impunity, it is incumbent on the government of Canada, along with democratic allies and the United Nations to safeguard and uphold the international rules-based order—reining in the despotism of the Chinese communist regime. We must take concerted and decisive action—applying pressure on this rogue state—ensuring that its actions are consistent with its international human rights commitments," he said.
He calls on Canada and its allies to stand with all victims of gross human rights violations, tyranny, and communism to protect their right to practice their beliefs.
All articles, graphics, and content published on Minghui.org are copyrighted. Non-commercial reproduction is allowed but requires attribution with the article title and a link to the original article.
Category: Voices of Support Worldwide