California: Candlelight Vigil and Rally in San Francisco Commemorate April 25th Appeal
April 25, 2021 | By Minghui correspondent Wang Ying
(Minghui.org) Falun Dafa practitioners held a rally and candlelight vigil in front of the Chinese Consulate on April 23, 2021, to commemorate the 22nd anniversary of the April 25th Appeal.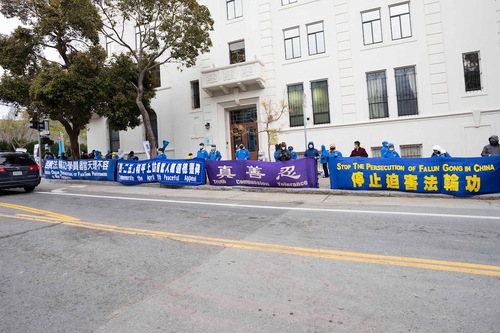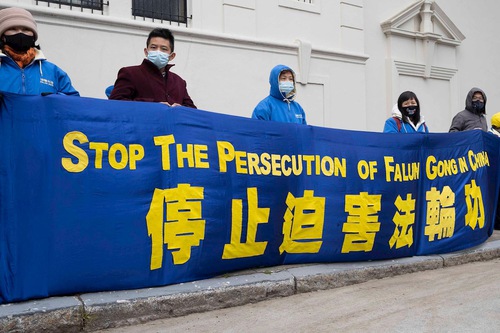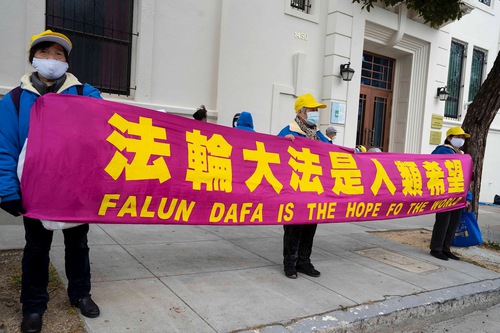 Practitioners held a rally in front of the Chinese Consulate in San Francisco to commemorate the April 25th appeal.
On April 25, 1999, over 10,000 practitioners peacefully gathered near the Central Appeals Office in Beijing. They petitioned the government to release fellow practitioners illegally arrested in Tianjin, a city 60 miles east of Beijing. They also asked to have a peaceful environment to practice their belief.
In the process of petitioning for more than ten hours, their calm and kind demeanor created a precedent in Chinese history—tens of thousands of people petitioning without violence and talking peacefully with the authorities. The event was also reported on by the international media.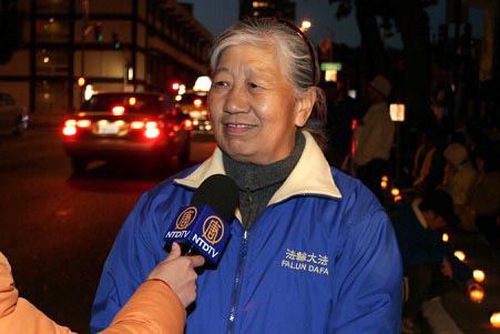 Ms. Jiaqi Chen appealed in Beijing on April 25, 1999.
Ms. Jiaqi Chen, who worked in Beijing, was one of the petitioners. She said that she and her husband decided to go to the Appeals Office after learning that practitioners in Tianjin had been arrested. When they arrived at the Appeals Office on the morning of April 25, they noticed several practitioners were already there. She stood with them on the sidewalk across from the Appeals Office.
She said, "Falun Dafa practitioners follow Truthfulness-Compassion-Forbearance. Those who were arrested did not violate any laws and had to be released. Several hours later we were told the issue was resolved and everyone could go home. So we left."
Her husband Mianqing Li was also there. He said that the participants were peaceful and did not shout or call out any slogans. A huge Falun could be seen in the sky. Many people—including the police—saw it and were surprised.
Mr. Li said, "My wife and I hadn't been practicing very long, but we knew Falun Dafa was very good and beneficial to society—we couldn't understand why practitioners had been arrested. Some practitioners suggested that we go to the Central Appeals Office to petition and explain the situation. We knew Falun Dafa was good and teaches people to be good. We asked to be allowed to practice unmolested."
Ms. Weiqun Hua, who worked in a foreign enterprise in Beijing, decided to participate in the appeal after learning that fellow practitioners had been beaten and arrested in Tianjin.
She said, "We heard that an elderly practitioner was beaten and dragged along the ground by Tianjin police. It was very serious.
"I thought I should go to the petition office. Falun Dafa is so good for healing and fitness. When a Tianjin magazine published an article defaming Dafa, I knew it was wrong. I thought the government misunderstood us. I wanted to tell the government officials the real situation."
She recalled, "When I stood on Fuyou Street, I noticed that everyone was quiet—no one was chatting. Some of us read Zhuan Falun while others did the exercises. Most of us just stood."
By evening, the practitioners were told the issue had been resolved. Ms. Hua said, "When we left, we picked up all the rubbish, leaving the area spotless."
Recalling that day, Ms. Hua said, "The overwhelming feeling at the time was that the appeal was particularly calm and peaceful. Once we heard the problem was resolved, everyone left immediately."
Mr. Su started practicing Falun Dafa in 1993. He did not hear about the appeal until it was over. He said he would have gone if he had known about it. "Like me, some practitioners probably did not hear about it until afterward. Otherwise, there would have been far more than 10,000 practitioners outside the Appeals Office that day."
He said that, by 1999, Falun Dafa had been around for seven years and everyone in China had a positive opinion of it. But the article published in Tianjin magazine slandered Falun Dafa, and its practitioners felt they needed to speak up to defend it, "Because we all benefited from practicing. Our health and moral standards improved."
All articles, graphics, and content published on Minghui.org are copyrighted. Non-commercial reproduction is allowed but requires attribution with the article title and a link to the original article.
Category: April 25 Events