Wife Released from Prison, Husband Still Serving Time for Their Shared Faith
April 23, 2021 | By a Minghui correspondent in Gansu Province, China
(Minghui.org) Having served three years for practicing Falun Gong, Ms. Zheng Shu was released on September 3, 2019. Her husband, Mr. Li Fubin, still has three more years to serve for their shared faith.
Falun Gong, also known as Falun Dafa, is a spiritual and meditation discipline that has been persecuted by the Chinese communist regime since 1999.
Taking Up Falun Gong
Ms. Zheng, 64, used to work at the Land Resources Administration in Lanzhou City, Gansu Province before she retired. Mr. Li, 70, was an employee of the Donggang Food Factory in Lanzhou.
Before Mr. Li took up Falun Gong in November 1997, he suffered many ailments, including gastric ulcers, herniated disc, and rheumatic arthritis that rendered him struggling with daily life.
After witnessing how practicing Falun Gong quickly helped Mr. Li regain health, Ms. Zheng also started the practice.
With the onset of the persecution in 1999, Mr. Li went to Beijing twice to appeal for the right to practice Falun Gong, but was arrested both times. Prior to his latest six-year term, he has served another eight years in prison and was tortured for upholding his faith.
Arrests and Detention
A group of police officers knocked on the couple's door and used a hard object trying to smash it for 20 minutes at around 2 p.m. on September 3, 2016. The officers barged in when Mr. Li opened the door. One of the officers pointed a gun at Ms. Zheng's head and handcuffed her and Mr. Li to chairs.
After the police took the couple to the local police station, they returned and ransacked their home when no one was around.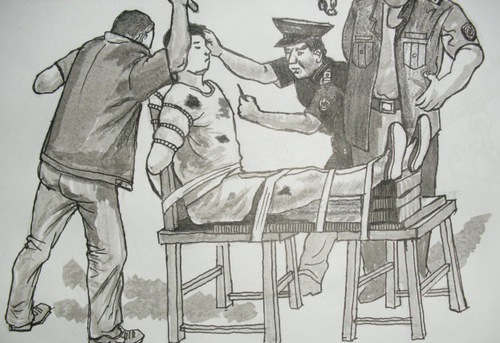 Torture illustration: Tiger bench. In this torture, the guards tie the victim's legs tightly to the bench with belts, then put bricks or other hard objects under the victim's feet. They keep adding layers of bricks until the belts break. Victims often pass out because of the unbearable pain.
The couple was interrogated overnight, with Ms. Zheng being tied up on a tiger bench. The police also forced Ms. Zheng's son to work on her, trying to weaken her willpower.
The next evening, Ms. Zheng was taken to the Lanzhou City No.1 Detention Center and Mr. Li to the Xiguoyuan Detention Center.
After Ms. Zheng was denied admission due to her high blood pressure, the police transferred her to the Xinqiao Prison instead, where she was stripped and had her photos taken. She was kept in the prison for nearly a month.
On September 28, 2016, Ms. Zheng was taken back to the Lanzhou City No.1 Detention Center, despite her persistent high blood pressure. She stayed in a room shared by over 20 inmates. They were given very poor food for all three meals and forced to work for long hours without pay. Ms. Zheng was assigned to fold 500 golden joss paper ingots each day.
Sentencing
Ms. Zheng and Mr. Li appeared in Chengguan Court on August 24, 2017. The bailiffs kept Ms. Zheng handcuffed and Mr. Li handcuffed and shackled.
On February 2, 2018, the judge sentenced Ms. Zheng to three years in Gansu Women's Prison and Mr. Li to six years in Lanzhou Prison. Both of them were also fined 2,000 yuan each. They appealed with the Lanzhou City Intermediate Court, but it upheld their original verdicts.
Tortured in the Prison
Upon returning to the detention center, Ms. Zheng suffered very high blood pressure again and became paralyzed on the left side of her body for four months. The hospital refused to accept her, and the detention center guards declined to provide any treatment to her.
After her condition improved a little, she was transferred to the Gansu Women's Prison on June 11, 2018. The guards forced her to wear an inmate's uniform.
The guards constantly ordered Ms. Zheng to write thought reports and recite prison rules. When she refused to recite it, the inmates beat and verbally abused her. On one occasion, the guards forced her to squat for two hours, as she couldn't recite the prison rules. She couldn't keep her balance after standing up and fell from the stairs. She twisted her ankle and her blood pressure increased again.
The prison authorities didn't allow her son to visit her until February 2019, eight months after her imprisonment. The authorities also limited the cash deposit her son made to her to 300 yuan each month, leaving her unable to buy enough daily necessities or food. She was emaciated, as the guards never gave her enough to eat. Even the police were surprised to see how skinny she was when picking her up at the end of her term.
Related Reports:
Judge Tries Six People in One Day for Refusing to Give up Their Faith
Gansu Couple Faces Indictment for Their Faith
Six Falun Gong Practitioners Jailed for Their Faith, Families File Appeal on Their Behalf
All articles, graphics, and content published on Minghui.org are copyrighted. Non-commercial reproduction is allowed but requires attribution with the article title and a link to the original article.
Category: Accounts of Persecution