Rejecting the CCP and Leaving the Pirate Ship
April 2, 2021 | By Li Xin
(Minghui.org) In October 1948, one year before the Chinese Communist Party (CCP) took power in China, over 100 intellectuals secretly boarded a cargo ship from Hong Kong to Tianjin to meet Mao Zedong in Beijing. "It seems you have boarded the CCP's pirate ship," said Mao during the meeting, according to Qian Jiaju, one of the intellectuals at the meeting.
These intellectuals later went to Beijing to attend the upcoming Chinese People's Political Consultative Conference (CPPCC). Impressed by the promises made by Mao and the CCP, they believed China would begin a new chapter of democracy, freedom, prosperity, and peace – none of which came true. Within several years, these dreams were ruthlessly shattered as the CCP – a totalitarian regime – suppressed intellectuals, seized private property, and caused a massive man-made famine. 
Boarding the Pirate Ship
Qian recalled that Mao often said that phrase ("It seems you have boarded the CCP's pirate ship") when meeting with non-CCP officials and intellectuals. Some people interpreted that as Mao's humor. "We thought it was a joke. But it wasn't," Qian wrote in his memoir, which documented the attacks and humiliation he suffered in numerous political movements.
Chen Zupei
The cargo ship, a 3000-ton British ship, was rented by Chen Zupei, an entrepreneur from Guangdong Province. Through his distant relative Liu Simu, a spy from the Third International embedded in the Kuomintang (KMT) government, Chen came to know many pro-communist intellectuals such as Zhang Naiqi and Qian. Chen also made big donations to the CCP. 
Seeing that the CCP would defeat the KMT, Chen sent his cousin Chen Zuying to Tianjin to work with the CCP. He also rented the above-mentioned ship to deliver vital supplies (such as medicines, gasoline, diesel, tires, trucks, and rubber) to the CCP in Tianjin. 
Besides Qian, other renowned intellectuals who boarded the ship included Sa Kongliao, Jin Zhonghua, Ma Sicong, and Ouyang Yuqian. Almost all of them were persecuted in various political movements later on. Sa, general manager of China Business News, was attacked during the Cultural Revolution. Jin, editor-in-chief for Sing Tao Daily, was also targeted during the Cultural Revolution.
Qian wasn't spared either. In his memoir, he described how the CCP deceived intellectuals and businessmen, while ruthlessly persecuting them after taking advantage of them. In early 1949, one of the top CCP leaders, Liu Shaoqi, said to a group of businessmen, "In today's China, the problem is that we have too few capitalists and China is too underdeveloped." Given Liu's remarks, many businessmen chose to stay in mainland China, believing that they would be allowed the freedom to run their businesses, only to see their assets seized later on during political movements. Some of them even lost their lives in those movements.
Like others, Chen Zupei himself also became a victim. He believed the CCP's promise to treat business owners as true friends and thought that he and other business people would have a bright future as long as they closely followed the CCP. After returning from Hong Kong to mainland China, he founded one of the first joint ventures in China. As soon as the Five-Anti campaign started in 1952, he was forced to pay delinquent taxes of 20 billion yuan. Because of that, he was detained by the police for one month before securing funds to pay the tax. During the Anti-Rightest campaign in 1957, he was attacked again. Chen tried to commit suicide by jumping from a building. He survived but broke his leg.
A Fatal Mistake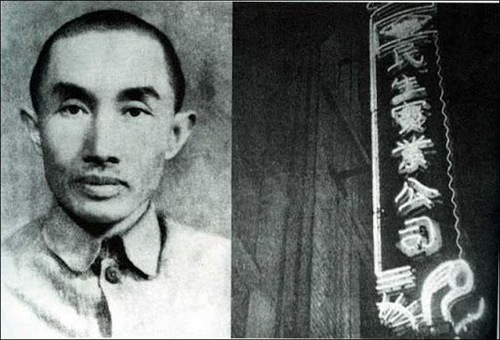 Lu Zuofu (the sign on the right shows the name of his firm, Minsheng Group)
Lu Zuofu, known as the king of China's shipping industry, also made a similar mistake. After the Japanese army invaded China in 1937, Lu and his Minsheng Group fleet miraculously transferred more than 300,000 people and over 90,000 tons of critical equipment from Yichang City upstream along the Yangtze River in a very short time. This was referred to as "China's Dunkirk Evacuation," which saved China's industry during their battle against Japan during World War II. 
Convinced by CCP lies, Lu moved his fleet from Hong Kong to mainland China and embraced the CCP. Less than two years later, however, pro-CCP delegates attacked and defamed Lu recklessly during the Five-Anti movement on February 8, 1952. In order to spare his family from the CCP's increasing attacks, he had no choice but to commit suicide and his company was also taken over by the CCP. 
During a campaign in July 2020, the CCP called on business leaders to learn from the red (aka pro-CCP) capitalists such as Lu, Wang Guangying, and Rong Yiren. Ironically, all of these men had been targeted by the CCP during various political movements. 
Chiang Kai-shek, leader of the KMT who opposed the CCP, had planned to save scholars from the communist terror before his retreat to Taiwan. Some intellectuals joined the move including Hu Shih, Fi Sinian, and Mei Yiqi. But the majority of intellectuals chose to stay in mainland China. For example, 60 out of the 81 members of Academia Sinica stayed, hoping they could work with the CCP for a stronger nation. Unfortunately, other than some who willingly bent their principles to please the CCP such as Guo Moruo, most of them were suppressed terribly. 
This group also included scholars who'd returned to China from overseas. Wu Ningkun, one of the renowned translators of China, aborted his Ph.D. study at the University of Chicago and returned to China. When his friend Tsung-Dao Lee, another student studying at the same school, bade him a farewell, Wu asked Lee why he did not choose to return to China. "I don't want to have my brain washed by others," Lee replied.
Several years later, Wu was targeted as a Rightist in 1957 and sent to reform-through-labor (Laogai), where he suffered for over 20 years. In 1957, however, Lee won the Nobel Prize in physics. 
Wu Ningkun and his book A Single Tear
In 1993 Wu Ningkun published a memoir in English titled A Single Tear, two years after he moved to the U.S. In retaliation, his employer in China stopped his and his wife's pensions. "As I didn't know how brains could be washed, I did not at the time find the idea very daunting," he said, recalling Lee's words in 1951 in the book.
Leaving the Pirate Ship
Ma Sicong, known as the king of violinists in China, returned from France to mainland China in 1932. In 1949, he became president of the newly established Central Conservatory of Music in Beijing. After being targeted in the Cultural Revolution in 1966, Ma and his family fled to Hong Kong. He discarded the emblem with Mao Zedong's portrait as soon as he arrived in Hong Kong. 
From there, Ma then went to the U.S., where he gave a speech explaining why he left China. He said the Cultural Revolution movement was destroying intellectuals in China. What happened in 1966 when the movement started left him in despair. 
Several relatives of Ma were later persecuted by CCP officials. Ma explained to his adult children that he had not done anything wrong. He said that it was the [communist] demon that was harming people and that one day things would become clear. 
Another example is Fou Ts'ong, a renowned Chinese pianist. Upon learning that his father, famous translator Fu Lei, was attacked as a Rightist, Fou fled Warsaw to London in 1958. Several years later, both his parents committed suicide during the Cultural Revolution. 
Another prominent pianist, Gu Shengying, was not so lucky. Her father, an entrepreneur who supported the CCP, was targeted in 1955 in a political movement and received a life sentence in 1958. After being targeted and humiliated on January 31, 1967, Gu committed suicide along with her mother and younger brother. 
Quitting the CCP
Over the past several decades of its rule, the CCP has caused 80 million unnatural deaths. After recognizing the harm that the CCP has done, over 370 million Chinese have quit the CCP and its affiliated youth organizations, the Communist Youth League and the Young Pioneers. "Now I know the CCP is not just a political party. Rather, it is a demon that destroys all of us," wrote netizen Yang Defu, explaining why he quit the CCP. 
Li Chuanliang, former deputy mayor of Jixi City in Heilongjiang Province, fled to the U.S. in August 2020 and declared that he had severed ties with the CCP. Back in 2014, he already voluntarily requested to resign from the CCP. During the coronavirus pandemic, he also witnessed that some officials were arrested for making remarks inconsistent with the CCP's official narratives. These experiences made him worry that similar retaliation would happen to him. "The CCP will first give you some benefits to lure you; if you do not follow along, it will threaten you and attack you," he said. 
Zhao Zhongyuan, a traditional Chinese doctor in Beijing, also left China in 2019. While still in Beijing, he treated some human rights lawyers who had defended Falun Gong practitioners. After the CCP began to target the lawyers for representing Falun Gong practitioners, Zhao was also threatened for being the lawyers' doctor. "If a person knows how bad the CCP is, and if a person follows their conscience, then he or she will denounce the regime for sure."
People inside China have also begun to change. Recently, at a tourist site in Sydney, Australia, two Chinese women talked with a Falun Gong practitioner and learned how the CCP has suppressed people throughout its history. After reading a poster about how former Chinese diplomat Chen Yonglin defected and began to expose the CCP's viciousness, the two tourists were shocked. They took a picture of the poster and agreed to quit the CCP as well. 
All articles, graphics, and content published on Minghui.org are copyrighted. Non-commercial reproduction is allowed but requires attribution with the article title and a link to the original article.
Category: Perspective