Houston Chinese Resident, "You Will Be Supported By Many People!"
April 14, 2021 | By a Minghui correspondent in Houston
(Minghui.org) After Houston experienced a rare winter storm in 2021, the statewide mask mandate was lifted on March 10th. As residents and tourists came out to enjoy the warm weather, Falun Dafa practitioners gathered at Hermann Park, Oyster Creek Park in Sugar Land and on Holcombe Boulevard to tell people about Falun Dafa.
After learning how practitioners endured decades of persecution, a local resident gave practitioners a thumbs up and said, "You are amazing. I am willing to stand on your side." A Chinese resident praised practitioners for their perseverance and hard work and said, "You will be supported by many people."
"You Will Receive the Support Of More People"
Centrally located in Houston, Hermann Park is a popular tourist destination. On March 27 Robin brought her three children to the park to enjoy the warm weather and noticed practitioners collecting signatures to end the persecution of Falun Dafa in China. Upon receiving truth-clarification flyers and listening to practitioners describing the persecution, Robin was very touched and hugged Ms. Chen, a Falun Dafa practitioner. Another practitioner told her about the Chinese Communist Party's state-sanctioned forced organ harvesting from living practitioners incarcerated for their faith in China.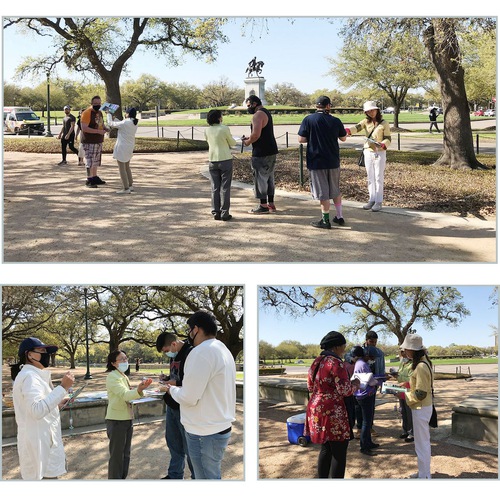 Practitioners tell people about Falun Dafa and collect signatures to end the persecution.
When Robin understood how brutal the persecution is in China, she said, "It is saddening for me to see this persecution against a group of people believing in Truthfulness-Compassion-Forbearance! The Chinese Communist Party (CCP) is atheist and it is very dangerous for people to not believe in Gods. People should abide by traditional culture and values. If humans do not believe in God, then morality will be corrupted and there will be no hope." Robin stated that the petition is significant and said, "Falun Dafa practitioners will receive a lot of support here in Texas because many of us still hold true to traditional values."
When she asked, "What can I do to help you?" Ms. Fu said "You can tell your friends and relatives about the persecution, or share this information on social media platforms. This will help raise awareness and people will realize the true and evil nature of the CCP."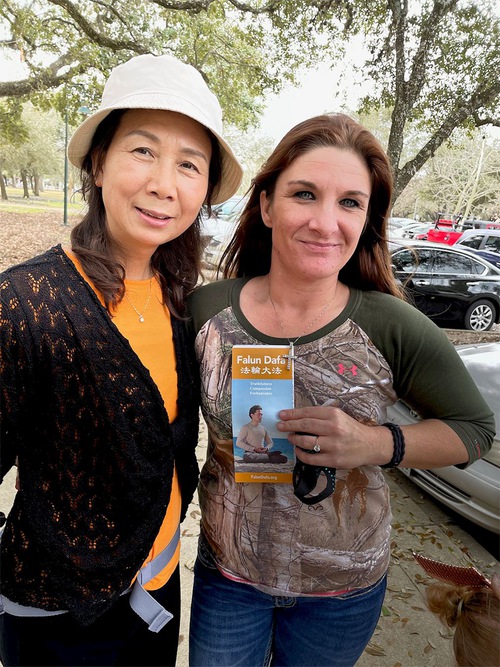 Robin (right) said, "Falun Dafa practitioners will receive more support here in Texas."
Chinese Couple: "I Will Sign This Petition To Support Falun Dafa!"
Oyster Creek Park in Sugar Land is located next to Route 66 with upscale residential areas and various stores nearby. Its lush, green scenery and creeks make it a popular recreational spot. Practitioners have done the exercises at Oyster Creek Park's entrance every weekend and told people about the persecution, attracting the attention and support of many local residents.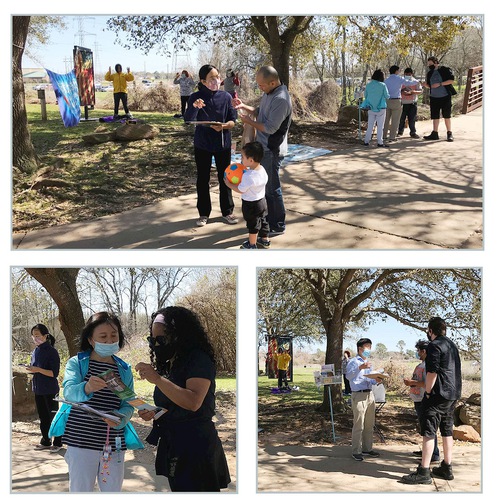 Practitioners receive support from many local residents by practicing the exercises and raising awareness of Falun Dafa at Oyster Creek Park's entrance every weekend.
A Chinese couple, Mr. Wu and his wife, were strolling through the park one day when they saw people signing a petition. He asked about it and Ms. Shen explained that they were Falun Dafa practitioners collecting signatures to stop the persecution. Mr. Wu stated, "I will sign this petition to support Falun Dafa. My friend is a practitioner and I know Falun Dafa is good." The couple signed the petition.
Mr. Zou, who came from China about a year ago, gave practitioners a thumbs up when he saw their banners. He praised their diligence and said that he already knew about Falun Dafa. With the help of practitioners, he quit the Young Pioneers.
A practitioner explained the steps in quitting the CCP in China when another Chinese resident asked how he could help his friends in China quit the CCP and its youth organizations.
A Very Special Birthday Party
One Saturday a group of people gathered at Hermann Park to celebrate a girl's 12th birthday. After talking with practitioners the hostess said she understood and supported their efforts. Afterwards, the entire group of party-goers happily signed the petition and everyone sang "Happy Birthday."
"I Agree With Everything Written On That Banner."
Many pedestrians and drivers are attracted to the banners practitioners hold on Holcombe Blvd, which is located near the Texas Medical Center, a renowned comprehensive center composed of hospitals, institutions and schools, with about 100,000 employees.
A car stopped right in front of the banners and the driver, a middle-aged American, said, "I agreed with everything written on your banner! I hope China will be free one day!" His wife nodded in agreement.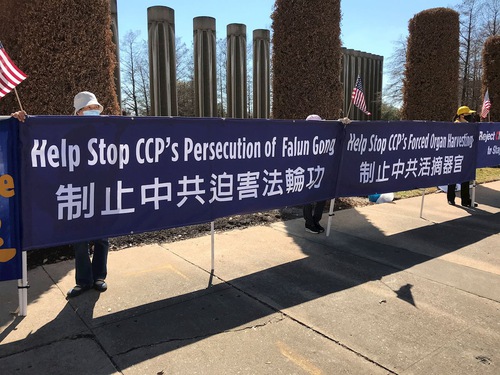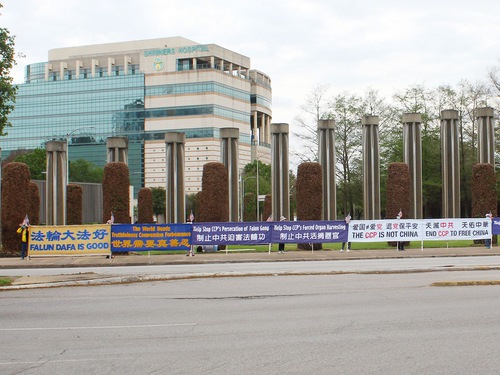 Pedestrians and drivers express their support for messages written on practitioners' banners displayed on Holcombe Blvd, near the Texas Medical Center
Raising Awareness On Social Media: I Stand Here to Show My Support For Falun Dafa
Mr. Hodgson, the head of a financial research and consulting company, stopped to read the messages displayed on the banners. He took a photo and expressed his support for Falun Dafa.
He posted pictures of the banners "Help Stop the CCP's Persecution of Falun Gong" and "Help Stop the CCP's Forced Organ Harvesting" on his social media and wrote, "I am expressing my support for this group of good people peacefully protesting near Houston. They are risking their livelihood by protesting against tyranny and forced live organ harvesting in China."
After seeing the truth-clarification banners, a local resident said, "This is an effective way of telling people what is happening."
"You Are Very Brave And I Admire You!"
After expressing her support by signing the petition on March 20, Crystal said, "You are very brave and I admire you." Mr. Li, a Falun Dafa practitioner replied, "We are safe in America, but in China practitioners are arrested, tortured or have their organs removed while they are alive." Crystal shook practitioners' hands and thanked them.
All articles, graphics, and content published on Minghui.org are copyrighted. Non-commercial reproduction is allowed but requires attribution with the article title and a link to the original article.
Category: Parades & Other Community Events