Zhu Qingwen, Former Party Secretary of Shuangcheng, Heilongjiang Province, Reported for Human Rights Violations
April 1, 2021 | By a Minghui correspondent in Heilongjiang Province
(Minghui.org) Zhu Qingwen was Party Secretary of Shuangcheng City in Heilongjiang Province between 1999 and 2002, and he later became Party Secretary of Suihua City in the same province. During his tenure as Shuangcheng Party Secretary, Zhu closely followed the persecution policy against Falun Gong, and mobilized government officials and police forces in Shuangcheng and its surrounding towns and villages to suppress Falun Gong practitioners.
To block practitioners from going to Beijing to appeal for Falun Gong, Zhu set up check points to intercept practitioners. He also set up a liaison office in Beijing to send back Shuangcheng practitioners arrested in Beijing. Once brought back to Shuangcheng, these practitioners were tied up and ordered to stand on a truck bed, with armed police holding guns next to them. The truck then moved slowly on the main road from the train station to downtown to humiliate the practitioners in public.
There were two detention centers in Shuangcheng, but they were not big enough to hold the large number of practitioners arrested for upholding their faith. Zhu found additional facilities to detain these practitioners, with terms ranging from over 10 days to months. Each practitioner was also fined from hundreds of yuan to tens of thousands of yuan with no receipt. Over 1,000 practitioners were illegally detained, and many of them were beaten, kicked, punched, and verbally abused by the police. More than 10 practitioners lost their lives as a result of the torture.
Together with Zhang Guofu, deputy police chief and deputy director of the 610 Office in Shuangcheng, Zhu was responsible for detaining over 1,500 local Falun Gong practitioners at the two detention centers in Shuancheng as of the end of 2000. In addition, nearly 150 practitioners had been sent to labor camps with terms of up to three years.
To secure his job and curry favor with higher officials, Zhu bribed officials in Beijing and obtained name lists of Shuangcheng practitioners who had been to Beijing to appeal for Falun Gong, as well as their appeal letters. He paid 500-1,000 yuan of bribes per practitioner. Zhu used his connections and sent some of the practitioners to labor camps. Eighty-one practitioners were sent to labor camps right before the 2001 Chinese New Year alone.
After the Global Magnitsky Act was passed in the U.S. in 2016, Canada, U.K., and 27 countries in the European Union adopted similar laws to support human rights. Violators would be barred from entry and have their assets in those countries frozen. In December 2020, Falun Gong practitioners submitted name lists of human rights perpetrators to 29 nations, calling for sanctions. Zhu was on one of the name lists. Below is the information reported to those countries.
Personal Information
Name: Zhu Qingwen (朱清文)Gender: MaleBirth date: July 1956Birth place: Bin County, Heilongjiang ProvinceWork place: Party Committee in Shuangcheng City, Heilongjiang ProvincePosition: Party Secretary
Selected Persecution Cases
Below are some cases previously reported by Minghui that are related to Zhu.
Death by torture and poison
Mr. Zhou Zhichang, former director of the armed forces in Handian Town, went to Beijing to appeal for Falun Gong in September 1999. Several months later, he died in custody on May 6, 2000. According to insider information, Zhu hated Mr. Zhou because he believed the latter had affected his career advancement. Zhu wanted to be promoted to be mayor of Mudanjiang City. That did not happen because, inspired by Mr. Zhou, many practitioners in Shuangcheng went to Beijing to seek justice for Falun Gong. Zhu was openly criticized by his supervisor for having many local practitioners going to Beijing.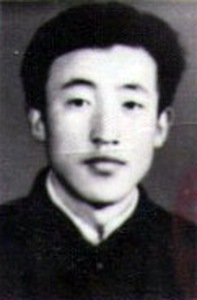 Mr. Zhou Zhichang
At the Shuangcheng First Detention Center, Mr. Zhou was kept together with death row inmates. Zhu told deputy police chief Zhang that it would fine for Mr. Zhou to die of torture, so that other practitioners would be intimidated. According to a witness, on the 6th day after Mr. Zhou went on a hunger strike, he was tied up and forced to wear a snaffle bit (made of metal wire, often used on livestock) to keep his mouth open. The guards then force-fed him, and he vomited lots of blood during the process.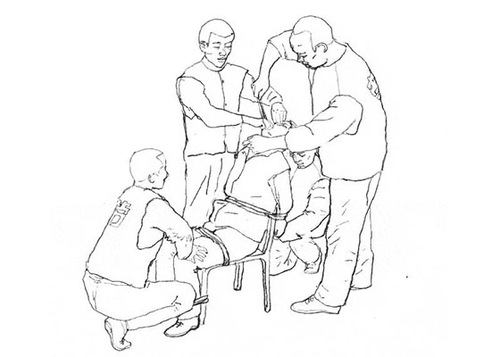 Torture illustration: tying up and force-feeding
Because Mr. Zhou insisted on doing the Falun Gong exercises, the guards cuffed his hands all the time. Deputy police chief Zhang made an arrangement to have Mr. Zhou driven to a hospital, ostensibly for a physical exam. Mr. Zhou was injected with poisonous drugs and died after he was returned to the detention center. Officials also used this case to threaten other practitioners and their families. "Death means nothing here," said Zhang, "Zhou has died. So what?"
Arrest of nearly 1,000 practitioners
After the Chinese Communist Party (CCP) began to suppress Falun Gong on July 20, 1999, many practitioners in Shuangcheng went to the provincial capital, Harbin, to appeal. Among them was Mr. Wan Yunlong, local volunteer coordinator of practitioners. After his arrest, Zhu and Zhang considered Mr. Wan a key Falun Gong practitioner. They kept him at a detention center for 6 months and then sent him to Yimianpo Forced Labor Camp with a term of two years.
This labor camp was a quarry, where Falun Gong practitioners were ordered to put rocks in baskets and load them onto trains. The baskets were made of metal and each basket of rocks weighed over 50 kilos (or 110 pounds). It was intense labor, which wore away many people's skin and muscle, and their bones were exposed. In addition to the slave labor, Mr. Wan was also subjected to various forms of torture, yet he never wavered in his faith. He did not return home until May 2001.
In December 2000, Zhu promised Heilongjiang Province Party Secretary Xu Youfang that no practitioners from Shuangcheng City would go to Beijing during the Chinese New Year season. To keep his promise and please higher officials, Zhu sent nearly 1,000 practitioners to various brainwashing centers in December 2000.
These brainwashing centers had practitioners in their 70s or 80s. They also had students and other children aged 3 to 15. The practitioners were kept in metal cages with men and women kept together. Guards often beat and tortured them.
These brainwashing sessions often lasted four or five months. In the countryside, they were held in senior centers and barns. In the urban area, the brainwashing sessions were held at facilities including Qiulian Brainwashing Center, Second Light Industry Bureau Labor Camp, Party School Brainwashing Center, and others. In addition, officials hired many people to patrol the city in minivans to trap and arrest practitioners.
Arresting Practitioners with Out-of-town Police Forces
In December 2001, Zhu gave a public speech on television to "fight Falun Gong until the very end." Several months later, he and deputy police chief Zhang launched a mass arrest of practitioners. Not only police in Shuangcheng were deployed, over 700 officers and armed police forces from Harbin City also came and participated in the arrest.
For example, 22-year-old Ms. Zhang Jianhui was arrested on April 19, 2001. Due to torture at a detention center, she had wounds all over, with her face deformed. Ms. Zhang was sent to Harbin Women's Prison in January 2003 with a term of 10 years.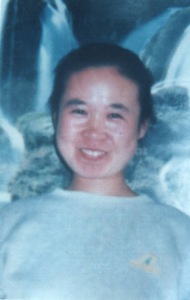 Ms. Zhang Jianhui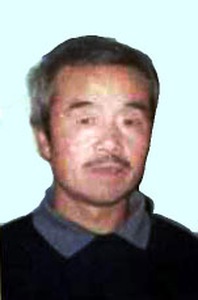 Mr. Zhang Tao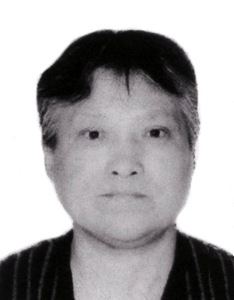 Ms. Yao Caiwei
Ms. Zhang's parents also suffered tremendously for their belief. Her father Mr. Zhang Tao died from torture in late July 2002. Her mother Ms. Yao Caiwei had paralysis as well as numbness in her hands and feet after long-term mistreatment. In addition, she had difficulty speaking and suffered from blurry vision. She could not take care of herself. She died at the age of 58 on May 18, 2010.
The suffering some families experienced is beyond words. Before the 2002 Chinese New Year, Zhu ordered the arrest and detention of Falun Gong practitioners in the city. Mr. Liu Xiaojun and his wife were both arrested. Mr. Liu was kept at the township government for 23 days, and officials did not release him until he wrote a statement to renounce his belief. His wife was kept at a detention center for more than 70 days with a fine of 800 yuan.
Even after Mr. Liu's release, he and his employer were harassed. Village Party Secretary Liu Feng, township Party Secretary Wang Xin also pressed Mr. Liu's employer to turn him in. His employer was so scared that they fired him. On the way home, Mr. Liu was again arrested by township officials and police. He was then detained at the township government.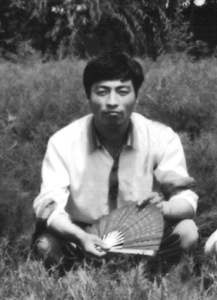 Mr. Wang Jinguo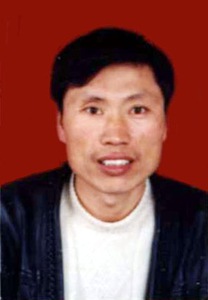 Mr. Zang Dianlong
These practitioners came from all walks of life. Mr. Wang Jinguo was a high school history teacher in Nongfeng Town. Because of detention and torture, he died at age 34 on May 23, 2001. Mr. Wu Baowang died at 36 in May 2002 after being force-fed salty water. Mr. Zang Dianlong, an employee of Shuangcheng Grain Depot, died of torture in July 2002. Similarly, Mr. Jiang Liguo from Xinxing Town lost his life in October 2002.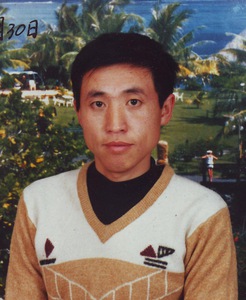 Mr. Zhang Shengfan
People with disabilities were no exception. After telling government officials "Falun Dafa is good" (Falun Gong is also known as Falun Dafa), Mr. Zhang Shengfan was arrested four times despite his disability. Each time he was badly beaten and had wounds all over. After he lost consciousness, the guards would pour alcohol or water on his face. As soon as he regained consciousness, the beating would continue. In 2001, Mr. Zhang was arrested again. Inside the detention center, the guards kicked him, beat him, slapped him in the face, pressed him under a bench, and force-fed him with alcohol. After only four days at the detention center, Mr. Zhang lost his life on June 12, 2001.
According to insiders, Zhu ordered the arrest of more than 1,000 practitioners across the 27 towns and villages under the administration of Shuangcheng during the 2002 Chinese New Year. He ordered each town and village to send at least five practitioners to the local detention centers. Five practitioners escaped from detention. Zhu ordered the police to drop everything, including investigation of murder cases, and focus their energy on catching the five practitioners. They put the whole city on lockdown and had officers stationed everywhere. They also had checkpoints from Shuangcheng all the way to Beijing. They checked train passengers and harassed the five practitioners' families and friends. They failed to find the five practitioners, despite spending more than 100,000 yuan.
Summary of Practitioners Persecuted in Shuangcheng
Below is a preliminary list of Shuangcheng Falun Gong practitioners persecuted between 1999 and 2002 during Zhu's tenure as Party Secretary.
In 1999
Three practitioners lost their lives: Zhou Zhichang, Jin Chunqing, and Tan Chengqiang.
There were 14 practitioners sent to labor camps: Zhao Yayun (who died of torture in 2001), Zhao Fengxia, Tan Chengqiang, Han Xiuhua, Wu Baowang, Zhou Yanhua, Han Shijun, Zang Dianlong, Yan Shujie, Wang Jingli, Tie Junying, Wu Shuchun, and Wang Shurong.
In 2000
Eight practitioners were imprisoned, including Fan Junfeng (15 years), Yang Chunguang (10 years), Wang Shiqin (8 years), Lu Guirong (3 years), and Gao Guizhen (10 years).
There were also 52 practitioners sent to labor camps, including Wang Youqin, Wang Guoqin, Shi Zuosheng, Wang Shijun, Lin Xiuru, Yu Jinhua, Li Xiumin, Wang Shurong, Wang Guihua, Jiang Xiuzhen, Zhang Tao, Song Zhiguang, Pang Siyuan, Li Changkui, Li Xuefei, Yu Xiuzhen, Tong Wencheng, Cang Fengying, Wang Liping, Wang Shuling, Ma Xinying, Wang Shouqing, Lin Yanjie, Liu Junshuang, Fu Li, Li Changxin, Ma Wenrui, Jin Chunqing, Xu Sijie, Liu Guoshun, Zhang Shuwei, Wu Shuhua, Pan Mingzhen, Yan Chunhua, Jia Shuangyou, Zhao Chengqian, Li Yumei, Zhao Zhiqiu, Liu Min, Meng Xing, Xu Lihua, Zhang Yuhua, Nie Shuzhen, Liu Jianwei, Zang Dianguo, Yue Baoqing, and Yan Shanzhu.
In 2001
Six practitioners died due to abuse, including Wang Jinguo, Zhang Shengfan, Yin Fuquan, Yan Shanzhu, Zhao Guangxi, and Zhao Yayun.
There were 13 practitioner sentenced to prison: Ba Yimin (4 years), Yi Fuquan (6 years), Xu Hongbo (12 years), Feng Lijun (3 years), Liu Zhijun (4.5 years), Zhang Shijiang (8 years), Wang Wenlong (9 years), Wang Mi (12 years), Zou Guoyan (9 years), Liu Guanqun (3 years), Lu Shulin (6 Years), Li Lin (4 years), and Zhao Jisheng (4 years).
In addition, 60 practitioners were sent to labor camps, including Liu Yanqing, Pan Honglan, Wang Liping, Wang Yongqin, Ma Xinying, Yan Chunhua, Zhao Fengxia, Zang Dianwen, Meng Xing, Ma Yumin, Yan Chunhua, Xu Yanwei, Wu Guoqin, Yue Baoxue, Wan Yunlong, Wan Yunfeng, Zhang Tao, Zhao Xihua, Wu Qingxiang, Jia Shuangyou, Tang Fengjun, Jiang Yahong, Fu Zhenmin, Ma Yumin, Ma Zhenyun, Ma Zhenyun's husband, Meng Yusheng, Tong Wencheng, Sun Zhixue, Zhao Yanju, Qiu Changling, Han Entong, Dong Liantai, Zhao Yanmei, Yan Shanzhu, Chen Xiuhua, Wang Xiuyan, Wang Xiuju, Na Changjian, Zhang Yulan, Wang Desheng, Wang Fengchun, Liu Shuying, Han Xiuhua, Wang Shuqing, Zhao Guangxi, Wang Shixue, Guo Mingxia, Xu Lihua, Li Haiyan, Zhou Fengying, Fu Wenqing, Pan Honglan, Li Yanqing, and Yan Jinhai. Moreover, 8 practitioners were fired from their jobs, including Pei Yongjun, Zhao Shukun, Gao Shuqin, Li Yanfen, Fu Wenpei, Yin Yongfang, Sui Shulin, and Liu Shuang.
In 2002
Six practitioners died of the persecution including Wang Baowang, Zhu Xiangguo, Sun Xuelun, Na Changjian, Gao Guangen, and Yue Baoxue.
There were 21 practitioners sentenced to prison, including Yan Shufen (15 years), Yan Shuhua (14 years), Wang Lili (13 years), Zhang Jianhui (10 years), Zhang Shufen (6 years), Fu Lianjun (4 years), Zhang Jingyan (10 years), Xu Youqin (15 years), Tie Junying (10 years), Chen Junbo (4 years), Sun Zhifen (10 years), Sun Zhaoying (5 years), Li Xiuru (4 years), Geng Zhiying (2 years), Wang Hongliang (14 years), Tie Junying (10 years), Yang Min (4 years), Li Chao (11 years), Fu Wenqing (4 years), Chen Yunxia (3 years), Geng Yafen (10 years), Ma Zhongliang (10 years), Li Yanwen (10 years), An Xing (8 years), and An Ling (7 years).
Furthermore, 51 practitioners were sent to labor camps, including Fan Shude, Zhu Xiangguo, Chen Qi, Xu Yushan, Zhang Tao, Shi Kuangyuan, Zhang Xiangfu, Zhao Pengzhen, Zang Dianguo, Sun Xuelun, Xu Zhenfeng, Na Changjian, Liwa Yigang, Liu Hui, Wang Yunguang, Han Entong, Ma Zhenyun, Xin Hongxia, Jiang Yahong, Wang Xiurong, Tong Wencheng, Gu Xiyun, Yao Caiwei, Zhang Yafen, Liu Zhiwei, Zhang Yulan, Wang Deyin, Yang Xueqiu, Wang Qingyun, Tang Xiancheng, Gao Guangen, Xu Qingsen, Na Zhenxian, Wang Wenbo, Yu Jinhua, Guo Shijun, Guo Shijun's wife, Shi Zengying, Liu Guoying, Cong Yujie, Gu Enfang, Cong Lihua, Liu Zhiwei, Han Xiuhua, Wang Shurong, Liu Quanguo, Huang Yanzhen, Yue Baoxue, Wang Xiumei, and Gao Guofeng.
All articles, graphics, and content published on Minghui.org are copyrighted. Non-commercial reproduction is allowed but requires attribution with the article title and a link to the original article.
Category: Accounts of Persecution