Once Incarcerated for Six Years, Guangdong Woman Sentenced to 7.5-Year Prison Term
March 9, 2021 | By a Minghui correspondent in Guangdong Province, China
(Minghui.org) A Zhanjiang City, Guangdong Province, woman was sentenced to a 7.5-year prison term in early February 2021 for her faith in Falun Gong, a spiritual and meditation discipline that has been persecuted by the Chinese communist regime since 1999.
Ms. Luo Jiangying, in her 40s, was arrested on March 30, 2020, for talking to people at a market. The police ransacked her home in the evening and confiscated her computer, some cash, and the bank deposit cards for her parents' pension. Ms. Luo was the sole caregiver for her parents, who are in their 80s. her incarceration at the Suixi Detention Center has left the elderly couple struggling to care for themselves.
After seven months of detention, Ms. Luo was tried by the Chikan District Court in October 2020. She didn't accept the court-appointed lawyer, who was instructed to enter a guilty plea for her. She instead acted as her own lawyer and defended her innocence. The prosecutor initially suggested sentencing her to 4.5 years, but the judge eventually increased it to 7.5 years.
Past Persecution
Ms. Luo previously worked as a nurse at the Third Affiliated Hospital of Sun Yat-sen University. She took up Falun Gong in February 1999 and her asthma and other ailments soon disappeared.
After the communist regime ordered the persecution of Falun Gong in July 1999, Ms. Luo was arrested three times between 2000 and 2008. She served two years in a labor camp, one year in a brainwashing center, and another three years in prison.
Two Years of Forced Labor
Ms. Luo was first arrested around 2000 and given two years at the Chatou Women's Forced Labor Camp in Guangzhou City without due process.
The Chatou Forced Labor Camp was notorious for its brutal persecution of Falun Gong practitioners. People serving time there were forced to work at least 16 hours per day without pay. They were sometimes forced to work around the clock. The longest record was 14 days of working without a full night of sleep.
Many Falun Gong practitioners were deprived of restroom use, hung up by their handcuffed wrists, beaten, deprived of sleep, and had their legs tied up. Ms. Luo was subjected to the tying torture. Because she refused to renounce Falun Gong at the end of her two-year term, the authorities extended her term.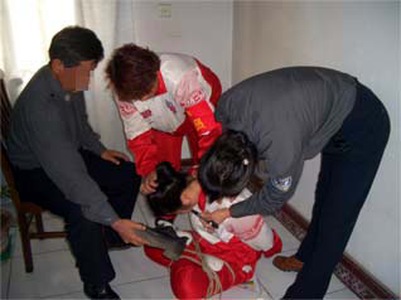 Torture reenactment: Legs tied up
One Year in the Brainwashing Center
Ms. Luo was arrested again on February 23, 2004, for going to Beijing to appeal for Falun Gong. She was held at a brainwashing center and subjected to torture methods including intimidation, sleep deprivation, long hours of standing, and the tying torture.
After she was released, the police forced her to turn in all of her Falun Gong teachings and collected her fingerprints. She was also fired by the hospital she worked at.
With no income, she moved to her brother's home and did odd jobs to support herself. The police continued to harass her and ordered her to sign a statement renouncing Falun Gong.
Sentenced to Three Years
Ms. Luo was arrested one more time in the summer of 2008, after being reported by the owner of a clothing shop for talking to her about Falun Gong.
Ms. Luo was sentenced to three years at the Guangdong Province Women's Prison. She was deprived of sleep, forced to stand for long hours, and subjected to intensive brainwashing again.
All articles, graphics, and content published on Minghui.org are copyrighted. Non-commercial reproduction is allowed but requires attribution with the article title and a link to the original article.
Category: Accounts of Persecution