Heilongjiang Man Arrested for His Faith, Given Labor Camp Term and Injected with Unknown Drug
March 8, 2021 | By a Minghui correspondent in Heilongjiang Province, China
(Minghui.org) Mr. Zeng Qinghe, a Hegang City, Heilongjiang Province resident, started to practice Falun Gong, a mind-body practice, in 1996. After the Chinese Communist Party launched the persecution of Falun Gong in July 1999, Mr. Zeng has been arrested and detained several times. He also served one year in a forced labor camp and was subjected to various torture methods. 
Health Restored 
Mr. Zeng had many health issues. The worst was insomnia caused by neurasthenia. He was unable to sleep for three months and had been treated by many doctors, but to no avail. The lack of sleep further caused many other problems in him, including heart disease, lung disease, back pain, stomach disease, appendix pain, and leg pain. 
After taking up Falun Gong, he was excited to see all of these diseases healed. Mr. Zeng lives by Falun Gong's principles of "Truthfulness, Compassion, Forbearance" and strives to be a good person. 
Arrest, Detention and Forced Labor
After the Chinese Communist regime started the persecution on July 20, 1999, officers from Goubei Police Station attempted to force Mr. Zeng to write a statement to renounce Falun Gong. They searched his apartment without a warrant and harassed him every few days.
One day in April 2002, at 2 a.m., four police officers ransacked Mr. Zeng's apartment. Since then, it became a routine for the police to come and harass him during the so-called "sensitive dates," including major events in the city or anniversaries related to Falun Gong.
Mr. Zeng was arrested again while visiting another practitioner on July 9, 2005. He was brought to the Xiangyang Police Station and beaten.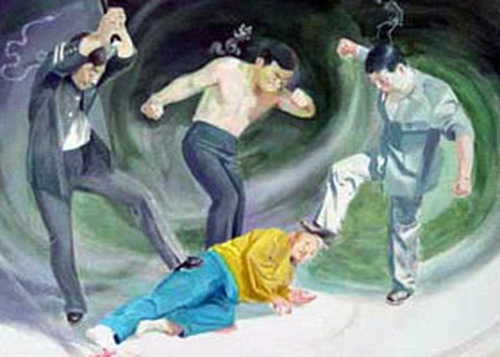 Torture illustration: Beatings
The police took a Falun Gong flyer found on Mr. Zeng as evidence and sent him to Hegang City No. 2 Detention Center in the afternoon. He was later given a one-year forced labor camp term. 
While serving time at Suihua Forced Labor Camp, Mr. Zeng was forced to get up at 3 a.m. every day. After washing and cleaning, he was forced to sit on a small plastic stool with his back straight and hands on his knees. He sat still until 6 a.m. After having breakfast, he began to do the unpaid labor, including making tooth picks or brand-name clothes. After a short break for lunch, the labor continued until dinner. In the evening, he went back to his cell and continued to sit still on the small plastic stool until 9 p.m.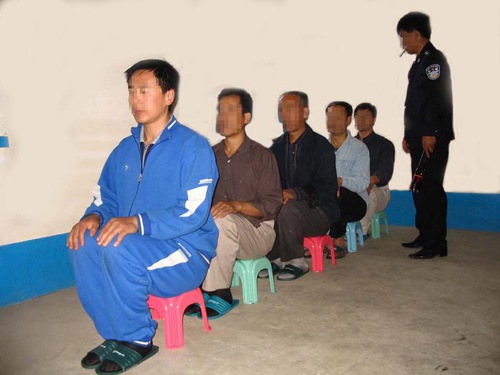 Torture reenactment: Sitting still
If the guards were not satisfied with anyone's work, they would take that person into a separate room and brutally beat him. All the inmates lived in fear every day. For Mr. Zeng, not only did the guards beat him, step on his feet and kick his legs, but they also shocked him with an electric baton.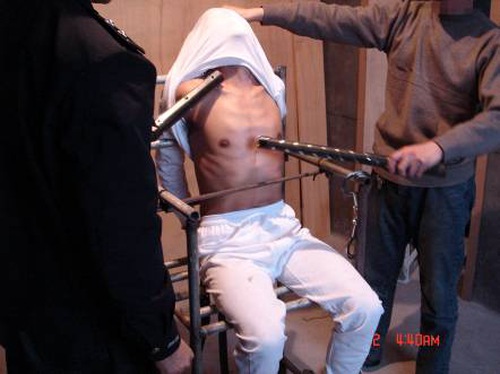 Torture reenactment: Beating with electric baton
Second Detention
After Mr. Zeng was released, the persecution did not end. At night on June 3, 2008 when he went back home after work, he was arrested by officers from Xingshangoubei Police Station. The police ransacked his apartment and confiscated his two MP3 players, two cellphones, several copies of Minghui Weekly and banners. He was taken to the Hegang City's No.2 Detention Center the same night.
Six officers went to the detention center on July 18, 2008 and interrogated Mr. Zeng. They beat and kicked him. As Mr. Zeng still refused to answer their questions, they handcuffed his hands behind his back and hung him up, despite knowing that Zeng had a heart condition. They also force-fed Mr. Zeng an unknown drug.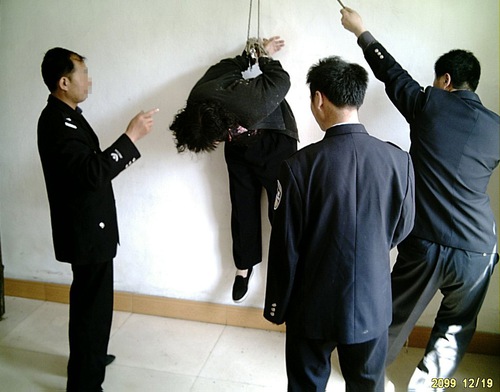 Torture reenactment: Handcuff from the back and hung up
Soon Mr. Zeng was sent to the hospital after he exhibited some chest tightness. The nurse said that with his heart condition, it's life-threatening for Mr. Zeng to be injected with anxiolytic drugs. However, the police still managed to get the shot and gave Mr. Zeng an injection. After staying in the hospital for one night, Mr. Zeng was taken back to the detention center.
Three month later on October 25, 2008, the police came to the No. 2 Detention Center again. They tried to send Mr. Zeng to Suihua Forced Labor Camp. But the forced labor camp refused to accept him due to his high blood pressure, heart disease and some condition with his brain. When the police brought Mr. Zeng back to the detention center, the detention center also rejected him.
The police kept Mr. Zeng at the police station overnight and released him the next day. On the way, the director of the police station force fed him an unknown drug.
The police continued to harass Mr. Zeng and his family after he returned home. 
All articles, graphics, and content published on Minghui.org are copyrighted. Non-commercial reproduction is allowed but requires attribution with the article title and a link to the original article.
Category: Accounts of Persecution