After Repeated Arrests and Harassment, Hebei Woman Faces Trial for Reading Book of Her Faith
March 31, 2021 | By a Minghui correspondent in Hebei Province, China
(Minghui.org) A Xingtai City, Hebei Province resident is facing trial for practicing her faith in Falun Gong, a spiritual and meditation discipline that has been persecuted by the Chinese communist regime since 1999.
Ms. Hu Hui, 54, went to another practitioner's home to read Falun Gong books together on August 28, 2020. The police followed her and arrested four other practitioners on site.
The police snatched Ms. Hu's keys and ransacked her home without the presence of any of her family members. When her husband returned from work at around 5: 30 p.m., the police were still there. Her computer, printer and Falun Gong books were confiscated. The search warrant the police gave to her family was blank and had no information filled out.
Around the same time, another 12 practitioners were also arrested, but most of them have been released at the time of writing.
Ms. Hu was kept at a brainwashing center for five days, before being put on criminal detention on September 3 with the charge of "undermining law enforcement" and transferred to the Xingtai City No.1 Detention Center.
Her family and lawyer found the police on September 24 and tried to seek justice for her. Shortly after her lawyer began to talk about her detention at the brainwashing center, Song Jiaxi, the head of the Domestic Security Office, ordered the officers to drag the lawyer away. "You can go ahead and file a complaint against me for illegally detaining your client." Song shouted at the lawyer.
The lawyer went to the detention center to visit Ms. Hu on September 25, but was rejected by the guard on duty, who demanded an approval letter from the police. The lawyer tried to argue with the guard, but to no avail.
The Xiangdu District Procuratorate approved the arrests of Ms. Hu, Ms. Guo Jinzhao and Ms. Fu Lihong on September 30. Both Ms. Guo and Ms. Fu have been released on bail following their arrests on the same day.
Ms. Hu's lawyer reviewed her case document at the procuratorate on December 14 and visited her at the detention center.
The three practitioners were indicted on December 31 and have their cases forwarded to the Xiangdu District Court.
Past Persecution
Since the Chinese communist regime ordered the persecution of Falun Gong, Ms. Hu, a former teacher, has been repeatedly targeted for upholding her faith.
She was intercepted and arrested in late July 1999, while on her way to Beijing to appeal for the right to practice Falun Gong. She was detained briefly at the nearby Ren County and then taken back to Xingtai.
She and another practitioner returned to Beijing to appeal in early 2000, only to be arrested again. All the cash she brought with her was confiscated. After she was taken back to Xingtai, the police locked her in a chair and left her outdoors overnight to freeze her. She was released after being held at the Xingtai City No.2 Detention Center for over 20 days. Because she refused to write a statement to renounce Falun Gong, the police began to monitor her closely.
Ms. Hu was arrested again in the summer of 2000 for doing Falun Gong exercises in public to protest the persecution. She was kept at the police station for three days and then taken to the Xingtai City No.2 Detention Center.
When she held a hunger strike to protest the persecution, the guards force fed her and left the feeding tube in her stomach to increase her suffering. The guards also handcuffed her hands behind her back, causing her hands to swell. She also had difficulty breathing and pain in her throat.
A month later, Ms. Hu was transferred to a guest house dedicated to detaining Falun Gong practitioners. A residential committee director hit her in the head with his shoe.
She was transferred to the Shijiazhuang Forced Labor Camp on September 13, 2000 and held there for one year and one month. Because she refused to do unpaid labor or wear an inmate's uniform, she was monitored by the inmates, forced to sit on a small stool without moving and not allowed to talk to others.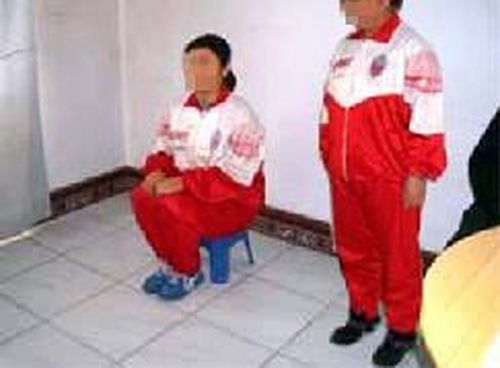 Torture reenactment: sitting on a small stool
The police monitored Ms. Hu's phone calls and arrested her in the spring of 2003 at her mother's home. Her home was ransacked and she was extorted 2,000 yuan before being released.
A group of officers broke into her home one night in the summer of 2004. Her Falun Gong books and related materials were confiscated. She was denied sleep for one night. This time, she was held at a brainwashing center for a week and then at the detention center for two weeks. She was extorted 500 yuan by the brainwashing center.
The police often harassed her during politically sensitive days. At one point, they ransacked her home while she was out. Her husband was forced to turn in the only 300 yuan he had to the police.
The police pried open Ms. Hu's door and tried to take her to a brainwashing center on July 20, 2011. She escaped and was forced to live away from home to hide from the police.
All articles, graphics, and content published on Minghui.org are copyrighted. Non-commercial reproduction is allowed but requires attribution with the article title and a link to the original article.
Category: Accounts of Persecution