Woman Repeatedly Arrested and Tortured to Near Death for Upholding Faith in Falun Gong
March 31, 2021 | By a Minghui correspondent in Liaoning Province, China
(Minghui.org) A 72-year-old woman in Fushun City, Liaoning Province was repeatedly incarcerated and tortured for not renouncing her faith in Falun Gong, a spiritual discipline that has been persecuted in China for the past 21 years. Ms. Wang Pinlan has been arrested three times and detained twice for a total of 2 months. She was arbitrarily given three years in Masanjia Forced Labor Camp and released in nine months because she nearly died after the beatings, force feeding, and injection of unknown drugs. Despite the torture, she did not give up her faith.
New Life Begins After Taking up Falun Gong
Before Ms. Wang became a Falun Gong practitioner, she fought about everything. One time she tried to help a neighbor and the neighbor misunderstood her, she argued and fought with the neighbor until they both ended up hospitalized. She often suffered from heart failure and reduced blood flow. She also had rheumatoid arthritis, concussion, Henoch–Schönlein purpura (bleeding underneath the skin), and frequent headaches.
She took up Falun Gong in July 1996 and it helped calm her down. She followed the principles of Truthfulness, Compassion, and Forbearance in her dealings with others and became a considerate person. All of her ailments disappeared. She was grateful to Falun Gong for giving her a second life.
One Month Detention for Speaking up For Falun Gong
Ms. Wang went to Beijing to tell the central government why the persecution was wrong. The police arrested her at Tiananmen Square on January 1, 2000. She was locked in a basement in Haidian District (possibly a drug rehabilitation center) for 28 days. There were both male and female detainees and the police demanded the female practitioners strip off their clothes for body searches. The police even searched their underwear liner.
Tortured and Given Three Years After Telling People About Falun Gong
Ms. Wang's son got into a traffic accident and hit a woman in July 2004. She went to the hospital to take care of the woman and clarified the truth of Falun Gong to other patients. The woman's family reported her and the police arrested her on September 16. At Xinfu Police Station, she was handcuffed to heating pipes with one arm up and the other down so that she could neither stand nor squat. The police beat her after she refused to answer questions. The police ransacked her home at midnight and confiscated all her Falun Gong books and literature.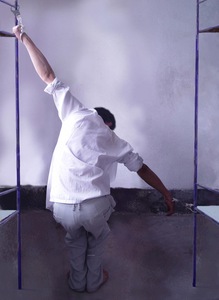 Torture demonstration: Victim is handcuffed in a position that one hand is above and the other beneath the head. He could neither stand nor squat for a long period of time, which causes great distress to the body.
An officer interrogated Ms. Wang and questioned why she continued to practice Falun Gong. She told him that the practice cured her illnesses that used to torment her every day and taught her how to be a good person.
Dissatisfied with her answer, the police continued beating her, yelling, "Jiang Zemin (the former head of the Chinese Communist Party) says that you can't practice it. If you die from the beatings, you'd die in vain and go directly to the incinerator."
An officer sat on her and punched her. Her collarbone was fractured as a result. Other officers stomped on her feet and hit the soles of her feet with her shoes.
The police beat her until they got tired. Ms. Wang escaped when they took a break. The police found her before she could get far. After beating her, they tied her hands and hung her up by the wrists, leaving her toes barely touching the ground. This caused extreme pain on her hands and shoulders.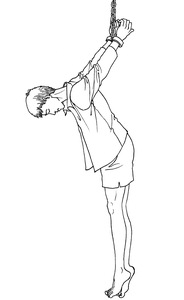 Torture illustration: A form of the hang-up torture
The police put Ms. Wang down to let her use the toilet. A male officer cuffed her hand with his before letting her use the toilet. After she was done, he hung her up again and left her hanging overnight. She was transferred to Nangou Detention Center in Fushun City the next day, before being arbitrarily given three years in Masanjia Forced Labor Camp.
Almost Dead in Forced Labor Camp After Injection of Unknown Liquid
After Ms. Wang was taken to the Masanjia Forced Labor Camp, only one division agreed to accept her, due to her severe injuries. Ms. Wang refused to wear a prison uniform and answer questions. She couldn't walk well because of the foot injuries she sustained during police interrogation. A guard took her to Shenyang Hospital for medical treatment. But as soon as she explained to the doctor how she was tortured, the guard punched and kicked her. She went on a hunger strike to protest the abuse. The guards force fed her until she vomited blood.
During the brainwashing sessions, Ms. Wang yelled "Falun Dafa is good" in protest and refused to listen to anyone who tried to brainwash her. From then on the guards locked her in places away from other practitioners such as the storage underneath the stairs, bathroom, or the guards' offices. At one point, after she yelled "Falun Dafa is good," a guard stuck smelly socks into her mouth and stomped on her face. Another time they put her in a room with noise so loud that she passed out immediately. They dragged her out and tried to make her do labor-intensive work after she woke up. She refused.
When Ms. Wang's son went to the labor camp to visit her, the guards turned him down. She protested, only to have the guards tape her mouth and shock her with electric batons. They accused her of being mentally ill after she refused to back down and took her to Shenyang Mental Health Center. She refused to cooperate when the doctor tried to draw her blood or take the medicine they gave her.
A few days later, she was transferred to the affiliated hospital of Masanjia Forced Labor Camp. The first night there, the doctor gave her six bottles of unknown liquid through intravenous injection. She felt extremely uncomfortable. When her family was asked to pick her up the next day, nine months after she was admitted to the labor camp, she vomited blood clots on her way home. After she resumed practicing Falun Gong at home, her health gradually recovered.
While incarcerated in the labor camp, Ms. Wang also witnessed the torture of other practitioners. One practitioner told her how she was stripped naked and thrown to the male wards with 17 other female practitioners. One practitioner was also stripped naked and the guards put spicy powder into her private parts. Another practitioner was electrically shocked on her nipples.
Harassment Continued After Release
Four officers went to her home on June 6, 2017 and began to record and document everything. They asked everyone, including her son and daughter-in-law, if they practiced Falun Gong. They later had Ms. Wang go to the police station to verify some details. Ms. Wang refused to sit in the interrogation chair. She told them the facts about Falun Gong and the police eventually drove her home.
A dozen officers from Fushun Domestic Security and Jianshe Police Station arrested Ms. Wang and four other practitioners on the evening of June 25, 2019. At the time the five of them were telling people about the persecution of Falun Gong near Fushun City No.1 High School. After 35 days of detention, Ms. Wang was asked to sign a document in Jianshe Police Station. She refused and was later released.
All articles, graphics, and content published on Minghui.org are copyrighted. Non-commercial reproduction is allowed but requires attribution with the article title and a link to the original article.
Category: Accounts of Persecution