Previously Jailed for Five Years, Engineer Faces Trial for Her Faith Again
March 31, 2021 | By a Minghui correspondent in Heilongjiang Province, China
(Minghui.org) On September 22 and 23, 2020, more than 30 Falun Gong practitioners in Harbin City, Heilongjiang Province, were arrested, including Ms. Liu Bobin. Her home was ransacked.
After first being quarantined in the Harbin No. 4 Detention Center following her arrest on September 22, she was transferred to the Harbin No. 2 Detention Center and has been detained there ever since. She has now been indicted and is scheduled to be tried in the Daoli District Court.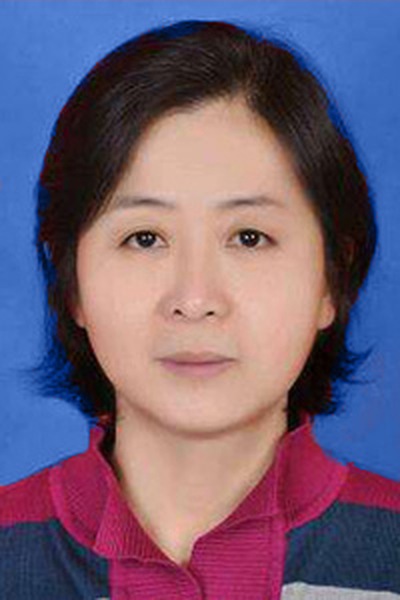 Ms. Liu Bobin
Infertile Woman Became Pregnant and Illness-free
Ms. Liu, 57, was a senior engineer at the state-owned Harbin Measuring Tool Factory. She had top grades in middle and high school and was admitted to Hunan University in 1983. Due to long-time stress from studying, she suffered from severe neurasthenia, neurosis, and headaches every day.
To have a child, Ms. Liu tried many western and Chinese medicines and had all kinds of procedures. But nothing worked. She was diagnosed with congenital infertility. After that, she had family conflicts.
She was introduced to Falun Gong, also known as Falun Dafa, in April 1995 by her classmate. After she started to practice, her ailments soon disappeared and she regained her energy. She became pregnant in May 1999, four years after she took up Falun Gong.
Pregnant Woman Handcuffed for Speaking Out for Justice
After the Chinese Communist Party (CCP) began to persecute Falun Gong in July 1999, Ms. Liu was suddenly disowned by the people she knew, even though they had witnessed how she had benefited from the practice. Under the communist regime's authoritarian rule, no one is allowed to do anything banned by the Party. Her family members and her colleagues all tried to force her to stop practicing Falun Gong. The pressure at both work and home almost suffocated her.
Ms. Liu decided to tell the government about her own experiences and that Falun Gong offers benefits and no harm. Heavily pregnant, she hopped on the train to Beijing alone.
The Beijing Train Station was under curfew when she arrived. She stayed with a fellow practitioner and was told that many practitioners had been already arrested on Tiananmen Square. One night, several police officers broke into where they were staying. Ms. Liu was identified and handcuffed all the way back to Harbin. She said she couldn't understand why the government had to be so fearful of a pregnant woman who didn't do anything but tell the truth.
Ms. Liu was taken to the Xiangfang District Police Department and ordered to sign a guarantee statement. Her father and her husband were also there. Her father, who had lived through numerous political movements, had tears in his eyes when he begged her to give up Falun Gong. Her husband also threatened her with divorce or suicide. She chose to uphold the truth and her faith.
Harbin is very cold in October. Ms. Liu was hungry and chilly, with only a summer dress and sandals. What made her feel colder was the uninterrupted TV broadcast that slandered Falun Gong and how the communist regime had turned the entire country against it.
Loss of Job for Practicing Falun Gong
A month after her son was born, Ms. Liu was fired from her job on April 10, 2000, because she refused to give up Falun Gong. That put her under tremendous financial and mental pressure. She approached various government agencies to seek justice, but to no avail.
Ms. Liu was monitored and harassed frequently after that. Officers from Zhujiang Road Police Station even ransacked her home without reason. To protect her from being arrested, her husband bribed people repeatedly. The harassment also caused him to suffer frequent tightness in his chest.
To earn a living, Ms. Liu found a job at a company her relatives owned. This enterprise did very well after she started to work there, with annual sales of up to two million yuan. But when she was arrested in 2009, company sales were disrupted and her relatives were eventually forced to close the business.
Arrested for Distributing Falun Gong Materials
On October 25, 2009, Ms. Liu was arrested for giving out Falun Gong materials. She was sentenced to five years in prison in the Daowai District Court. She filed an appeal, but the Harbin Intermediate Court upheld the original verdict.
In her eight months in the detention center, Ms. Liu was confined to a small room shared with three other inmates. She was only allowed to wash herself inside the room with a small amount of water. She was also forced to memorize the prison rules every day.
When she was admitted to prison in June 2010, Ms. Liu was forced to wear prison uniform, have her hair cut, sit on a small stool, and watch brainwashing videos. The guards also made her read books that slandered Falun Gong and write thought reports.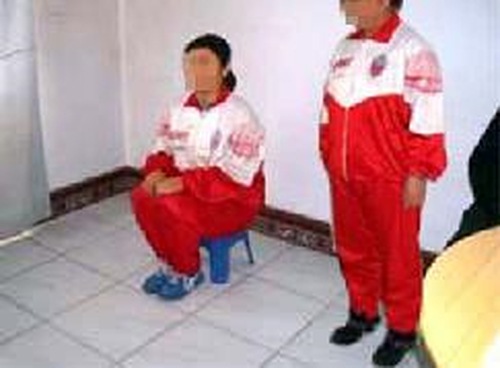 Torture reenactment: Sitting on a small stool
Harassed after Filing a Lawsuit Against Jiang Zemin
Ms. Liu was released from prison in January 2014. Her husband could not bear the pressure and divorced her. Her son also left and went abroad with her ex-husband. She was prohibited from leaving the country to see her son.
After she filed a lawsuit against Jiang Zemin in 2015, Ms. Liu was often harassed by Zhujiang Road Police Station officers.
Because she refused to cooperate with the police in a harassment campaign in 2017, the police refused to issue an essential document her son needed to apply for permanent residency in the overseas country.
All articles, graphics, and content published on Minghui.org are copyrighted. Non-commercial reproduction is allowed but requires attribution with the article title and a link to the original article.
Category: Accounts of Persecution