Toronto, Canada: Hard to Imagine Anyone Would Persecute Such a Peaceful Group
March 30, 2021 | By a Minghui correspondent in Toronto, Canada
(Minghui.org) Falun Gong practitioners in Toronto held exercise demonstrations in five places over the weekend of March 20 and 21, 2021. Their smooth, harmonious movements and soothing exercise music drew many people.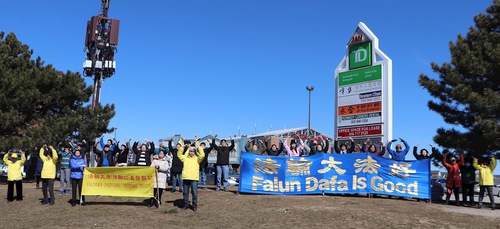 Falun Gong practitioners demonstrate the exercises at Pacific Mall in Markham, Ontario
Falun Gong is a meditation practice based on the principles of Truthfulness, Compassion, and Forbearance. Due to its popularity, it has been persecuted by the communist regime in China since 1999.
Practitioners outside of China hold events to draw public attention to the brutal persecution and the CCP's harvesting of organs from living practitioners who are incarcerated for upholding their faith. Practitioners also collect petition signatures demanding the Chinese Communist Party (CCP) immediately end the persecution.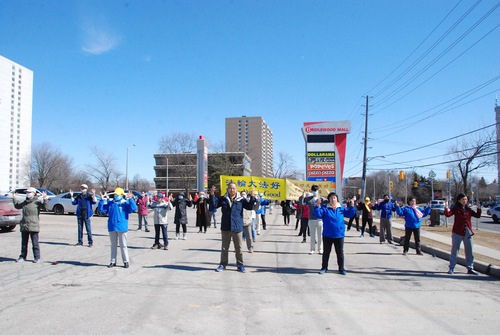 Falun Gong practitioners demonstrate the exercises at Warden & Finch Real Estate in Scarborough, Toronto.

Falun Gong practitioners demonstrate the exercises outside Toronto City Hall.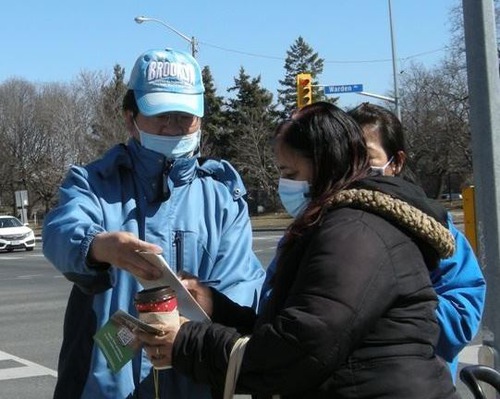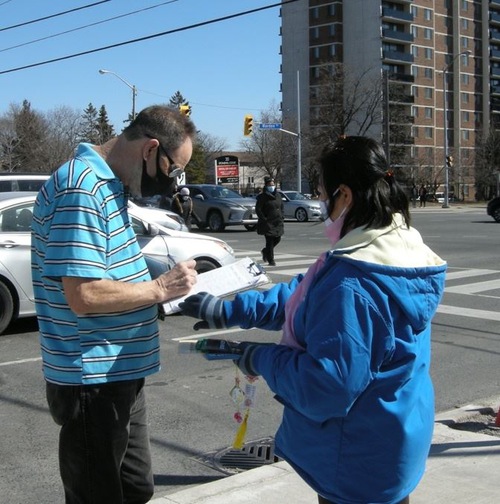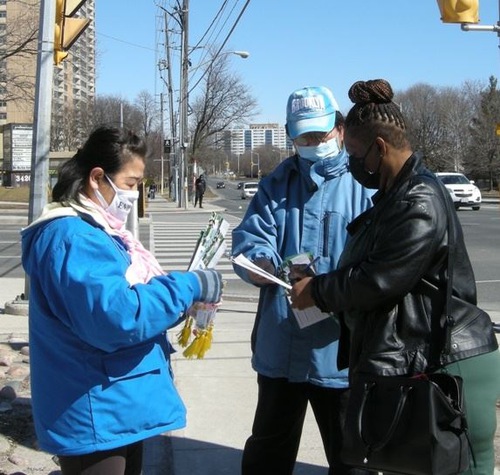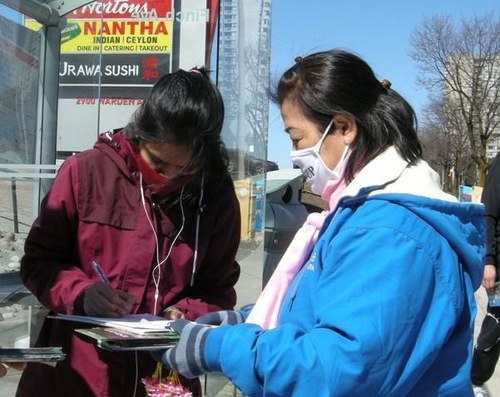 Passersby sign a petition to support practitioners' efforts to end the 21-year-long persecution in China.
I Want To Help Whenever I Can
Christian approached practitioners outside Toronto City Hall and asked to sign the petition. "I have read on the Internet about the persecution of Falun Gong practitioners. It was unbelievable. Everyone has a basic right to freedom of belief, and Falun Gong is a very peaceful practice. I truly hope the persecution in China will end soon," he said.
"It's hard to imagine a government could launch a persecution against this peaceful group of people. I want to help them whenever I can. I will sign my name every time they collect signatures for petitions. I will also share this information with my friends and family. This way more people can help," Christian said.
Bucantanl and her family also signed the petition. "I know about the persecution of Falun Gong. It is terrifying and has lasted too long. It must end soon. The terrible thing is that the persecution is still happening, and I want to help them," Bucantanl said.
Everyone in the World is a Victim of the CCP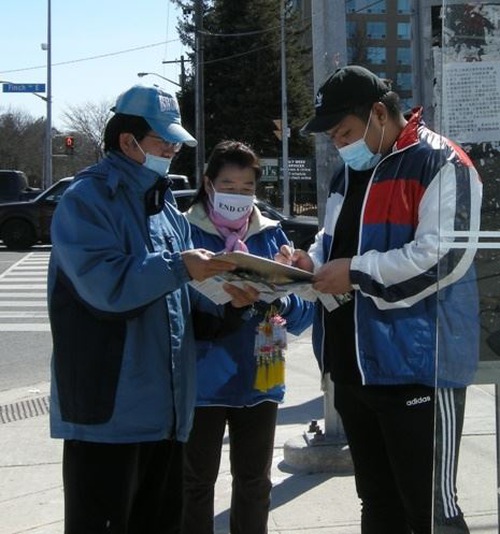 Bave Magica from the Philippines (first from right) signs the petition at the Finch & Warden exercise site.
Bave Magica signed the petition when he saw the practitioners at the Finch & Warden Real Estate exercise site. "The CCP not only brutally persecuted the Falun Gong practitioners, it has poisoned everyone in the world with its propaganda and false information. That is why I signed the petition to end the CCP and end the danger it brings to the world," Bave said.
I Know the CCP is Evil
Shafin from Bangladesh approached practitioners at the Finch & Warden exercise site and asked about the event. A practitioner told him about Falun Gong and the persecution in China. "We want to tell people about the evil nature of the CCP. The CCP covered up the severity of the coronavirus and lied to the world, which directly caused the pandemic," the practitioner said.
Shafin agreed with the practitioner and said, "I know the CCP is evil." He added that the regime has brainwashed the world's people with propaganda. He took some Falun Gong fliers to read.
Falun Gong Gives Practitioners New Lives
The Pacific Mall exercise site in Markham, Ontario has attracted many attendees for the Falun Gong instructional workshop held on nine consecutive days. Helen came in December 2020 after a friend introduced her to Falun Gong. She started practicing a month later.
"I started to have trouble breathing and could hardly walk," Helen said. "I could only say a few words before I ran out of breath. When I slept, I had to stay in a sitting position, or I couldn't breathe. I couldn't sleep when the condition worsened. As a result I didn't have energy at work, and it was dangerous because I worked in a kitchen. It bothered me.
"A friend of mine told me about Falun Gong. Because of the CCP's lies, I didn't believe what my friend told me. The friend suggested that listening to the Falun Gong music would help me. I was suspicious. The next day I suffered terrible asthma and decided to give it a try. I listened to Falun Gong music for 10 minutes and I was able to lay down. Afterward I felt calm and fell asleep unknowingly. When I woke up, I was in disbelief because I hadn't slept that well in so many years.
"I believed that Falun Gong could bring people miracles. The friend took me to meet other practitioners at Pacific Mall. They were so friendly and unlike what was said in the CCP's propaganda. From then on I went to Pacific Mall to exercise with the practitioners every day. I sometimes felt a stream of energy pass through my head to my toes. I knew my body was being purified."
Helen said she learned to be a better person by following the principles of Truthfulness-Compassion-Forbearance in her everyday life. "I used to be short-fused and jealous. Now my temper has improved and I try my best to help others. My friends told me that I'd changed and they could talk with me rationally."
Immigrant: A Divine Being Guided Me Here
A new Falun Gong exercise site was established at Hendon Park by Yonge Street in North York about two years ago. Practitioner Ms. Wang said the location has since attracted about 40 new practitioners, all of whom have different backgrounds and their own special stories.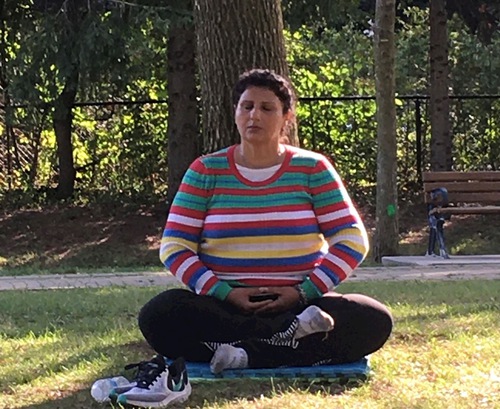 Roshanak, an Iranian immigrant
Iranian immigrant Roshanak lives near Hendon Park. She had been looking for a self-cultivation way for more than 20 years. She had tried yoga, meditation, and many kinds of qigong, but nothing worked. She never thought to go look in the park. Two years ago she heard a voice telling her, "Go that way, over there," and she did. Ms. Wang was hanging up a banner that said "Falun Dafa Is Good" at the time. Roshanak took a flier from Ms. Wang and did the exercises.
Roshanak believes that a divine spirit had guided her to the site. After she was done exercising, she felt better than ever. The next day she brought her husband, younger sister and brother-in-law to learn the exercise. They have exercised together ever since.
Smiling All Day After Learning Falun Gong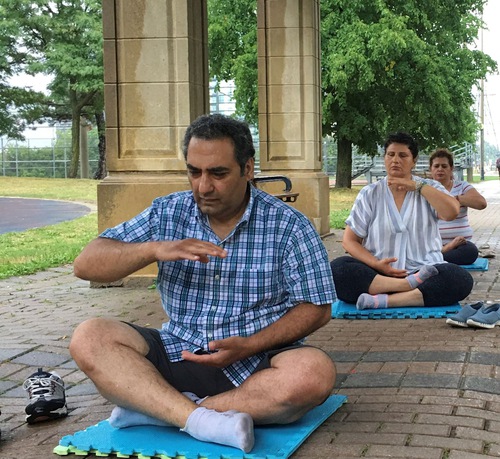 Arash, Roshanak's brother-in-law
Arash is Roshanak's brother-in-law. The first time he did the Falun Gong exercises, he felt wonderful afterward. When he came back the next day to learn more, he told Ms. Wang, "I always had nightmares, but not last night!"
After the hour-long sitting meditation was over, he remained in that position. When he was asked why he didn't want to get up, he said that he was still feeling the powerful energy and had never felt that comfortable before. He had a big smile all day.
The Place I Come by Every Day is Where I Want to be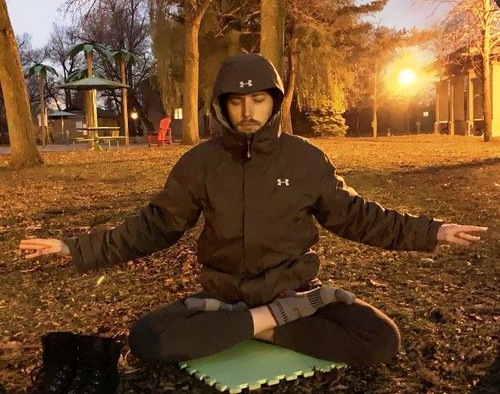 Valery
Valery immigrated to Canada from Russia 10 years ago. He rode his bike near Hendon Park every day. Last October he joined the exercise group. He used to suffer from anxiety and depression and never slept well.
"After I did the exercises, my depression soon went away. I wanted to do the exercise even more. The place I come by every day is where I want to be."
He said that when he did the exercises, he could see flowers in other dimensions. Sometimes he even felt his body levitating.
A Falun Dafa Song Brought Me to the Practice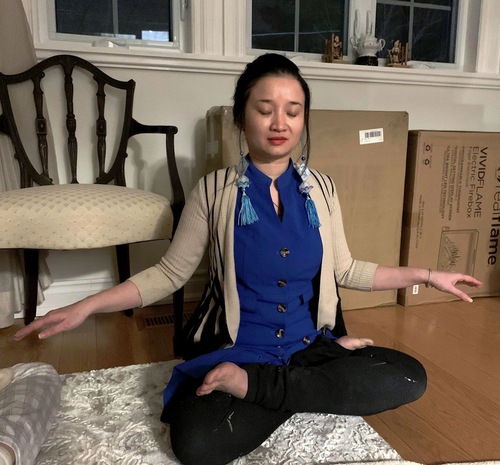 Lyn
Lyn came from Vietnam and likes to sing. "One day I searched for a song online, and a video of a practitioner singing popped up. The moment I sang the song, an energy of compassion surrounded me. When I saw Master Li Hongzhi's picture, I felt powerful compassionate energy." She wanted to learn Falun Gong and found the Hendon Park exercise site.
It's been a few weeks since Lyn learned the practice. According to Ms. Wang, "Lyn fell off a ladder and hit a concrete floor. Her ankle was fractured and became swollen. She didn't feel pain at the time and she knew Master would protect her. She still did the exercises and meditated every day. In five days, she recovered and went back to work and her normal routine. It would take most people three months to recover from the same injury, and it didn't even bother her."
Ms. Wang added that the new practitioners don't shy away from physical discomfort, including holding their arms up for an hour and meditating with their legs crossed in the double-lotus position for an hour. They came every day, even in bad weather.
Because of the pandemic, many people have wanted to learn Falun Gong to stay healthy. Practitioners have established an online exercise instruction class for people in North America. Many people have wanted to find an exercise site near them after learning the exercises online. People can find the online classes at www.LearnFalunGong.com. The site offers free teaching sessions three days a week.
All articles, graphics, and content published on Minghui.org are copyrighted. Non-commercial reproduction is allowed but requires attribution with the article title and a link to the original article.
Category: Parades & Other Community Events