Hong Kong: Reporter and Popular Show Presenter Repeatedly Harassed by CCP
March 25, 2021 | By Liang Zhen
(Minghui.org) According to Huang Ruiqiu, who is the presenter of a popular show in Hong Kong, police officials in China recently ordered her relatives there to warn her to stop hosting her programs or else they would arrest her under the National Security Act. Huang said she is an adult and would not be pressured. "I will persevere," she said.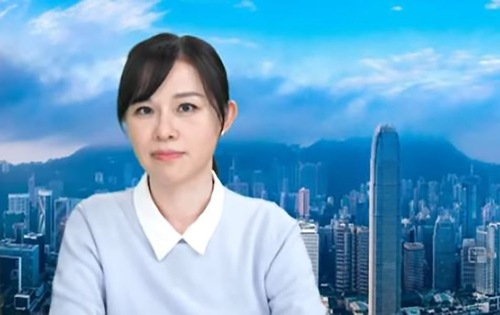 Huang Ruiqiu is the presenter of popular current affairs programs in Hong Kong "Are You Kidding Me" and "Shishan's Outlook."
News Reporting from the Front Lines
As the presenter of popular current affairs programs in Hong Kong "Are You Kidding Me" and "Shishan's Outlook," Huang Ruiqiu has been both a front line reporter and a presenter of live programming. On August 31, 2019, she witnessed police officers firing guns at a protester in Causeway Bay. That same year, during the live broadcast of the September 15 Northpoint Parade, she was attacked by pro-CCP activists. She previously exposed a fake journalist sent by the CCP during an interview.
Huang revealed that on March 16, 2021, she heard from a relative in Hong Kong that a friend of the relative in her hometown in China was summoned to the police station and interrogated. The police asked about Huang and threatened the relative's friend: "They instructed the friend to tell me not to do the program. They reminded the friend that Hong Kong now has the National Security Act. They pointed out that they could use it to arrest me and said, 'Huang's parents will lose their daughter and it won't be good.'"
Huang is a Falun Dafa practitioner. Because the spiritual practice is persecuted by the CCP (Chinese Communist Party), she has not returned to China for many years. The person interrogated by the police was just a friend of her relative who lives in Hong Kong and does not know her personally. Since the friend does not know Huang, she could not tell the police how to contact her. The police officer threatened to find Huang's parents and use them to teach her a lesson. The conversation was subsequently relayed to Huang's relative.
Harassed Again
This is the third time Huang has received news of harassment by the CCP police. In 2017 officials pressured her relatives in China twice. They claimed that they saw her participate in a Falun Dafa parade in Hong Kong and they gathered information about her. They told her relatives to tell Huang "not to participate in parades."
Huang suspects the reason officials are harassing her again after four years could be due to the program she did last week exposing the CCP's crimes of organ harvesting. She said, "This is the most in-depth reporting on the brutalities committed by the CCP since I joined the media."
On the program, Huang played two tape recordings, one of which was the testimony of a police officer who was present during an organ harvesting operation and the other was a conversation between Bo Xilai and a Chinese diplomat in Hamburg, Germany in 2006, in which Bo said Jiang Zemin gave orders for the removal of organs from living Falun Dafa practitioners.
Huang said, "The CCP is most fearful of having its genocidal crimes of organ harvesting exposed. My program struck a nerve, so that's why they are attempting to threaten me again."
Exposing Evil
Since the National Security Act was passed, several prominent figures in Hong Kong media, including Jess, host of D100 radio, and Tam Tak-chi, a radio presenter, have been arrested. Huang, however, emphasized that she will not back down since she has not done anything wrong by telling the truth. Instead, she chooses to keep her profile visible because she feels she has nothing to hide and that is the best way to protect herself.
She said, "If everyone's relative in China is threatened and we keep quiet about it, then no one will step up and speak out for justice. I am an adult and I won't be pressured. I will persist. Since I chose to be in the media, I will safeguard the freedom of media in Hong Kong and I will not bow down to pressure. I have the courage to continue to report the truth.
"Evil is most terrified of being exposed. If you keep quiet about challenges and retreat, it is even more dangerous. Therefore I think I am doing the most righteous thing. I am not only letting everyone know how evil the CCP is, exposing it is also a way of protecting myself."
Many people in the media, as well as scholars, have been concerned about the safety of media personnel. Senior journalist Ching Cheong said, "In times like these, it is extremely important to have a voice that pursues the truth."
Li Jie, a well known writer and critic who lives in America, noted the reports on the Epoch Times and NTDTV about the protests against the extradition law. He said, "It is remarkable that the Epoch Times and NTDTV charged into the battlefield in the midst of the Hong Kong protests to spread the truth. I truly admire them."
Hong Kong media veteran Tsang Waiyin, who received a Top Ten Outstanding Young Persons in The World award, said, "Especially when the CCP is tightening its control, the media in Hong Kong has been silenced. It is even more valuable when a media is able to persist."
Regarding Live Organ Harvesting
Mounting evidence, including reports from witnesses and Chinese physicians, reveals that thousands of Falun Dafa practitioners have been killed for their organs, which are then sold for enormous profits. The perpetrators of these crimes are CCP officials acting in collaboration with surgeons, prison authorities, and military officials, thus making the removal of practitioners' organs while they are alive state-sanctioned crimes.
All articles, graphics, and content published on Minghui.org are copyrighted. Non-commercial reproduction is allowed but requires attribution with the article title and a link to the original article.
Category: Voices of Support Worldwide