Canada: Parliament Members and Minister of Foreign Affairs Respond to Petition on Human Rights
March 2, 2021 | By a Minghui correspondent
(Minghui.org) In response to a petition condemning the persecution of Falun Gong in China signed by over 30,000 Canadian citizens, many Members of Parliament Members (MPs) raised this topic during parliamentary debates, urging the Canadian government to take action.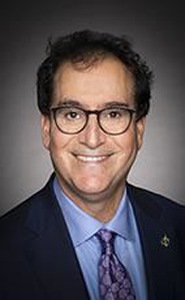 Martin Morantz, MP from Winnipeg
"For over 21 years, the Chinese Communist regime's corrupt officials have orchestrated the torture and killings of many who practice Falun Gong, a spiritual discipline promoting the principles of truth, compassion and tolerance, and harvest their organs for the regime's organ transplant trade," remarked Marty Morantz, Canadian Member of Parliament (MP) in the House of Commons on February 26.
He said that the Justice for Victims of Corrupt Foreign Officials Act, also known as the Magnitsky act, sanctions foreign officials responsible for gross human rights violations or acts of corruption. "The petitioners call on the Government of Canada to deploy all legal actions, including freezing assets and barring entry to Canada against the 14 individuals identified by name in this petition and any others committing these acts," he added.
This petition was submitted to Prime Minister Justin Trudeau on January 26. Many officials have spoken about it since then, including MPs as well as the Minister of Foreign Affairs.
Organ Tourism Must End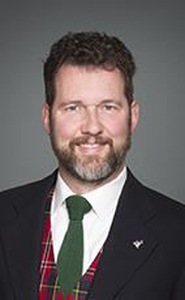 Scott Reid from Ontario
Scott Reid MP, talked about this on November 27, 2020, the 20th anniversary of his first election. "I will not say that it gives me pleasure, but it seems fitting and appropriate that I am once again returning to a subject that I addressed in my very first address to the House 20 years ago, which at the time was human rights in China and the treatment of Falun Gong," he explained.
The petition signed by many Canadians addresses the issue of organ harvesting where organs are taken involuntarily removed. "This takes place in China and has been done to victimize many Falun Gong practitioners. Testimony was given before the human rights committee when I was the chair by imminent human rights experts, David Kilgour and David Matas, on this subject," he added.
"The petitioners ask that Bill S-204, currently before the Senate, be expedited," Reid said, "This bill would amend the Criminal Code and the Immigration and Refugee Protection Act, to make sure that Canadians are prohibited from traveling abroad in order to benefit from organs that have been removed without consent from their human donors, and also to render it inadmissible for Canada to admit any permanent resident or foreign national who has participated in the trade of involuntarily donated human organs."
Garnett Genuis, MP from Alberta
Garnett Genuis MP also reiterated the importance of Bill S-204 on November 25. This legislature "would seek to make it a criminal offense for a person to go abroad and receive an organ that had been harvested or trafficked. This also responds to the human rights situation in China and concerns about forced organ harvesting and trafficking that target Falun Gong practitioners, Uighurs and other communities in China," he explained, "Although Bill S-204 does not name a specific country, it would apply to any case of forced organ harvesting or trafficking. I commend these petitions to the consideration of all members."
Twenty-Year-Long Persecution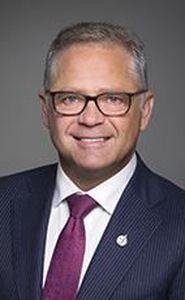 Len Webber, MP from Alberta
Len Webber MP spoke about the petition on February 5. "I am pleased to present a petition from people in and around Calgary. The petitioners are concerned about the way Falun Gong practitioners have been treated in China for more than two decades. They call upon the government to apply the Magnitsky act to end the largest and deadliest persecution of Chinese citizens since the cultural revolution," he said.
"The petition states that Chinese Communist Party corrupt officials have orchestrated the torture and killing of large numbers of people who practice Falun Gong, including the killing of practitioners on a mass scale for their vital organs to fuel the communist regime's organ transplant trade. The petitioners want the Canadian government to take a more active role in ending this," he continued.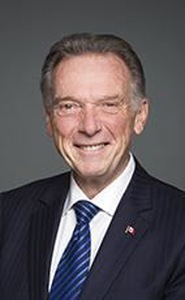 Peter Kent, MP from Thornhill
Peter Kent, MP agreed, and during his address on February 5 said, "I rise to present a petition on behalf of citizens and residents of Canada, calling on the Government of Canada to apply specific Magnitsky sanctions, including the barring of travel to Canada and seizure of assets, against 14 Chinese Communist officials guilty of a range of gross human rights violations of Falun Gong practitioners, including torture, murder, and organ harvesting."
Canada Is Not a Safe Haven for Human Rights Perpetrators
James Bezan, MP who represents Winnipeg, brought up the petition on February 17. "I am pleased to rise today to present a petition on behalf of over 700 Canadians who recognize that Falun Gong practitioners have been unfairly targeted and persecuted by the Communist Party of China. The petitioners recognize that for over 21 years Falun Gong practitioners have been political prisoners, have been tortured, and horrifically, have had their organs harvested for sale on the open market. They also recognize the fact that Parliament passed, back in 2018, the Justice for Victims of Corrupt Foreign Officials Act, called the Magnitsky law," he said.
"They are calling on the government to sanction 14 individuals in China, the primary people carrying out the illegal operations of organ harvesting and profiting from doing just that," he continued, "It is about time that we use the Magnitsky act to target, name, shame, and make sure these Chinese officials are not using Canada as a safe haven for travel, and their investments and are not bringing their families to Canada, given that they are carrying out these horrific acts against peaceful practitioners of Falun Gong."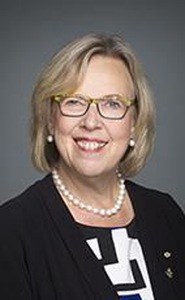 Elizabeth May, MP from British Columbia
Elizabeth May MP, leader of the Green Party, also brought up this topic on February 18. "Petitioners are asking the House of Commons to look at the situation in the People's Republic of China, particularly in regard to the campaign of eradication of the practitioners of Falun Dafa, or Falun Gong," she said, "Petitioners point to the issue of organ harvesting and the torture of practitioners of Falun Gong. They point to particular individuals, against whom they ask our government to apply Magnitsky sanctions."
Other MPs who discussed the petition were Marc Dalton, Jenny Kwan, Kerry-Lynne Findlay, Tracy Gray, Ron Liepert, and Pierre Paul-Hus.
Foreign Minister: Protecting Freedom of Belief
François-Philippe Champagne and Rob Oliphant, former Minister of Foreign Affairs and Parliamentary Secretary to the Minister of Foreign Affairs, have both written emphasizing the importance of human rights. In a written response on November 19, 2020, Champagne said that the Canadian government would continue to, "raise its concerns about the human rights situation in China and we will continue to call on China to live up to its international obligation."
The petition mentioned above-summarized efforts from the human rights organizations, U.S. government, European Union, and the United States on documenting as well as following up on the suppression in China. Thousands of practitioners have lost their lives due to the persecution in China.
The U.S. House of Representatives passed H.Res.343 on June 13, 2019, urging the Chinese Communist Party (CCP) to immediately stop the forced organ harvesting against Falun Gong practitioners and other prisoners of conscience. It has requested independent investigations on the organ transplant system in China. The European Union has also passed similar legislation.
The petition stated that between 2019 and 2020, at least 11,000 Falun Gong practitioners were arrested and 140 died. This indicates the large scale of arrest, detention, imprisonment, and organ harvesting has continued.
The following 14 CCP officials were requested to be barred from entry into Canada and their assets frozen due to their critical roles in the persecution of Falun Gong: Jiang Zemin, Luo Gan, Liu Jing, Zhou Yongkang, Bo Xilai, Li Lanqing, Wu Guanzheng, Li Dongsheng, Qiang Wei, Huang Jiefu, Zheng Shusen, Wang Lijun, Zhang Chaoying, and Jiang Chunwang.
All articles, graphics, and content published on Minghui.org are copyrighted. Non-commercial reproduction is allowed but requires attribution with the article title and a link to the original article.
Category: Falun Dafa in the Media