The Turning Point for a Woman with Chronic Hepatitis
Feb. 6, 2021 | By Minghui correspondent Xia Yun in Taiwan
(Minhui.org)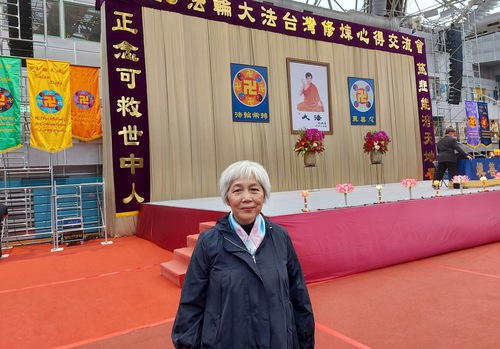 Mei Ying at the Taiwan Falun Gong Experience Sharing Conference held in the National Taiwan University Gymnasium.
A Sea of Pain and Suffering
The start of the new millennium was also the start of Mei Ying's descent into misery. After contracting hepatitis B, Mei Ying's liver began to fail. Insomnia plagued her, and she was chronically exhausted. Blood began to appear in her urine, and other conditions plagued her, such as constipation, gastroenteritis, earaches, and bronchitis. Mei Ying sought treatment from medical experts, visiting many major Western and Chinese hospitals. Nothing helped, and her doctors eventually gave up in despair.
Mei Ying then tried her luck with folk remedies and expensive nutritional foods. Her desperate attempts and medical bills cost her family nearly 20,000 yuan a month. Despite bleeding their family's savings, Mei Ying's condition remained unchanged.
Mei Ying's husband was a soldier in the military, and their three children were still in grade school. Mei Ying had to handle housework in addition to her career. However, her worsening health eventually forced her to quit her job. But even after resting at home for a year and a half, she did not improve. Mei Ying, who was only 45, started to despair: "I'd lost all hope. My body was plagued by illness, my marriage was falling apart, and my career was in shambles. Life felt meaningless."
A Ray of Hope
Having given up all hope of finding a cure, Mei Ying began frequenting a nearby clinic, buying medications to ease her symptoms. During one visit, she ran into an acquaintance, who told her about Falun Gong. She got a copy of the book Zhuan Falun and saw a photo of the author, Mr. Li Hongzhi, inside. "I was shocked to see Master Li's eyes moving as he smiled at me. I knew then that this was no ordinary book!" She immediately delved into it. The book teaches its readers how to become good people, and Mei Ying found herself reading with unprecedented eagerness.
Besides reading the book daily, Mei Ying also started practicing the five exercises. They improved her spirits and relaxed her. Soon after, she stopped relying on her medications and discarded them all.
Blessings
Reading about the origin of illnesses in Lecture Two of Zhuan Falun, Mei Ying was struck with a sudden understanding: Karma—the otherworldly substance that caused pain, discomfort, and disease—was like an object under a glass tabletop, visible from the top but impossible to touch. Hence, no medications could ever eliminate such disease karma, which resided in another dimension. She also learned that karma was a debt that could be passed down from generation to generation and that one had to suffer in order to repay and clear this debt.
Mei Ying continued to do the Falun Gong exercises and read Zhuan Falun daily. Her painful symptoms gradually began to disappear. From a mere 40 kilograms, she recovered enough to reach her previous weight of nearly 60 kilograms. Within three months, Mei Ying found her health and life restored to normal. From the depths of pessimism and depression, Mei Ying found herself becoming more cheerful and easygoing. "Dafa gave me a second chance at life," she said.
Helping Others
Having benefited from the practice, Mei Ying was determined to share the miracles of Falun Gong. To counter the Chinese Communist's Party's continued persecution of Falun Gong, Mei Ying resolved to share her personal cultivation experiences with others while clarifying the facts of the persecution of Falun Gong. She began to actively participate in such activities.
To date, Mei Ying has visited Europe, America, Australia, and other Asian countries to introduce Falun Gong. She has also petitioned for an end to the persecution of Falun Gong in China. Her first trip abroad was to Australia, where she participated in the "SOS Emergency Rescue of Falun Gong Practitioners in China" mass procession. Despite having just recovered her health, Mei Ying walked in the procession for over eight hours without rest or food.
Despite being physically exhausted, Mei Ying was filled with joy. Besides raising awareness of the plight of her fellow persecuted practitioners, more Australians had learned the truth about Falun Gong. While doing the exercises in the park with other practitioners, Mei Ying felt the energy fields from multiple Falun spinning on her body. Moreover, images of the same park had previously appeared before her in a dream. This experience left a deep impression on Mei Ying.
From 2004 to 2005, Mei Ying spent seven months clarifying the facts in Manhattan, New York City. Practitioners had set up truth clarification stands and distributed leaflets to passersby. She exclaimed, "People were shocked to hear about the persecution. After understanding the truth, many began to support our cause to end the persecution of Falun Gong in China. I was touched and encouraged by this experience."
Mei Ying once volunteered to remain at the truth clarification stand while her fellow practitioners got lunch. Not long after, a lady came up to the stand. Unable to speak a word of English and unable to contact her English-speaking fellow practitioners who had left for lunch, Mei Ying frantically retrieved her notebook. In preparation for her trip, she had prepared written notes in English, introducing Falun Gong and detailing the persecution of the practice in China. Mei Ying showed the lady her notebook. After reading it, the lady wrote her name on the petition. She even called her companion over to sign as well.
This small event triggered an avalanche. A small crowd gathered around the booth, reading the exhibition boards and taking leaflets, while passing Mei Ying's notebook from one reader to the next. One by one, each signed their name on the petition in support of Falun Gong. "I was touched to see so many people supporting us. It was absolutely amazing," she said.
Gratitude
Even in her native country of Taiwan, Mei Ying's days remain busy. Besides learning how to operate a computer to email truth clarification information to people in China, Mei Ying calls those who live there to clarify the facts about the persecution. She also frequents tourist spots in Taiwan, distributing flyers to visitors from China.
It has been 20 years since Falun Gong restored her health and gave her a bright outlook on life. Mei Ying devotes her time and efforts to clarifying the facts about Falun Gong to save more people.