Growing Seeds of Compassion – Winter Camp for Young Falun Dafa Practitioners Held in Taiwan
Feb. 5, 2021 | By Liu Wenxin and Li Wei, Minghui Correspondents in Taiwan
(Minghui.org) Eighty young Falun Dafa practitioners from northern, middle, and southern Taiwan attended a three-day winter camp held at the National Chung Hsing University on January 22-24, 2021. Ranging in age from 13 to 30 years old, camp attendees studied the Fa, did the exercises in a group, and discussed their cultivation experiences. 
After Falun Dafa was introduced to the public by its founder, Master Li Hongzhi in 1992, over 100 million people around the world have benefited from the principles of Truthfulness-Compassion-Forbearance. Many universities in Taiwan have Falun Dafa student organizations. 
Camp attendees talked about their cultivation experiences specific to young people, such as anxiety about college, finding their direction in life, temptations of video games, rebelling, relationships, etc. They showed extraordinary self-discipline, self-reflection, altruism and compassion.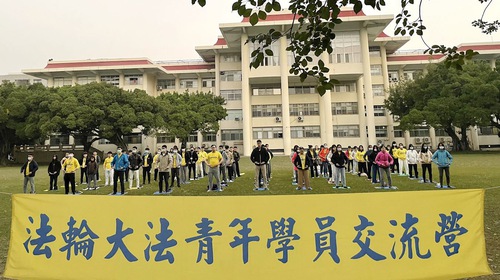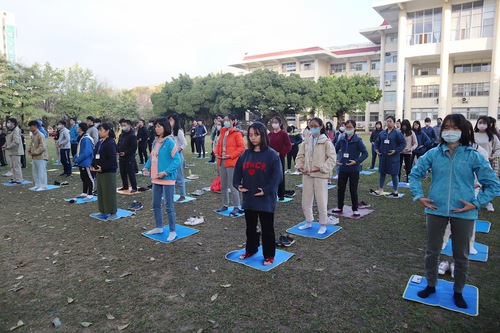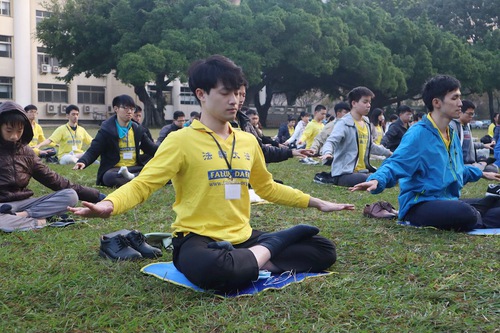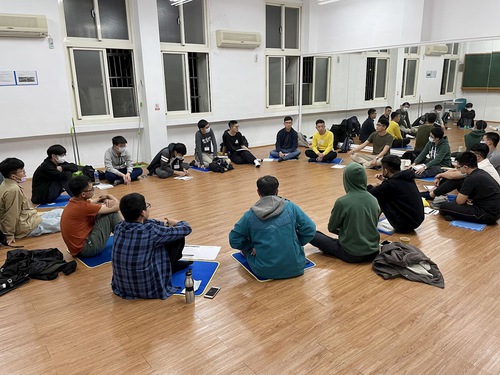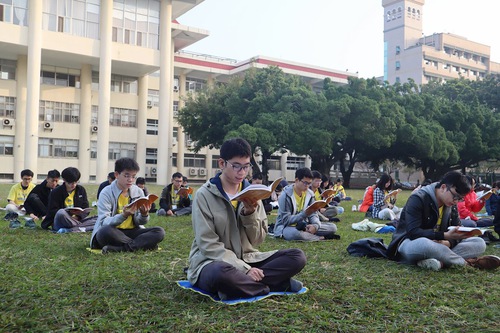 Young Falun Dafa practitioners study the Fa, do the exercises, and share cultivation experiences with each other.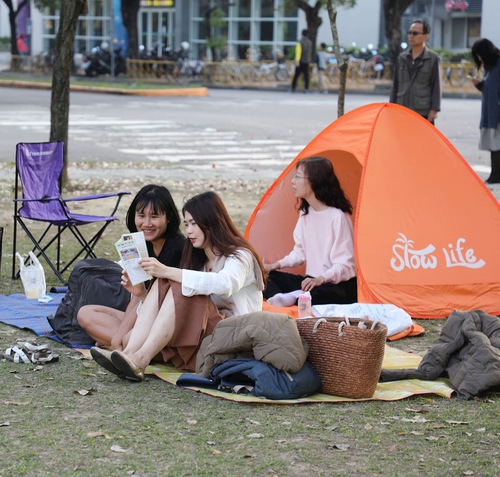 People read Falun Dafa flyers the young campers handed out.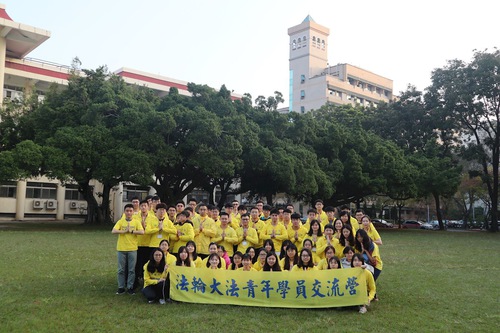 Young Falun Dafa practitioners wish Master a Happy Chinese New Year.
Rediscovering a State of Diligent Cultivation
Ms. He Fuyu, a sophomore at the National Taiwan University, said that she stopped practicing for a while. After attending an earlier Falun Dafa youth camp she resumed practicing diligently.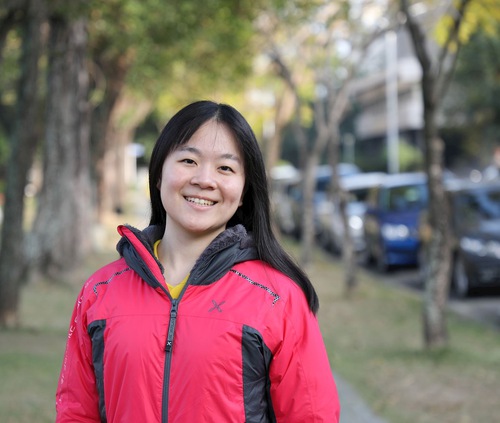 Ms. He Fuyu, a National Taiwan University sophomore, said she gained a lot from the camp.
Fuyu said she registered for the camp as soon as she heard about it, and volunteered to work as a team leader. "I greatly benefited from the camp I attended two years ago. I would like to see this great tradition continue, and so I contributed to it.
"While listening to other practitioners' experiences I found my cultivation gaps. I also identified my attachments that I did not see before. I used to slack off, go to bed late, and get up late. The busy camp schedule offered rich and diverse activities. I was eager to get up early. My insomnia is completely gone. My stress is gone. The compassionate and peaceful atmosphere here makes me calm."
From a Rebellious Teenager to an Outstanding Student
Mr. Li Yanlin, a graduate student at the Department of Chinese Literature at the National Chengchi University, said that as a small child he practiced with his mom, but rebelled in high school and stopped. He was grateful that Master never gave up on him, and he finally resumed his cultivation.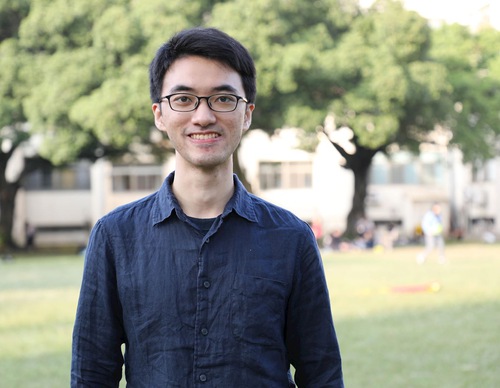 Li Yanlin said that Falun Dafa completely changed him.
Yanlin said that he always knew Falun Dafa was great since he was a child, but never took his own cultivation seriously. He indulged himself in video games in high school, and became rebellious. Many troubles followed and he became depressed.
Yanlin said, "Fortunately, Master didn't give up on me. One day, I suddenly had the urge to read the book Zhuan Falun. I finished reading it within a week. This was the first time I read the book carefully. The book made me calm and clear-minded. I decided I would seriously cultivate myself.
"Video games and competitive skills lost their appeal to me. I naturally parted with them. My rebellious personality was gone overnight. The truth dawned on me. My path became clear. The longer I walk on it, the more confident I am that I'm heading in the right direction." Yanlin realized that his change was a manifestation of the power of Falun Dafa.
Because of Yanlin's indulgence in video games, he fell way behind in school. He became a headache for his parents and teachers. After he resumed his cultivation, he followed Master's teachings and became one of the top students, showing great qualities of compassion, tolerance, peacefulness, and thoughtfulness. He won the Award of Excellence on Morals and Studies. Many teachers and classmates learned the benefits of Falun Dafa through Yanlin's amazing changes.
A Student from Mainland China: Thank You Master for Your Compassionate Salvation!
Li Yuan (nickname) from China, came to Taiwan to attend college. He began practicing Falun Dafa with his parents when he was young. He remembers making truth-clarification materials and distributing them in China. His school repeatedly required students and their parents to sign guarantee statements to stop practicing Falun Dafa. When he attended a large group study in Taiwan for the first time, he was shaken by the sharp contrast between the persecution in China and the freedom of belief in Taiwan. 
Yuan enjoyed the open and honest discussions at the youth camp and felt fortunate to be with other Falun Dafa practitioners. He wished to send his highest respect to Master during the upcoming Chinese New Year, "Thank you, Master, for your compassionate salvation! Happy Chinese New Year Master!"
Improving Together 
Ms. Li Yingxuan, who began working for the Environmental Protection Administration after graduating, treasured the opportunity to exchange experiences with other young practitioners.
She said, "I used to think of myself first. I always felt I was treated unfairly. My negativity made me unhappy, which gradually created a vicious cycle. After attending the camp I found a different perspective. Everyone here is so unselfish. They put others in front of themselves."
Yingxuan was touched when her roommate gave her a sleeping bag on a cold night. "My roommate first thought of me and asked me if I was cold. I was deeply touched by her compassion and selflessness. We had just met, but she sincerely put my comfort before hers. It showed her true compassion and a cultivator's realm."