(Minghui.org) While Mr. Yao Xinren was still in a coma after suffering a stroke, the authorities took him off life support and transferred him from the hospital intensive care unit to a senior center with no proper medical equipment for care. The 51-year-old man passed away a week later, leaving behind his wife and a child.
Mr. Yao, a Longkou City, Shandong Province resident, was arrested on July 3, 2019 for his faith in Falun Gong, a mind-body practice that has been persecuted by the Chinese communist regime since July 1999. The authorities approved his arrest on August 10 and held him at the Zhangjiagou Detention Center.
Mr. Yao's family hired a lawyer to represent him, but the police blocked the lawyer's effort to inquire about his case. They also followed and monitored the lawyer.
At the same time, Mr. Yao's family was given the runaround by the police, procuratorate, and detention center, in their own effort to seek his release.
In late November 2019, the prosecutor returned Mr. Yao's case to the police, citing insufficient evidence. The police submitted his case again in December that year and the prosecutor indicted him afterwards.
The Longkou City Court scheduled a court hearing of him for February 14, 2020, but canceled it due to the coronavirus outbreak.
Suffering a Stroke
After nearly ten months of detention, Mr. Yao suddenly suffered a stroke at around 9 p.m. on April 22, 2020. He was first sent to a community hospital, which couldn't treat him but put him on oxygen. Mr. Yao was then transferred to the Longkou City People's Hospital, where he received a craniotomy on the early morning of April 23.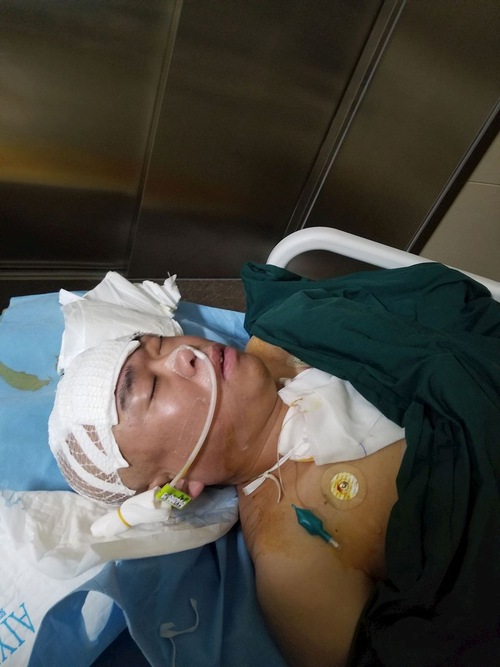 Mr. Yao after the craniotomy
When Mr. Yao's wife went to the hospital to inquire about his condition, Lu Bing, the head of Xinjia Police Station, who had been there to monitor Mr. Yao, told her that the attending doctor wasn't available. When the nurse signaled her to ask the doctor on duty, Lu stopped the nurse and asked her not to reveal anything to Mr. Yao's wife.
On April 24, Mr. Yao's wife was allowed to visit him. She burst into tears upon seeing him, with a bandage wrapping around his head. She asked Guo Fudui, the deputy director of Longkou City Domestic Security Division about what had happened to him. Guo remained silent.
Continued Surveillance and Monitoring
Mr. Yao's wife demanded that the detention center show her surveillance footage of Mr. Yao to find out what had happened to him at the detention center. Lu Bing responded that they needed to get approval from the higher-ups. But even after Mr. Yao's passing, the detention center never provided the required footage or any explanation of his condition.
The hospital performed a tracheotomy on Mr. Yao on the afternoon of April 25 and put him on a ventilator.
Even though Mr. Yao remained in a coma after the operation, the police stayed outside of the intensive care unit to monitor him for the next nine months and prevented people from getting close to him. He never woke up and became emaciated.
When passersby became curious and asked what the police were doing in the hospital, they said they were guarding a felon. The police head Guo also spread rumors that Mr. Yao had been transferred to a regular ward, in an attempt to shift people's attention from him.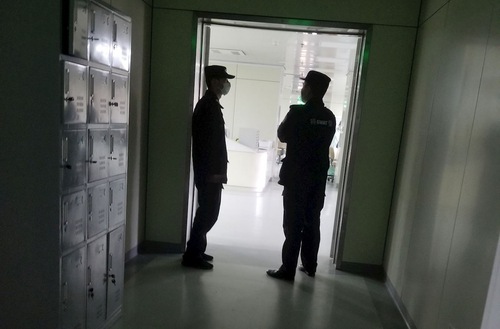 Police guarding Mr. Yao in the hospital
Li Wen, the presiding judge of Longkou City Court, found Mr. Yao's wife on May 13, 2020 and said he would approve his release on bail and urged her to take him home.
Mr. Yao's wife told Li that she struggled to work to support her child and she couldn't afford the medical expense for him. Li scolded her and said, "You have the responsibility [to take care of him]."
She responded, "My husband was perfectly fine before his arrest. Why has he become like this? Was he beaten in the detention center? I've demanded to see the surveillance video, but no one responded to me."
Upon learning that police chief Lu said he needed to seek permission from higher-ups for the videos, Li quickly ended the conversation.
Mr. Yao's wife demanded to visit him again during the Mid-Autumn Festival on October 1, but was rejected by the hospital with the excuse of the pandemic.
Without consent from her, the police and hospital staff members removed Mr. Yao from the intensive care unit and took him to the Dongjiang Senior Center on February 4, 2021, which didn't have any equipment to provide the necessary care to him.
At around 1:40 a.m. on February 11, Mr. Yao passed away.
Mr. Yao took up Falun Gong in late 1998 and had enjoyed good health from it. For upholding his faith, he was once sentenced to four years in Weibei Prison. He lost his job at a coal mine and had to do odd jobs, including working as a dock worker, to support his family.
Related reports:
Three Shandong Residents Detained for Over a Year for Their Faith, One Remains in a Coma After Suffering a Stroke
Three Shandong Residents Face Indictment for Their Faith
Longkou City, Shandong Province: Eight Falun Gong Practitioners Arrested and Five Harassed for Their Faith
Related article in Chinese: