Switzerland: Overcoming Fear amidst a Pandemic—A Nurse Gains Strength from Falun Dafa
Feb. 13, 2021 | By a Falun Dafa practitioner in Switzerland
(Minghui.org) With the arrival of Chinese New Year, Falun Dafa practitioner Denise from Switzerland expressed her gratitude to Master. She is thankful for having something to believe in and also the courage to move forward during these uncertain times. She sighed and said, "If I did not practice Falun Dafa my life would be very miserable. I would be swayed by all kinds of emotions and probably wouldn't be alive today. Modern science has also proven that when humans are controlled by emotions, our immune systems are weakened."
Denise is a nurse who cares for special needs patients. She said, "When I was notified to take care of an elderly man with the CCP virus (coronavirus), I was not frightened. All the staff members in the facility had to take a CCP virus test, but I was fine. I told my manager that I was able to care for those infected with the virus."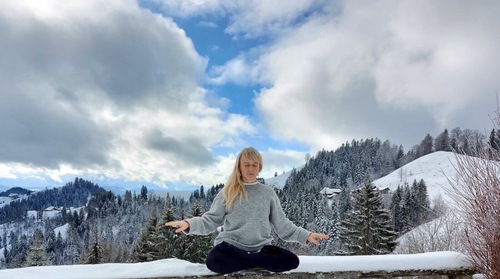 Denise practices the fifth Falun Dafa exercise, the meditation.
Eliminating Fear and Placing Others Before Oneself
Denise started practicing Falun Dafa in 2010. Denise recalled how she dealt with the CCP virus last autumn with a calm and positive attitude. When the virus ravaged Switzerland in March 2020, she envied those who were able to work from home. Not only was Denise required to go to work, she also faced a high risk of being infected. She needed to help elderly people with amnesia and they were deemed incapable of wearing masks, so they did not have proper protective measures. Denise feared being infected. To make things worse, Denise started to cough. 
After practicing Falun Dafa for 10 years, Denise had learned how to calmly face her fears. She regarded this as an opportunity to upgrade and improve herself. 
She was determined not to let fear take control of her. She wanted to dig out the root cause of her fears and overcome it. She said that she was very interested in Chinese culture and she read many traditional Chinese stories where kind-hearted people took care of the sick during plagues and those kind people were not affected by the plague at all. She started to see things from another perspective and said, "Traditional Chinese culture tells us that the good will be rewarded while the bad will be punished. Falun Dafa teaches me to abide by the principles of Truthfulness-Compassion-Forbearance and be a better person. If I encounter any setbacks, it might be a chance for me to look for my own shortcomings and correct myself. What is of utmost importance is that I am able to realize my own shortcomings and find the cause of it."
When she looked inward, she realized she was scared because she wanted to live a good life. She wanted her young daughter, her husband and her family to live well. She then realized that one should think about others first and that people needed her help. She should be selfless. Denise started to place others' needs before hers.
If they maintained a social distance it may help reduce the chance of getting infected, but Denise realized that those elderly people had no way of communicating. Hugs and physical contact is the only way for them to communicate. Denise kept hugging them and said, "They are very lonely. I regard them as my parents and as my elders. I need to respect and take care of them."
Abiding by the Principles of Truthfulness-Compassion-Forbearance at Work
Denise also carefully observed her patients' physical conditions and it was her timely discovery that allowed the nursing center to identify an elderly man who had the CCP virus. He sadly passed away two days later, but Denise tested negative. The doctors thanked Denise for her timely discovery as this allowed the nursing center to conduct a thorough investigation and prevented the virus from spreading.
Due to the CCP virus, Denise's workplace was often short staffed. Staff members felt scared, tired, and overworked. In order for her coworkers to get adequate rest, Denise volunteered to work a 10-hour shift—from 7 a.m. to 5 p.m. Her manager reminded her to get some rest. Denise said that she recites "Falun Dafa is good. Truthfulness-Compassion-Forbearance is good" whenever she gets tired. She also sings Dafa songs.
She said, "A good mindset is the key to remaining peaceful. When I treat things calmly, I am able to see situations from a different perspective. I try to be positive and not get affected by my own emotions or surroundings. I regard every challenge as a chance to improve myself. This way I can see how I conduct myself during tribulations and if I am able to abide by Truthfulness-Compassion-Forbearance."
"Falun Dafa Gives Me Confidence and Hope Every Day" 
Denise said, "I would have fallen into despair if it hadn't been for Falun Dafa! During these uncertain times, I am filled with hope. Falun Dafa gives me confidence and hope every day." Her manager specifically asked for Denise and said that her friendliness and positive energy helps everyone. 
Through Denise's conversations with her colleagues, friends, and family, they realize how Communism is infiltrating the world. They now understand the harm the CCP is causing. Amidst this pandemic, Denise hopes that the world's people can see the hope Falun Dafa offers. 
All articles, graphics, and content published on Minghui.org are copyrighted. Non-commercial reproduction is allowed but requires attribution with the article title and a link to the original article.
Category: Improving Oneself