Texas: Practitioners in Dallas-Fort Worth Thank Master and Wish Him a Happy New Year
(Minghui.org) To celebrate the new year, 2022, Falun Dafa practitioners in Dallas-Fort Worth, Texas gathered at Russell Creek on December 26, 2021. They held group exercises, sent Happy New Year greetings, and expressed their gratitude to Master Li for the positive changes the spiritual practice brought to their lives. 
Video: Falun Dafa practitioners in Dallas-Fort Worth, Texas wish Master a Happy New Year!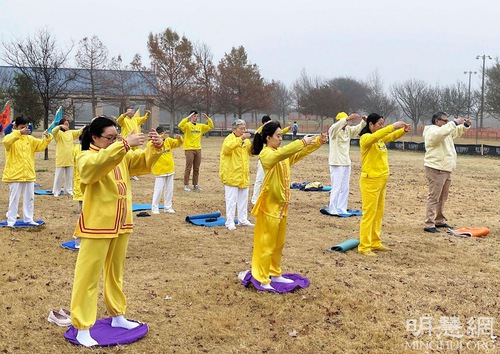 Group exercise at Russell Creek in the City of Plano. 
After Falun Dafa was introduced to Dallas-Forth Worth in 1996, many people of different ethnic backgrounds began practicing. The New Year holiday is traditionally a time for reflection. Practitioners of various ethnic backgrounds in the Dallas-Fort Worth area expressed their deep gratitude for Master.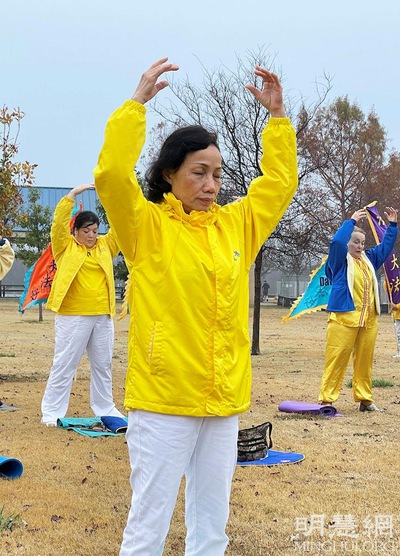 Kim, a Vietnamese American, said her New Year's resolution is to practice even more diligently.
Kim, a Vietnamese American, began practicing Falun Dafa 13 years ago. She said her health was poor and she'd had to be treated at several hospitals. After a neighbor suggested she try Falun Dafa, she contacted a local practice site, learned the exercises, and began reading Zhuan Falun. Her ailments gradually disappeared. "Falun Dafa is truly amazing," Kim said. As she learned more about the principles, Kim realized the meaning of self-cultivation. She is determined to cultivate herself well and return to her true origin.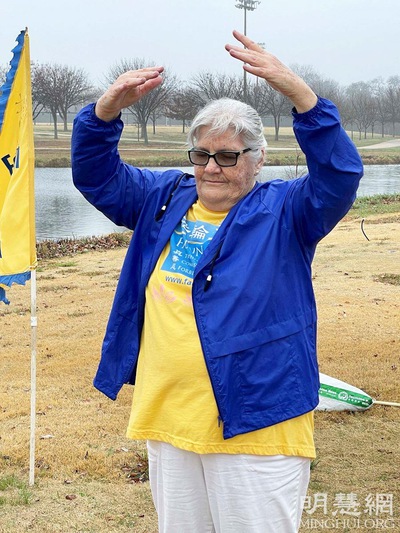 Patricia
Patricia, a 71-year-old American, started practicing Falun Dafa with her daughter in 2009. She said that she always searched for answers to life's questions. When she was researching the word "Tao," she found the Falun Dafa website. Patricia and her daughter read the book Zhuan Falun, and were surprised to find answers to their questions. 
Patricia has enjoyed improved health since she began practicing Falun Dafa. She no longer needs medicines and stays energetic at work every day. Because she's benefited so much she wants everyone to know about Falun Dafa. Her other daughter, who used to be opposed to their cultivation, recently started practicing after witnessing her mother's and her sister's changes. Patricia's granddaughter also joined the family in practicing.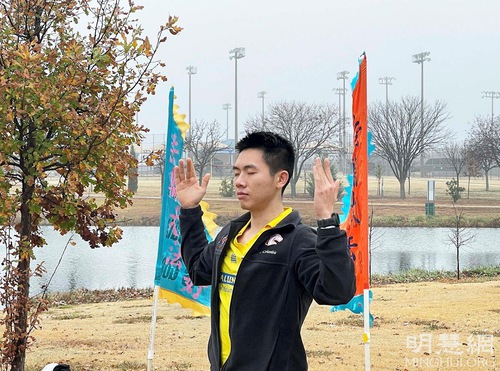 Nhi attends the University of Texas in Arlington. He said that Falun Dafa's principles gave his life new meaning.
Nhi, a student at the University of Texas in Arlington, became interested after hearing his friend tell him about Falun Dafa. Nhi said he used to feel empty, but after learning the principles of Falun Dafa his life has new meaning.
Views expressed in this article represent the author's own opinions or understandings. All content published on this website are copyrighted by Minghui.org. Minghui will produce compilations of its online content regularly and on special occasions.