Australia: Falun Dafa Practitioners from Different Ethnic Groups in Melbourne Thank Master Li and Wish Him a Happy New Year
(Minghui.org) To welcome the 2022 New Year, Falun Dafa practitioners of different ethnic groups in Melbourne gathered at Box Hill Gardens to send New Year greetings to the founder of the practice, Mr. Li Hongzhi.
By reflecting on their cultivation experiences, they said they realize how precious Falun Dafa is and how fortunate they are to practice in today's troubled world. They expressed deep gratitude to Master for showing them the way back to their true origins.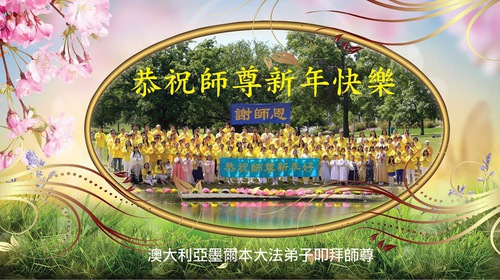 Practitioners in Melbourne gathered at Box Hill Gardens to wish Master Li Happy New Year.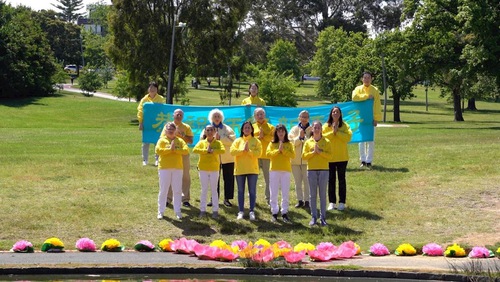 Western practitioners wish Master Li Happy New Year.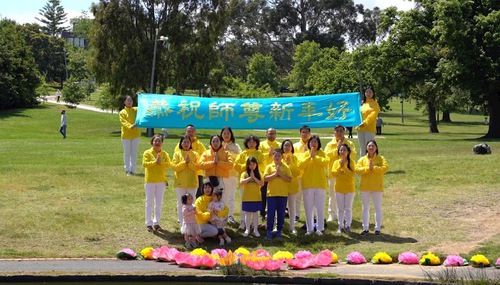 Vietnamese practitioners wish Master Li Happy New Year.
Master Saved Me on Many Occasions
Ms. Rai Tahana-Reese from New Zealand began to practice Falun Dafa 18 years ago.
She grew up in Rotorua, a well known tourist destination on New Zealand's north island with the largest Maori population in the country. Her father is a Maori chief.She said, "Master visited Rotorua and the village I once lived in, Whakarewarewa, when he came to New Zealand in May 1999. When I learned of this after I began practicing, I instantly understood why I was drawn to the practice the first time I read Zhuan Falun. I realized members of my tribe and I have a deep predestined relationship with Dafa.
"Looking back at 18 years of practicing cultivation, on the surface things appear ordinary but I know in my heart I am not the same person as before. My moral character has improved tremendously. I feel my body is enveloped by Master's positive, compassionate energy," she said.
"I always felt Master's presence when I went through various tribulations. On many occasions I was saved from death. At times, when I was about to fall from the Fa, Master appeared in my mind or I had dreams—giving me a lifeline. It was as if I was hit by the waves time and again and fell off the Fa boat. Master helped me climb back up every time."
As the New Year approaches, Tahana-Reese would like to tell Master, "Greetings, Master! I thank you for everything you have done for me. Dafa has been rooted in my heart. I am filled with gratitude. I will keep improving my character and remember your teachings. I will spread the tidings of Dafa far and wide with a humble heart."
Practicing Dafa Gave Me a New Lease on Life
Ms. Dong Zhuoya, 64, is a part time chef at a Malaysian restaurant. She is proficient in cuisines from the Shandong, Jiangsu, and Zhejiang regions of China as well as Western food. She is quick with her hands and effortlessly prepares many dishes. Looking at her now, it's hard to believe that 26 years ago her health was so poor she had no strength to truss a chicken. She could only walk a few steps. Needless to say, she could not do her job at all.
In the early 1990s, a year after she moved to Australia, Zhuoya could not open her mouth to eat after she injured cartilage on the right side of her face. She could only take liquid foods with a straw, such as juice, milk, or rice porridge. She relied on medication to relieve the excruciating pain. There was no cure for her condition.
At the end of 1994, after witnessing her sister's extraordinary recovery from a severely frozen shoulder by practicing Falun Dafa, Zhuoya decided to give the practice a try.
"The first day I did the exercises, my face felt strange but the pain was bearable. I decided to continue. The next day the pain was less. The third day, I stopped taking medicine because I felt it was not necessary. By doing the exercises, I felt better day by day. Three months later, I recovered completely," she said.
One night after she'd practiced Falun Dafa for three months, Zhuoya saw bright light flashing in her house like sparks from electric welding. She said, "I thought the neighbor was welding something. I got out of bed and discovered the light came from the characters Truthfulness-Compassion-Forbearance and the Falun symbol hanging on the wall. It was extraordinary!"
Amazed by the sight, she did not feel sleepy, took out Zhuan Falun, and began reading. She stayed up all night and read the entire book. Another miracle happened after she went to bed. When she woke up, she was lying on her right side. Due to the facial injury, she had not been able tosleep on her right side for three years. She opened and closed her mouth and was even more astonished to find her mouth was normal again.
"I wept and felt immensely grateful to Master for giving me a new life! Twenty-six years have gone by, but when I recall that incident, I am still moved."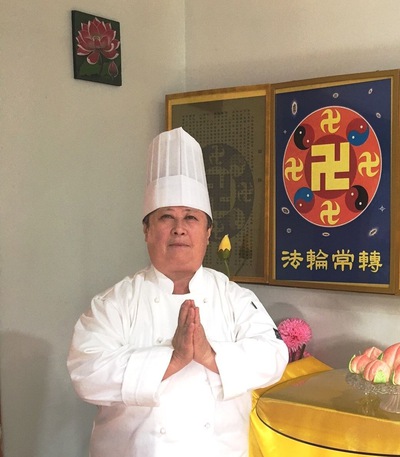 Ms. Dong Zhuoya wishes Master Li Happy New Year.
Zhuoya said, "I feel blessed after practicing Dafa. I don't feel tired or that anything is too hard—nothing bothers me. I also realized that practicing cultivation solidly and doing my job well is the best way to tell people about the benefits of Falun Dafa. All my colleagues know that practitioners are amazing, they don't know what fatigue is, and they are responsible employees. Practitioners do their best in everything and the customers feel satisfied.
"I always remind myself to live up to the requirements of Falun Dafa at work. I prepare the food according to the highest of standards and put my heart into my cooking. All my customers say the food I cook is tasty and authentic. Every boss I work with is happy with my work ethic and trusts me."
Now, Zhuoya goes to downtown Melbourne every weekend to give out information on Dafa and raise awareness about the persecution in China.
She wants to tell Master, "If I did not practice Dafa, perhaps I would not be alive today. Thank you, Master, for your salvation. I will cherish this opportunity that is hard to come by and walk the final steps of my cultivation path well. I wish Master a Happy New Year!"
Vietnamese Practitioners Thank Master for Guiding Them Home
Several Vietnamese practitioners in Melbourne also conveyed their New Year's greetings to good wishes to Master.
Jenny said, "I wish esteemed Master a Happy New Year! I thank Master for leading us home. In this special historic moment, we will continue to do the three things well and be more effective in saving sentient beings."
Hoa said, "Happy New Year, Master! Thank you for your teachings and constant blessings. My whole family enjoys good health and spirits and were able to do the three things you asked of us in the past year. We will work even harder and correct our thoughts as well as actions in the new year."
Thao said, "Thank you, Master, for your compassionate salvation. On this final leg of cultivation, I will follow Master's guidance closely so as to reach consummation. Happy New Year!"
Mao said, "I wish Master Happy New Year. Although I still have many attachments to let go of, I will follow Master's teachings, cultivate myself well, and keep up with Master's Fa-rectification. I will fulfill my mission by clarifying the truth and saving sentient beings."
Alice said, "I send best wishes to Master for the new year on behalf of my family. Every day we feel and witness the miracles of Dafa. I feel fortunate to be a Dafa disciple. The cultivation journey home is fraught with difficulties, but I will not stop progressing because I know Master is always guiding us. Words cannot express my gratitude. I bow to Master and show my utmost respect."
Mai Nguyen said, "Esteemed Master, please accept my best wishes in the coming year, 2022! Under your compassionate guidance, I will continue to cultivate diligently, keep improving my character, and fulfill my vows. I am very grateful to Master for everything you have done for your disciples."
All articles, graphics, and content published on Minghui.org are copyrighted. Non-commercial reproduction is allowed but requires attribution with the article title and a link to the original article.