San Jose Theatergoers Moved by Shen Yun: "Stunning" and "Wonderful Experience"
(Minghui.org) Continuing its 2021-2022 world tour, Shen Yun Performing Arts returned to California with two performances in San Jose on December 22 and 23, 2021.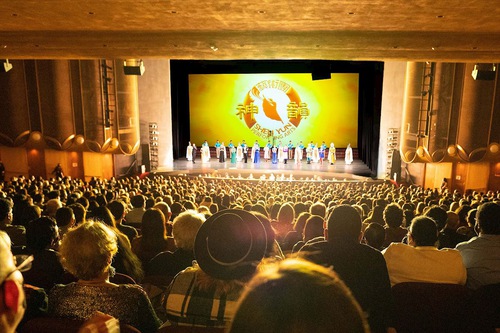 The Shen Yun New York Company presented two performances at the Center for the Performing Arts in San Jose, California, on December 22 and 23.
Ninety-three-Year-Old: Waiting a Lifetime to See Shen Yun
Bolden Nathaniel Sr., 93, traveled from Stockton 76 miles away to see Shen Yun. According to the lady who accompanied Mr. Nathaniel, this was the first time he's attended a live performance.
When asked what motivated him to see Shen Yun, Mr. Nathaniel said, "I've been recommended to see Shen Yun for years, and every year I've seen the ads for Shen Yun, and people say, 'This is a must-see show of a lifetime.' But due to my illnesses, I have not been able to leave my home for many years, except to see a doctor. This year, though, I felt an unknown power telling me: You must see this show (Shen Yun)!" "So here I am!" He laughed cheerfully, "I'm really happy that I came!"
Mr. Nathaniel said he built railroads for decades. He also suffered from illnesses for decades, and said he didn't know how he survived this long. When he was asked, "Were you waiting for this show?" Nathaniel's eyes sparkled as he exclaimed, "Yes, really!"
Universal Values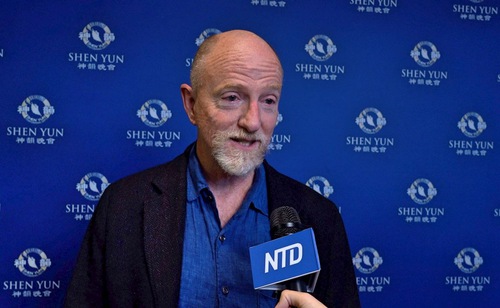 David Leach attended the Shen Yun performance in San Jose on December 23. (NTD Television)
David Leach, a manager at Cisco, saw Shen Yun in San Jose on December 23.
"We live in a time where cultures of every kind, even our own in the U.S., are being crushed from political powers that really don't have any reason to have that extraordinary power in our lives. We have to take that back," Mr. Leach said.
"And we take that back by understanding the depths of our spirit and the depths of our connection to each other. All of our cultures are interconnected. We all share a common fate and a common purpose: to live to a higher good," he said.
"Stunning in All Respects"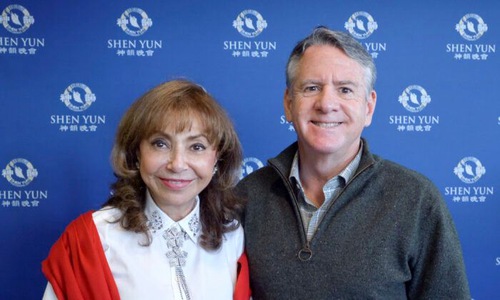 Sara and Richard McDonald saw the Shen Yun performance in San Jose on December 23. (NTD Television)
Sara and Richard McDonald saw Shen Yun in San Jose on December 23, 2021.
"I can really get a sense of the history and the richness of the culture and the different people," said attorney Mr. McDonald.
"It was neat the way it tied to history, and the culture through the arts, the dance, [and] the costumes were just visually stunning. I was really captivated by the colors and the various ensembles but they all had a very common thread," he said.
He elaborated saying the common thread he mentioned was referring, "to the Creator and the heavens, and the connection that the dances had to the culture."
Mr. McDonald said that one song particularly resonated with him.
"As the song said, that tradition is good. And staying with the traditional sense of values and cultural norms that we have brings people together. And in a way that is difficult to maintain these days because of the separation that this pandemic is creating, and any opportunity for people to be brought back together culturally I think is very important," he said.
"The energy, I could feel it inside. Through the visual and hearing the music was very stunning in all respects—visually, emotionally. I loved every second of it.
"It was a wonderful experience all around. I was not sure what to expect because people have spoken so highly of it. I was not disappointed in the slightest. It's truly a wonderful show," Mr. McDonald said.
"Great Mission"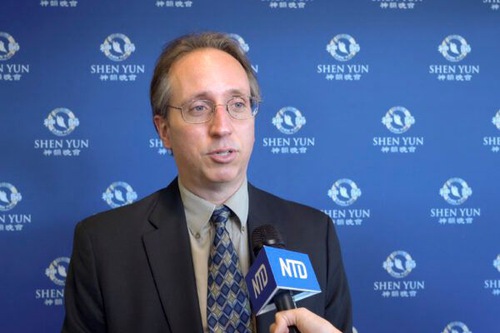 Scott Aldous at the Shen Yun performance. (NTD Television)
Scott Aldous, an engineer for Google, saw Shen Yun in San Jose on December 23.
"I personally don't know a lot about Chinese history and culture... I think it's great to have the opportunity to learn a little bit about that and to observe it. I think it's a great mission to make sure that it's preserved," Mr. Aldous said.
He understood that with China's communist regime, there is a threat that the culture will be lost as the generations go by.
"With the current government, I think that it may be difficult to preserve those traditions, especially as rising generations come up... So it feels like someone would need to do that to make sure that those long years in history would be preserved," he said.
Apart from the mission to restore China's traditional culture, Shen Yun's performances also include the fun and lighthearted side of Chinese culture.
"I like the elements of humor that are added into it. I find that enjoyable. For example, the act with the Monkey King, I really enjoyed that one," he said.
"Very, very good performance. You know, it's obvious that all of the dancers are very talented and have put in a lot of time and dedication to hone their craft. It's very good," he added.
"Amazingly Choreographed and Amazingly Executed"
Arnout Ter Schure and Hana Demchenko at the Shen Yun performance. (NTD Television)
Arnout Ter Schure, a hedge fund manager, and his wife Hana Demchenko, a plastic surgery nurse, attended the Shen Yun performance on December 22.
"[The dances are] amazingly choreographed and amazingly executed. If you were looking for a flaw, I don't think you'll find any! It's amazing!" Arnout exclaimed.
"We were so busy in our daily grind, and just trying to get through our days and with everything that's going on in our lives right now... I think it's really nice to get reminded of these other aspects in our life that are also important for our wellbeing and I think that shines through on stage," he said.
Hana agreed and said, "I think they are definitely on the right path of achieving that and spreading the knowledge and spreading the awareness... We live in a time where freedom is important and self-development is important and people in China are not allowed to express themselves."
"I learned that China has a long history of dance. There's different types of dance, the cultural, the ethnic, but it's also nice to be exposed to the current situation in China as well, with certain practices that are forbidden," she said.
California Elected Officials Extend Welcome
To welcome Shen Yun back to California, several members of Congress and the California State Legislature sent remarks and certificates to the performing arts company.
Congressman Jared Huffman (D-Calif.) presented a Certificate of Special Congressional Recognition to Shen Yun to commemorate the company's 15th annual tour. (Minghui.org) (The Epoch Times) (Courtesy of U.S. Congress)
"Your mission to revive the essence of historical Chinese civilization by creating a bridge between the East and West through the universal language of music and dance is appreciated and valued," Congressman Huffman's Certificate said.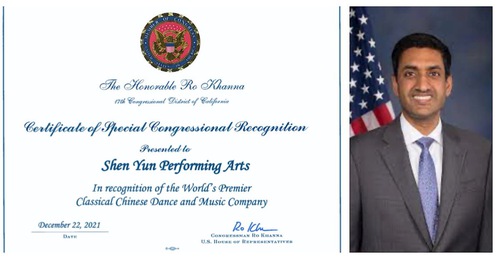 Congressman Ro Khanna (D-Calif.) sent the New York-based Shen Yun a certificate stating, "In recognition of the World's Premier Classical Chinese Dance and Music Company." (Minghui.org) (The Epoch Times) (Courtesy of U.S. Congress)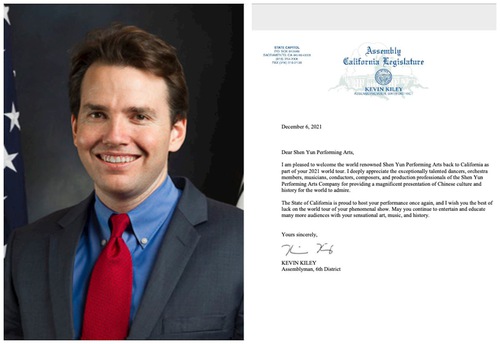 Kevin Kiley, the assemblyman for California's 6th District, sent a letter to welcome Shen Yun back to California (Minghui.org)
Assemblyman Kevin Kiley stated: "The State of California is proud to host your performance again, and I wish you the best of luck on the world tour of your phenomenal show. May you continue to entertain and educate more audiences with your sensational art, music, and history."
Upcoming Performances
Shen Yun continues its 2021-2022 tour with upcoming performances in San Jose, California, December 26–27; Hartford, Connecticut, December 26; San Diego, California, December 28–29; Fort Lauderdale, Florida, December 28–30; and Berkeley, California, December 29–30.
For more information on tickets and dates, please visit https://shenyun.com.
All articles, graphics, and content published on Minghui.org are copyrighted. Non-commercial reproduction is allowed but requires attribution with the article title and a link to the original article.