(Minghui.org) Having endured two decades of persecution, a retired engineer in China Electronics Technology Group Corporation (CETC) 14th Research Institute in Nanjing City, Jiangsu Province, is facing trial for her faith in Falun Gong, again.
Since the Chinese communist regime began to persecute Falun Gong, a spiritual discipline also known as Falun Dafa, in July 1999, Ms. Zhang Aidong, nearly 70, has been arrested a dozen times.
She was held in brainwashing centers seven times and Nanjing City Detention Center five times. She also served three labor camp terms and subjected to inhumane torture. In addition to the physical incarceration and torture, the nine times of home raids by police also caused an indirect four million yuan of financial loss to her.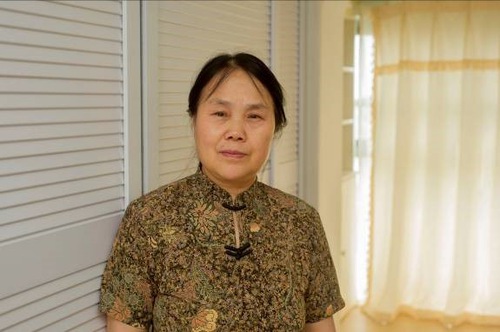 Ms. Zhang Aidong
Latest Persecution
Three officers of the Zhujiang Police Station knocked on Ms. Zhang's door on June 15, 2021. She refused to open the door. They left 30 minutes later.
The police followed Ms. Zhang when she went out on the next day and arrested her on her way home. None of the officers showed their IDs. They snatched her keys and ransacked her home when no one was around, refusing to provide a list of confiscated items.
While Ms. Zhang was released later that day, the police ransacked her home again on the next day (June 17). Her family demanded the police show their IDs. They presented a search warrant without the signature from the police chief.
Ms. Zhang was arrested during the second raid. She was given five days of detention and extorted 5,000 yuan. When she was released on June 21, the police filed a criminal case against her.
The police ransacked Ms. Zhang's home for the third time on September 28, still presenting the unsigned searched warrant.
Ma Zhongwen, the prosecutor of Xuanwu District Procuratorate, summoned Ms. Zhang on October 22. Ms. Zhang denied that she had violated any law. She added that there is no legal basis for the persecution and urged the prosecutor to dismiss her case. The prosecutor remained silent.
The prosecutor indicted Ms. Zhang weeks later. She is now facing trial by the Xuanwu District Court.
Past Persecution
Ms. Zhang went to Beijing to appeal for the right to practice Falun Gong in mid-October 1999. She was arrested on November 3 and held at the Jiangdong Police Station in Nanjing for over 50 days.
During her detention, the local authorities attempted to take her to a mental hospital, but relented due to strong protest from her family.
Ms. Zhang went to Beijing again on March 2, 2000, only to be arrested and taken to the Jiangdong Police Station one more time. She was later transferred to the Nanjing City Detention Center, where she was held for a month. She was later held at the brainwashing session hosted by her workplace for two weeks. The authorities charged her several thousand yuan fine and suspended 800 yuan of her salary. She was later given an unknown term at the Judong Women's Forced Labor Camp.
In 2002, Ms. Zhang wasn't allowed to go back to work and was forced to retire a year later.
Ms. Zhang was arrested in 2005 and given the second labor camp term of three years at Judong Women's Forced Labor Camp on June 17. Instigated by guards Zhou Ying and Hong Ying, inmates Shen Qin and Wang Li didn't allow her to sleep for nearly a month or wash herself.
The inmates sat on her and beat her on her face and mouth. Several of her teeth were knocked out. When she screamed due to the pain, the guards came over, only to leave immediately without saying anything.
Inmate Shen said to Ms. Zhang, "Let me tell you: the Communist Party doesn't treat you as a human being. You should be thankful if we beat you to death, or we can leave you alive and make you feel you'd rather die."
Shen forced Ms. Zhang to sit on a small stool. When she refused to comply, inmate Wang slapped her in the face dozens of times. She lost hearing in one ear right then.
After 20 days of torture, Ms. Zhang's hair turned grey. She was emaciated and in a daze. At 53, she looked like someone in her 80s.
Ms. Zhang was given the third one-year labor camp term following her other arrest in September 2009.
Perpetrators' contact information:
Chen Yuan (陈元), officer of Zhujiang Police StationPeng Yonglin (彭永林), officer of Zhujiang Police StationMa Zhongwen (马忠文), prosecutor of Xuanwu District Procuratorate: +86-25-52317611Fang Tian (方田), judge of Xuanwu District Procuratorate: +86-25-83185115
Related reports:
Employees at Nanjing 14th Research Institute Persecuted for Practicing Falun Gong
Several Falun Gong Practitioners from Nanjing Fourteenth Research Institute, Jiangsu Province Persecuted
Persecution of Intellectuals in Nanjing City, Jiangsu Province
Ms. Zhang Aidong from Nanjing City Arrested for the Seventh Time