Edinburgh, Scotland: Protesting the Persecution of Falun Gong Outside Chinese Consulate
(Minghui.org) Falun Gong practitioners held a peaceful protest outside the Chinese Consulate in Edinburgh on December 10, International Human Rights Day. 
Among the practitioners who participated in the protests, some had been detained in China, suffered severe persecution, and later fled China. There were also Western practitioners who went to China to clarify the truth about Falun Gong, and were detained by the Chinese Communist Party (CCP) police.
Support from Police and the Public
The protest in Edinburgh was protected by the local police. At about 11 a.m., the police stopped by and asked whether the activity was going smoothly and whether practitioners had been interfered with by anyone. The police told the practitioners to contact them if needed. 
The event also received the attention and support of the public. The Chinese Consulate is located at a crossroads along a main Edinburgh thoroughfare, with many vehicles passing by. Drivers who stopped for the traffic lights honked their horns to show their support. Some gave the thumbs up sign, and some took photos.
A man who stood across the road bowed to the practitioners after reading the banner. A young man approached practitioners and asked to sign a petition condemning the persecution. 
Support from Members of Parliament (MP)
Patrick Grady, MP of Glasgow. Supports Falun Gong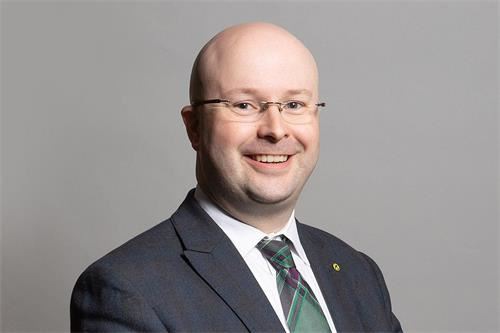 Patrick Grady MP (From the UK Parliament website) 
Patrick Grady is a Member of Parliament for Glasgow. On the occasion of Human Rights Day, he and seven members of the British Parliament wrote to the Falun Gong group, expressing their support for their peaceful struggle and called for an end to the persecution.
MP Grady wrote, "Human Rights are universal and must be respected by all Governments around the world. Falun Gong practitioners, Uyghur Muslims, and other minorities in China must be allowed to express their beliefs, and practice their faith free from persecution and intimidation.
"The UK Government and other democracies must take whatever steps they can to identify and challenge those responsible for displacement, arbitrary arrest and detention, summary execution, and forced organ harvesting. There are many Members of Parliament who want to see the UK Government live up to that responsibility. All those demonstrating today, and all those marking International Human Rights Day, can be assured of our support and solidarity in the fight for freedom and an end to persecution."
Feryal Clark, MP, Expresses Her Concern about the Ongoing Persecution
Feryal Clark MP (From the UK Parliament website)
Feryal Clark MP stated in her letter, "I am deeply concerned by the forced organ harvesting and inhumane treatment of Falun Gong practitioners and other religious minorities throughout China. My thoughts are with the whole Falun Gong community of China.
"I have questioned the Foreign Secretary asking her what recent representations she has made to her Chinese counterpart on protecting religious freedoms and freedom of belief in China. I will write to you when I receive a response from the Government Minister.
"Alongside, I have asked the Foreign Secretary whether she has met with representatives of the Falun Dafa Association UK to listen to your concerns about the illegal practices of organ harvesting and persecution by the Chinese Government of the Falun Gong people."
Amanda Milling, MP, Minister of State for Asia, Replies MP Clark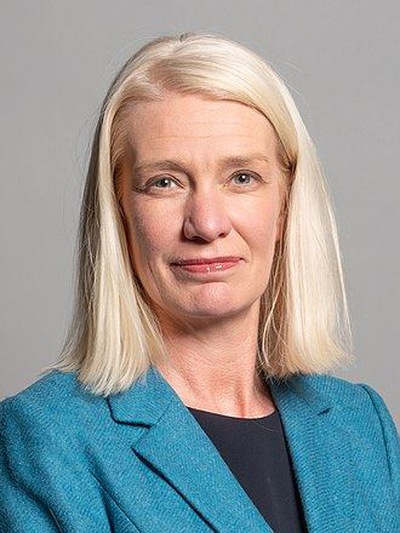 MP Amanda Milling, Minister of State for Asia 
MP Amanda Milling, Minister of State for Asia, stated in her written response to MP Clark, "We remain deeply concerned about restrictions on freedom of religion or belief in China, including the persecution of Christians, Muslims, Buddhists, Falun Gong practitioners and others on the grounds of their religion or belief. The freedom to practise, change or share ones faith or belief without discrimination or violent opposition is a human right that all people should enjoy.
"We continue to monitor and review evidence relating to reports of forced organ harvesting in China and maintain a dialogue with leading NGOs and international partners on the issue.
"We regularly raise our concerns about human rights with the Chinese authorities. The Foreign Secretary did so most recently in a telephone call with her Chinese counterpart, Foreign Minister Wang Yi, on 22 October."
Chris Bryant, MP, Chaired Magnitsky Act Debate
MP Chris Bryant (From the UK Parliament website)
In addition, on December 8, MP Chris Bryant chaired a debate on the Magnitsky Act, which included the sanctioning of the perpetrators of the CCP's persecution of Falun Gong and other human rights violations. 
Karen, a Falun Gong practitioner in Scotland, received an email from the British government inviting her to watch the debate live online.
Boycotting the Beijing Winter Olympics
Due to the CCP's violation of human rights, the Scottish and British governments announced on December 7-8 that they will join the United States, Australia and other countries in boycotting the Beijing Winter Olympics through diplomatic means. They will not send any ministers or high-level officials to attend the Winter Olympic Games.
All articles, graphics, and content published on Minghui.org are copyrighted. Non-commercial reproduction is allowed but requires attribution with the article title and a link to the original article.