New Mexico, Colorado, and Virginia Officials Welcome Shen Yun
(Minghui.org) Prior to Shen Yun's performances in New Mexico, Colorado, and Virginia on November 1–6, 2021, local elected officials extended proclamations and official remarks, welcoming the performing arts company to their state.
Elected Officials in New Mexico Recognize Shen Yun's Contributions
Governor Michelle Lujan Grasham of New Mexico issued an official message, welcoming the dance and music company, prior to Shen Yun's performances in Albuquerque, New Mexico, on November 1–2, 2021.
Governor Grasham wrote, "I am pleased to welcome the Shen Yun Performing Arts Company to the Land of Enchantment."
"It is an honor to host such a magnificent production celebrating truly incredible talent and the rich Chinese culture. Your presence and mission enhance our multicultural community."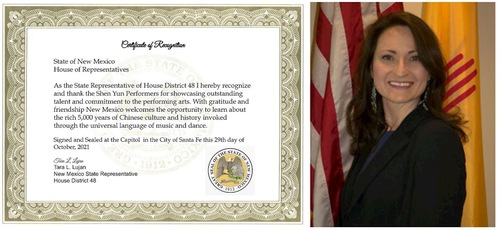 Certificate of Recognition from State Representative Tara L. Lujan.
In her Certificate of Recognition, Representative Lujan wrote, "As the State Representative of House District 48 I hereby recognize and thank the Shen Yun Performers for showcasing outstanding talent and commitment to the performing arts. With gratitude and friendship New Mexico welcomes the opportunity to learn about the rich 5,000 years of Chinese culture and history invoked through the universal language of music and dance."
Mayors of Multiple Cities in Colorado Welcome Shen Yun
Prior to Shen Yun's performances in Denver, Colorado, Michael B. Hancock, Mayor of Denver, issued a Proclamation, proclaiming November 4–7, 2021, as "Shen Yun Performing Arts Days."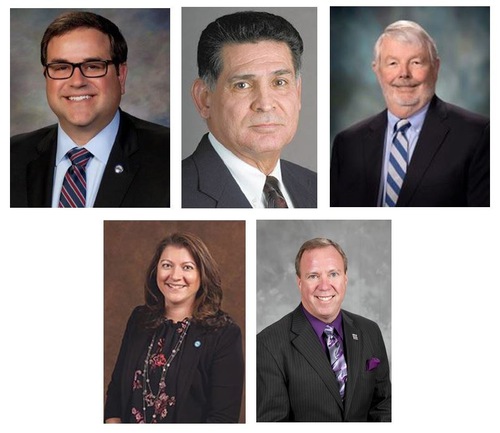 Shen Yun also received welcome remarks from (top to bottom, left to right): Mayor Adam Paul of the City of Lakewood; Lawrence Atencio, City Council President of the City of Pueblo; Mayor Chuck McDaniel of the City of Grand Junction; Mayor Janifer Kulmann of the City of Thornton; and Mayor Marc Williams of the City of Arvada.
Mayor of Norfolk, Virginia, Welcomes Shen Yun Back for Its Tenth Season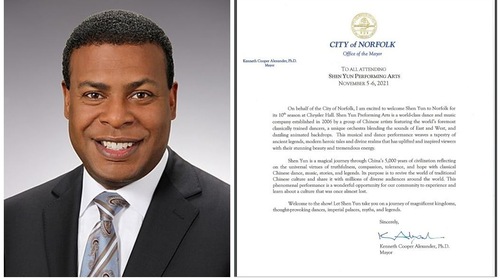 Prior to Shen Yun's performances in Norfolk, Virginia, on November 5–6, 2021, Dr. Kenneth Cooper Alexander, Mayor of the City of Norfolk, extended a welcome letter to the performing arts company.
Mayor Dr. Kenneth Cooper Alexander wrote in his letter, "On behalf of the City of Norfolk, I am excited to welcome Shen Yun to Norfolk for its 10th season at Chrysler Hall."
"Shen Yun Performing Arts is a world class dance and music company established in 2006 by a group of Chinese artists featuring the world's foremost classically trained dancers, a unique orchestra blending the sounds of East and West, and dazzling animated backdrops. This musical and dance performance weave a tapestry of ancient legends, modern heroic tales and divine realms that has uplifted and inspired viewers with their stunning beauty and tremendous energy."
"Shen Yun is a magical journey through China's 5,000 years of civilization reflecting on the universal virtues of truthfulness, compassion, tolerance, and hope with classical Chinese dance, music, stories, and legends. Its purpose is to revive the world of traditional Chinese culture and share it with millions of diverse audiences around the world. This phenomenal performance is a wonderful opportunity for our community to experience and learn about a culture that was once almost lost."
"Welcome to the show! Let Shen Yun take you on a journey of magnificent kingdoms, thought-provoking dances, imperial palaces, myths, and legends."
All articles, graphics, and content published on Minghui.org are copyrighted. Non-commercial reproduction is allowed but requires attribution with the article title and a link to the original article.