Sweden: People Learn About Falun Dafa at Health Expo
(Minghui.org) Falun Dafa practitioners were invited to participate in the Harmony Expo held on October 30 and 31, 2021, in Solna, a municipality in Stockholm County in Sweden. The expo included over 300 vendors, and many people stopped at the Falun Dafa booth and learned the exercises. Some of the comments were, "This looks so peaceful and calm," "It is full of positive energy," and "It is truly wonderful."
To an endless stream of visitors, practitioners introduced Falun Dafa's principles of Truthfulness-Compassion-Forbearance and demonstrated the five sets of exercises. The serene music and slow, gentle movements attracted many people who wanted to learn more about the practice.
Practitioners demonstrate the second Falun Dafa exercise at the Harmony Expo in Stockholm.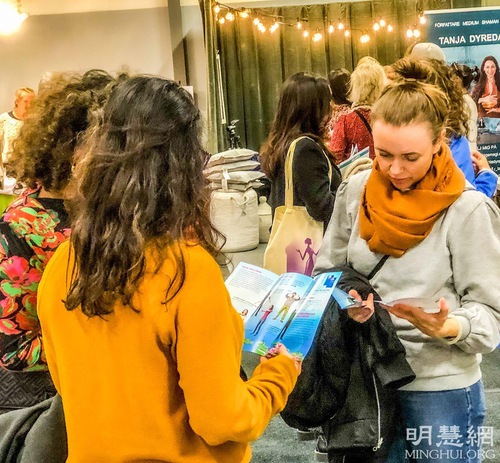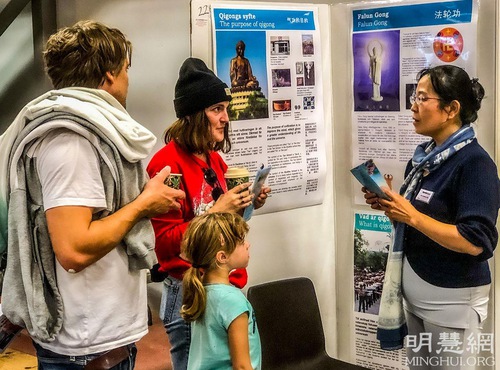 Practitioners introduce Falun Dafa's principles of Truthfulness-Compassion-Forbearance to expo attendees.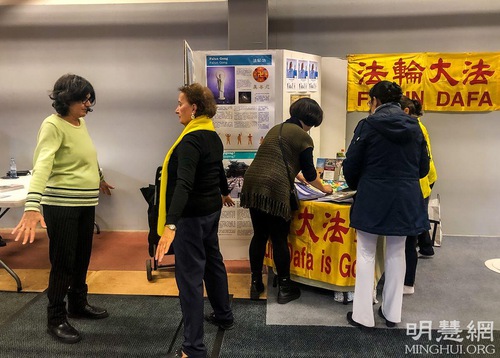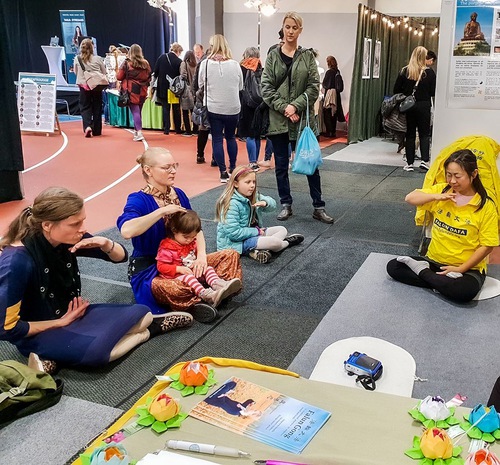 People learn the fifth Falun Dafa exercise, the sitting meditation.
People Enthusiastically Sign Up for Online Classes
Some people who stood across from practitioners as they demonstrated the exercises said they felt a positive energy field. Many said the quiet and peaceful atmosphere made them feel calm and serene. Some said the practice was extraordinary and they wanted to learn it right away. After learning the exercises, they wanted to know more about Falun Dafa. Practitioners told them there was a Swedish language Falun Dafa website (www.falungong.se) where they could register for online classes, and many enthusiastically signed up.
Linda from Uppsala, Sweden, signed up for the online classes as soon as she learned about them. She said, "I really like traditional Chinese culture. I would like to learn more about this practice." Linda could not wait for the practitioner to teach her the exercises. She learned all five exercises while a practitioner corrected her hand movements. The practitioner also gave Linda another practitioner's contact number in Uppsala. Linda was very happy and said that she would contact the local practice site and begin practicing the exercises.
After registering for the online classes, a middle-aged Swedish man said, "I know this is a very good practice and many people in the world are practicing it. I was in China at the beginning of 1999 and I saw many people practicing Falun Dafa in parks. I actually practiced it for a little while but stopped after I got busy at work. It was a pity." He said that he was determined to practice again.
Many young Swedish stopped to watch as practitioners demonstrated the exercises. One person commented, "Falun Dafa practitioners seemed unmoved amid the chaos and bustle. This isn't easy to achieve." Other comments were that Falun Dafa is extraordinary and some said they felt a great energy.
People Sign Petition to End Persecution in China
Martin said after he learned the exercises at the expo, "I can't believe how amazing I feel after only practicing some simple movements." A practitioner told Martin that practitioners follow the principles of Truthfulness-Compassion-Forbearance, try to be considerate of others, and look within to find one's own shortcomings instead of blaming others in conflicts.
Martin agreed and said the principles were great. Upon learning about the persecution and forced organ harvesting of Falun Dafa practitioners by the communist regime in China, he was very angry. He not only signed the petition to end the persecution but also encouraged his friend from Turkey to sign it. They both said they supported practitioners' efforts and wanted to do what they could to help.
Martin's friend, who spoke fluent Swedish, said the exercise movements were beautiful and extraordinary. "My body felt very comfortable when I did the exercises with you. It felt wonderful, and no words can describe my feeling," she said.
Background: What is Falun Dafa?
Falun Dafa (also known as Falun Gong) was first introduced to the public by Mr. Li Hongzhi in Changchun, China in 1992. The spiritual discipline is now practiced in over 100 countries and regions worldwide. Millions of people have embraced the teachings—which are based on the principles of Truthfulness, Compassion, Forbearance as well as five gentle exercises—and experienced uplifted health and well-being.
Jiang Zemin, former head of the Chinese Communist Party (CCP), perceived the spiritual discipline's growing popularity as a threat to the CCP's atheistic ideology and on July 20, 1999, issued an order to ban the practice.
Minghui.org has confirmed the deaths of thousands of practitioners as a result of the persecution over the past 22 years. The actual number is believed to be much higher. More have been imprisoned and tortured for their faith.
There is concrete evidence that the CCP sanctions the harvesting of organs from detained practitioners, who are murdered to supply the organ transplant industry.
Under Jiang's personal direction, the CCP established the 610 Office, an extralegal security organization with the power to override the police and judicial systems and whose sole function is to carry out the persecution of Falun Dafa.
All articles, graphics, and content published on Minghui.org are copyrighted. Non-commercial reproduction is allowed but requires attribution with the article title and a link to the original article.